Archivist CV Example
To gain employment as an archivist, you will need to create a CV that highlights your key skills and abilities as well as detailing what marks you out for consideration as an individual. By using a freely available archivist CV sample, you will have accessed an invaluable tool that provides tips on the type of information it is best to include along with the right sort of formatting that is appropriate for the role.
Create This CVSee all templates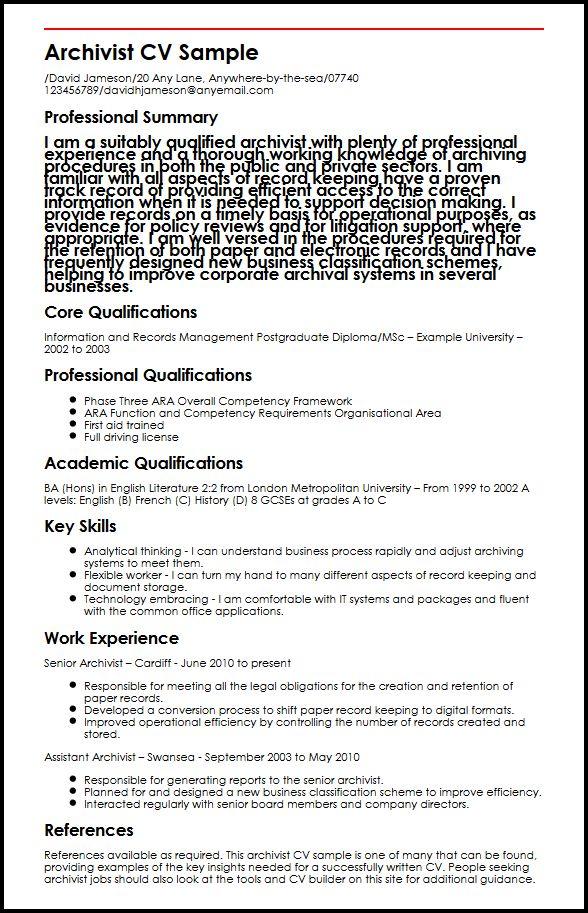 Build a professional CV that gets you hired.
Archivist CV Sample/David Jameson/20 Any Lane, Anywhere-by-the-sea/07740 123456789/davidhjameson@anyemail.com
Professional Summary
I am a suitably qualified archivist with plenty of professional experience and a thorough working knowledge of archiving procedures in both the public and private sectors. I am familiar with all aspects of record keeping have a proven track record of providing efficient access to the correct information when it is needed to support decision making. I provide records on a timely basis for operational purposes, as evidence for policy reviews and for litigation support, where appropriate. I am well versed in the procedures required for the retention of both paper and electronic records and I have frequently designed new business classification schemes, helping to improve corporate archival systems in several businesses.
Core Qualifications
Information and Records Management Postgraduate Diploma/MSc | Example University | 2002 to 2003
Professional Qualifications
Phase Three ARA Overall Competency Framework
ARA Function and Competency Requirements Organisational Area
First aid trained
Full driving license
Academic Qualifications
BA (Hons) in English Literature 2:2 from London Metropolitan University | From 1999 to 2002A levels: English (B) French (C) History (D)8 GCSEs at grades A to C
Key Skills
Analytical thinking - I can understand business process rapidly and adjust archiving systems to meet them.
Flexible worker - I can turn my hand to many different aspects of record keeping and document storage.
Technology embracing - I am comfortable with IT systems and packages and fluent with the common office applications.
Work Experience
Senior Archivist | Cardiff - June 2010to present
Responsible for meeting all the legal obligations for the creation and retention of paper records.
Developed a conversion process to shift paper record keeping to digital formats.
Improved operational efficiency by controlling the number of records created and stored.
Assistant Archivist | Swansea -September 2003 to May 2010
Responsible for generating reports to the senior archivist.
Planned for and designed a new business classification scheme to improve efficiency.
Interacted regularly with senior board members and company directors.
References
References available as required.This archivist CV sample is one of many that can be found, providing examples of the key insights needed for a successfully written CV. People seeking archivist jobsshould also look at the tools and CV builder on this site for additional guidance.
Related CVs Library museum