Plumber's apprentice CV example
If you want to get that job as a plumber apprentice then you have to sell yourself, tell your prospective employer what skills and experience you have and how you can benefit their company. Submitting your CV is usually the first real opportunity you get to do this and it needs to be strong enough to make the person reading it call you for interview. It isn't difficult to find a plumber apprentice CV sample, you should familiarise yourself with the different formats and find one that suits you. The following is a good example of what a plumber apprentice CV sample should cover.
Create This CVSee all templates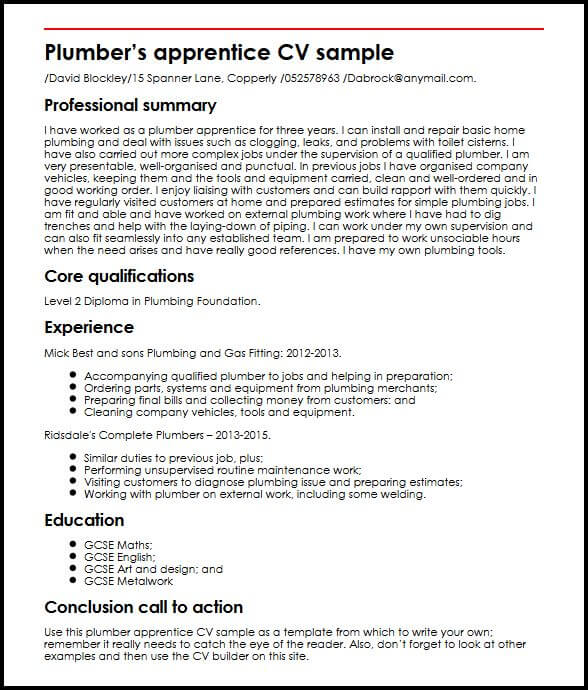 Build a professional CV that gets you hired.
Plumber's apprentice CV sample/David Blockley/15 Spanner Lane, Copperly /052578963 /Dabrock@anymail.com.
Professional summary
I have worked as a plumber apprentice for three years. I can install and repair basic home plumbing and deal with issues such as clogging, leaks, and problems with toilet cisterns. I have also carried out more complex jobs under the supervision of a qualified plumber. I am very presentable, well-organised and punctual. In previous jobs I have organised company vehicles, keeping them and the tools and equipment carried, clean and well-ordered and in good working order. I enjoy liaising with customers and can build rapport with them quickly. I have regularly visited customers at home and prepared estimates for simple plumbing jobs. I am fit and able and have worked on external plumbing work where I have had to dig trenches and help with the laying-down of piping. I can work under my own supervision and can also fit seamlessly into any established team. I am prepared to work unsociable hours when the need arises and have really good references. I have my own plumbing tools.
Core qualifications
Level 2 Diploma in Plumbing Foundation.
Experience
Mick Best and sons Plumbing and Gas Fitting: 2012-2013.
Accompanying qualified plumber to jobs and helping in preparation;
Ordering parts, systems and equipment from plumbing merchants;
Preparing final bills and collecting money from customers: and
Cleaning company vehicles, tools and equipment.
Ridsdale's Complete Plumbers | 2013-2015.
Similar duties to previous job, plus;
Performing unsupervised routine maintenance work;
Visiting customers to diagnose plumbing issue and preparing estimates;
Working with plumber on external work, including some welding.
Education
GCSE Maths;
GCSE English;
GCSE Art and design; and
GCSE Metalwork
Conclusion call to action
Use this plumber apprentice CV sample as a template from which to write your own; remember it really needs to catch the eye of the reader. Also, don't forget to look at other examples and then use the CV builder on this site.