Best CV Template
There are several variables that come to mind when referring to the "best" CV sample.Although the document should be relatively brief, it also needs to contain your pertinent information, your skills, your education and your employment history.This can sometimes feel a bit awkward to create if you have little prior experience.We have therefore taken the liberty of creating an example CV for your examination.Please spend a few moments to review the basic structure, as well as what this document should contain.

Create This CVSee all templates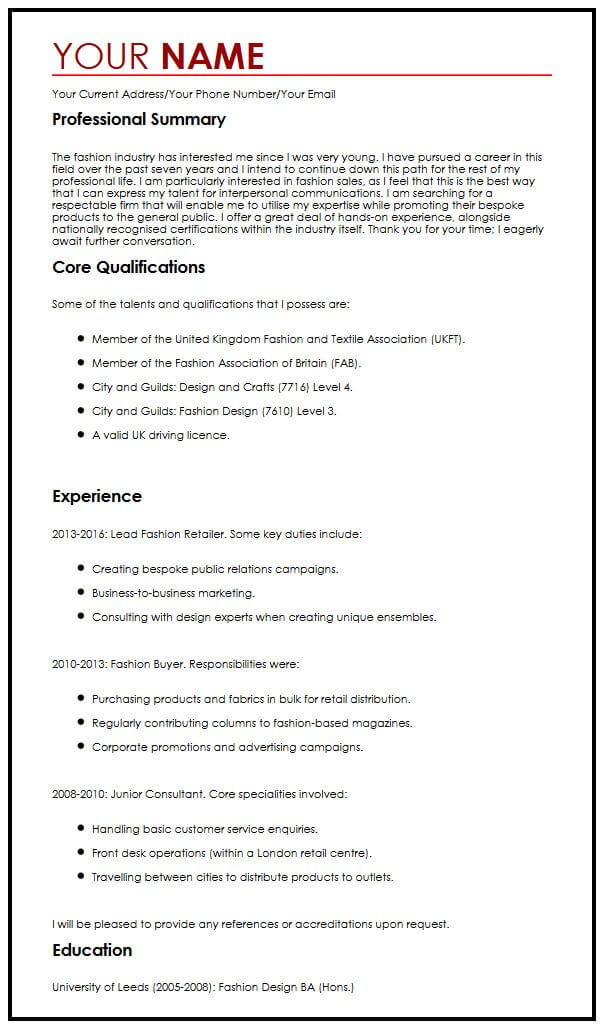 Build a professional CV that gets you hired.
Your Current Address/Your Phone Number/Your Email
Professional Summary
The fashion industry has interested me since I was very young.I have pursued a career in this field over the past seven years and I intend to continue down this path for the rest of my professional life.I am particularly interested in fashion sales, as I feel that this is the best way that I can express my talent for interpersonal communications.I am searching for a respectable firm that will enable me to utilise my expertise while promoting their bespoke products to the general public.I offer a great deal of hands-on experience, alongside nationally recognised certifications within the industry itself.Thank you for your time; I eagerly await further conversation.
Core Qualifications
Some of the talents and qualifications that I possess are:
Member of the United Kingdom Fashion and Textile Association (UKFT).
Member of the Fashion Association of Britain (FAB).
City and Guilds: Design and Crafts (7716) Level 4.
City and Guilds: Fashion Design (7610) Level 3.
A valid UK driving licence.
Experience
2013-2016: Lead Fashion Retailer.Some key duties include:
Creating bespoke public relations campaigns.
Business-to-business marketing.
Consulting with design experts when creating unique ensembles.
2010-2013: Fashion Buyer.Responsibilities were:
Purchasing products and fabrics in bulk for retail distribution.
Regularly contributing columns to fashion-based magazines.
Corporate promotions and advertising campaigns.
2008-2010: Junior Consultant.Core specialities involved:
Handling basic customer service enquiries.
Front desk operations (within a London retail centre).
Travelling between cities to distribute products to outlets.
I will be pleased to provide any references or accreditations upon request.
Education
University of Leeds (2005-2008): Fashion Design BA (Hons.)
Conclusion
This CV sample is able to clearly illustrate the ways in which an applicant should present his or her skills during the job-seeking process.This is only one of countless other examples that can be found within this portal.If you have additional questions or queries, we encourage you to browse through our pages in greater detail.