Constructing a powerful and convincing CV can be more difficult than it initially appears.Many different factors need to be taken into consideration.These include the length of the document, its content and its format.Those who are new to the process or who may have doubts should always take a look at the custom CV sample that is found below.The content can naturally be modified to suit the needs of the individual applicant.Please pay particular attention to the format as well as how the content is presented to the reader.

Create This CVSee all templates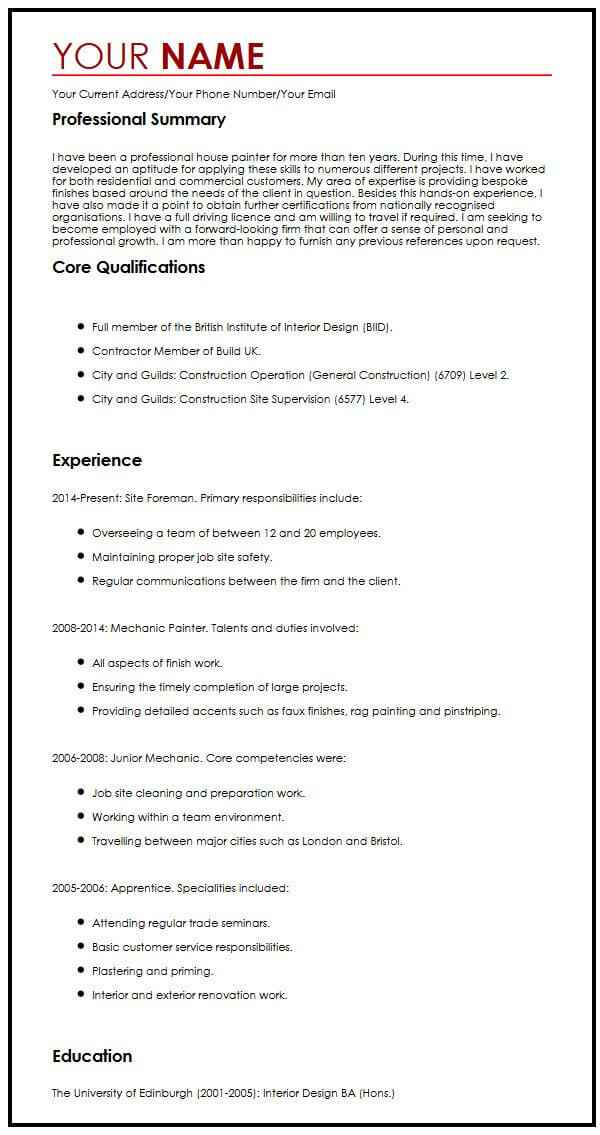 Build a professional CV that gets you hired.
Your Current Address/Your Phone Number/Your Email
Professional Summary
I have been a professional house painter for more than ten years.During this time, I have developed an aptitude for applying these skills to numerous different projects.I have worked for both residential and commercial customers.My area of expertise is providing bespoke finishes based around the needs of the client in question.Besides this hands-on experience, I have also made it a point to obtain further certifications from nationally recognised organisations.I have a full driving licence and am willing to travel if required.I am seeking to become employed with a forward-looking firm that can offer a sense of personal and professional growth.I am more than happy to furnish any previous references upon request.
Core Qualifications
Full member of the British Institute of Interior Design (BIID).
Contractor Member of Build UK.
City and Guilds: Construction Operation (General Construction) (6709) Level 2.
City and Guilds: Construction Site Supervision (6577) Level 4.
Experience
2014-Present: Site Foreman.Primary responsibilities include:
Overseeing a team of between 12 and 20 employees.
Maintaining proper job site safety.
Regular communications between the firm and the client.
2008-2014: Mechanic Painter.Talents and duties involved:
All aspects of finish work.
Ensuring the timely completion of large projects.
Providing detailed accents such as faux finishes, rag painting and pinstriping.
2006-2008: Junior Mechanic.Core competencies were:
Job site cleaning and preparation work.
Working within a team environment.
Travelling between major cities such as London and Bristol.
2005-2006: Apprentice.Specialities included:
Attending regular trade seminars.
Basic customer service responsibilities.
Plastering and priming.
Interior and exterior renovation work.
Education
The University of Edinburgh (2001-2005): Interior Design BA (Hons.)
Conclusion
This custom CV sample should clearly indicate all of the main points to take into account.While this article used a professional painter as an example, there are literally hundreds of other templates available throughout this website.Please do not hesitate to search for additional tricks and tips that can help you to land the role of your dreams.