Our customers have been hired by: *
Whether you're looking for a professional CV template for customer service or a professional nurse CV template, a well-designed CV can go a long way to securing your next role. It gives the right first impression to recruiters, outlining your work experience, skills, and qualifications in a clear, concise, and conventional manner.
Even better, using a pre-made professional CV template will save you time for other tasks – like that all-important interview preparation. Ready to use a professional template for your CV? In myPerfectCV's collection, you'll discover premium-quality, professional CV templates to showcase your strengths and impress recruiters.
Download one of our professional CV templates
Professional CV templates by job title and industry
A professional CV template is invaluable to people from an array of backgrounds. Take a look at our CV examples, spanning from graduates, nurses and civil engineers to professionals in IT, marketing and customer service.
Top tips for utilising a professional CV template
Use a professional CV template download to save time

Creating a professional CV template for UK jobs is incredibly time-consuming. Using a ready-made professional CV template download can save you extra time and energy to spend on preparing for future interviews. Choosing the right format for your CV will also save you extra effort in the long term. For example, a professional CV template for Word will make your template compatible with the ATS software that companies use to filter applications.

Ensure your professional CV layout is effective

As well as the content, the clarity of your professional CV layout will have an impact on how well it is received by recruiters. Generally, your professional CV layout should include sections for your contact details, personal statement, work experience, qualifications, and skills. It should be kept to a maximum of two pages, with the most professional CV templates using bullet points to split work and academic history sections into smaller segments, as this can help recruiters read the information.

Use the right professional CV template design to showcase your skills

Design is a major factor to consider when creating a professional-looking CV template. Bright colours are fun, but don't make a professional impression. Plus, if your CV has lots of lengthy sections without clear boundaries, this can also look unprofessional. As for creative designs, these can work well for creative jobs, but a CV packed with illustrations won't cut it if you're looking for a professional engineer CV template, for example. Selecting the right professional CV template design shows recruiters that you take your career – and your job – seriously.

Choose the perfect professional CV template for your industry

The best CV template for a professional will vary from industry to industry. For example, an IT professional CV template will be different to a professional marketing CV template. Marketing professionals will want to combine creativity and convention for a professional look, while IT professionals will probably want to stick to smart and formal.
FAQs about using a professional CV template
How to create a professional CV template
Creating a professional CV template can be a time-consuming process because you need to gather information about your entire work and academic history, along with formatting your CV. If you use a professional CV template download, the key design and formatting aspects are already taken care of, so you can focus on adding the important details of your career.
How to structure a professional CV
A professional CV template showcases your professional qualities to recruiters in a clear and effective way. It should never be complicated to read. In fact, a simple professional CV template helps to keep the focus on the content of your career and academic history, removing distractions for recruiters. Generally, you should start with your basic contact details and a personal statement that tells recruiters, in brief, who you are and why you are their ideal candidate. The next sections contain the evidence. Record your work and academic history in reverse chronology, using bullet points to distinguish individual tasks and achievements. Either at the bottom or side of the CV, include details of skills and hobbies that are relevant to the position.
What should a professional CV look like?
A professional CV should look the opposite of cluttered. Well-written information in clearly designated sections is key. Don't be tempted to experiment with fancy fonts, gimmicks, or bright colours. Simplicity and classic design place the focus onto you and your achievements. Take a break from writing your CV, then come back after twenty minutes. Look at your professional CV with fresh eyes. How easy is it to read? Which points prove that you are suitable for the role? Is anything distracting?
How to write a professional CV and cover letter
Professional CV writing involves showcasing the defining moments of your career to evidence exactly why you're perfect for the role. Use a professional writing CV template to give you direction. For example, a professional profile CV template can help your personal statement stand out. Rather than padding your CV with useless details and intricate designs, use a simple professional CV template to immediately engage recruiters. Include specific achievements that you've reached and projects you've worked on. Don't rehash the same details in your cover letter – use this to tell recruiters why they need you for this job.
Dos and don'ts for a successful professional CV
Do
Do research how to make a CV look professional Professional CVs vary between industries and skill levels – a professional CV template for students, for example, will focus more on academic history and voluntary work. The most professional CV template will reflect a clear understanding of the company's needs and values, so spend time looking at their website in detail beforehand. For example, if you find out they use ATS software, you'll know to look for a CV template doc for professional jobs, rather than a PDF.
Do learn what to write in a professional profile for a CV template Professional CV writing can take time to get to grips with. A good professional profile CV template provides a short summary of who you are as a candidate, along with a brief round-up of your work achievements and skills to help recruiters see exactly why you meet their criteria, even before reading into more detail.
Don't
Don't forget to look at professional CV examples Examining professional CV samples can help you to discover new ideas to incorporate into your CV. They show you how to format your professional CV and tailor the layout to your industry. Look at multiple professional CV examples to compare differences, choosing examples that reflect your experience levels. A professional CV template for a fresh graduate will need very different information to a template for a long-term worker, even for the same job.
Don't choose the wrong professional CV format Even the best CV template for a professional will get lost in the system if formatted incorrectly. Choosing the right professional CV format brings your CV closer to your dream employer. Remember that some organisations use ATS software to filter their applications for keywords. This may mean you need to use ATS-friendly formatting. It's usually best to use a professional CV template in Word to ensure your CV won't get missed.
Showcase your achievements with a

professional CV template
Looking for a professional, modern CV template in the UK? Discover high-quality, professional CV templates to fast track your application and impress recruiters in myPerfectCV's quick and easy builder.
A professional CV template download saves you time and energy. Our collection features a diverse selection of designs and formats to suit your application requirements – whether you're searching for a professional civil engineer CV template in PDF format, or a professional academic CV template in Word. Then it's simply a case of choosing pre-written content and customising with your own details.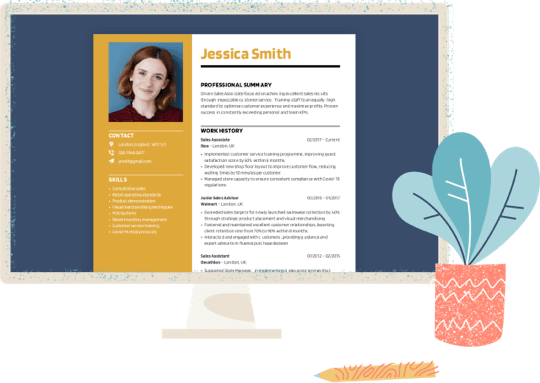 *The names and logos of the companies referred to above are all trademarks of their respective holders. Unless specifically stated otherwise, such references are not intended to imply any affiliation or association with myperfectCV.