CV Example For Volunteering
Working as a volunteer in an area where your skills can make a real difference is a praiseworthy aim; it can also be an effective way of gaining work experience. One of the most important things you can do to help you get an interview is to write a professional looking polished CV that highlights your most impressive qualifications and skills. Keep your CV to no more than 2 sides and use a clear, easy to read font such as Arial. It is best to avoid coloured backgrounds and watermarks: they are eye catching but may make your CV more difficult to read. Before starting to write your resume, study our free CV example for volunteering to find out the most effective format and what information is essential to include.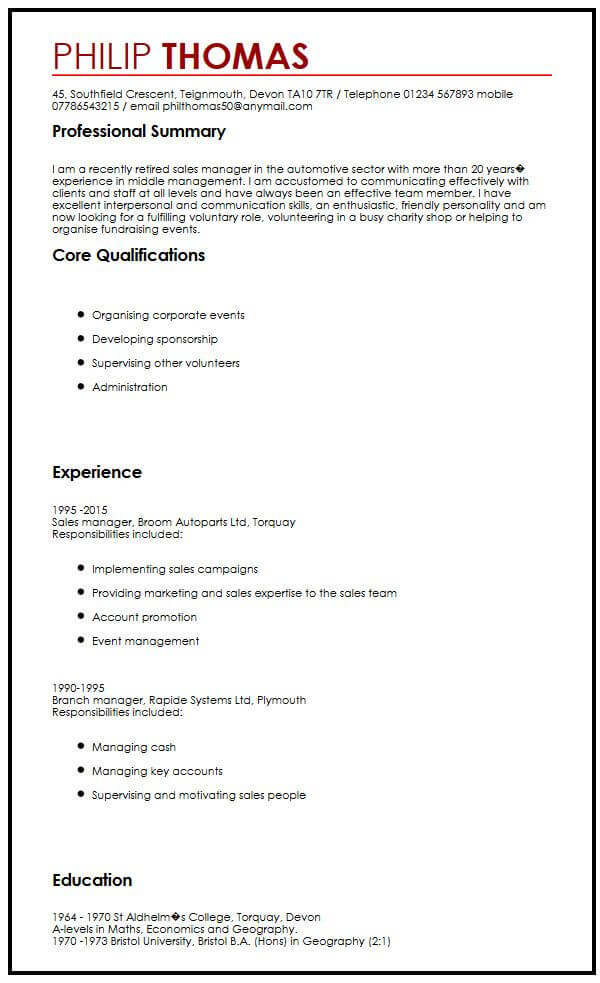 45, Southfield Crescent, Teignmouth, Devon TA10 7TR / Telephone 01234 567893 mobile 07786543215 / email philthomas50@anymail.com
Professional Summary
I am a recently retired sales manager in the automotive sector with more than 20 years' experience in middle management. I am accustomed to communicating effectively with clients and staff at all levels and have always been an effective team member.I have excellent interpersonal and communication skills, an enthusiastic, friendly personality and am now looking for a fulfilling voluntary role, volunteering in a busy charity shop or helping to organise fundraising events.
Core Qualifications
Organising corporate events
Developing sponsorship
Supervising other volunteers
Administration