CV Sample for Volunteering
When beginning to write your CV for your job search for volunteering positions, you need to be confident you can produce a professional CV to give you the best chances of success. Your CV should be specific to the job you're hoping to get, while reflecting your main skills, qualifications and experience. When writing your CV, the CV Sample for Volunteering will help you to choose appropriate wording and a good format. This sample is just the kind of CV that recruiting managers like to see, and if you base your resume on this, you should make a good impression and hopefully be shortlisted for an interview.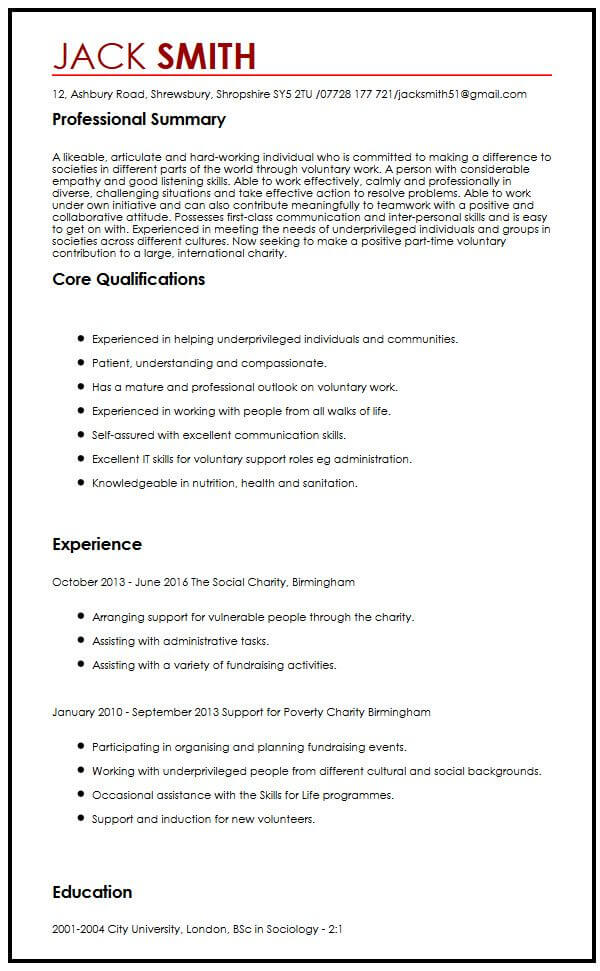 12, Ashbury Road, Shrewsbury, Shropshire SY5 2TU /07728 177 721/jacksmith51@gmail.com
Professional Summary
A likeable, articulate and hard-working individual who is committed to making a difference to societies in different parts of the world through voluntary work. A person with considerable empathy and good listening skills. Able to work effectively, calmly and professionally in diverse, challenging situations and take effective action to resolve problems. Able to work under own initiative and can also contribute meaningfully to teamwork with a positive and collaborative attitude. Possesses first-class communication and inter-personal skills and is easy to get on with. Experienced in meeting the needs of underprivileged individuals and groups in societies across different cultures. Now seeking to make a positive part-time voluntary contribution to a large, international charity.
Core Qualifications
Experienced in helping underprivileged individuals and communities.
Patient, understanding and compassionate.
Has a mature and professional outlook on voluntary work.
Experienced in working with people from all walks of life.
Self-assured with excellent communication skills.
Excellent IT skills for voluntary support roles eg administration.
Knowledgeable in nutrition, health and sanitation.
Experience
October 2013 - June 2016 The Social Charity, Birmingham
Arranging support for vulnerable people through the charity.
Assisting with administrative tasks.
Assisting with a variety of fundraising activities.
January 2010 - September 2013 Support for Poverty CharityBirmingham
Participating in organising and planning fundraising events.
Working with underprivileged people from different cultural and social backgrounds.
Occasional assistance with the Skills for Life programmes.
Support and induction for new volunteers.