When you're looking for jobs and sending out your applications, the CV Sample in English will help you to create a well-constructed CV to reflect your best skills, qualifications and experience, and target the job you want . You'll gain insight into the CV writing process by referring to this sample to get an idea of what kind of information to include and how to format it. An impressive CV, such as the CV Sample in English below, is just the kind of document that the person in charge of recruitment would like to see, and will help you to become a priority for interviewing.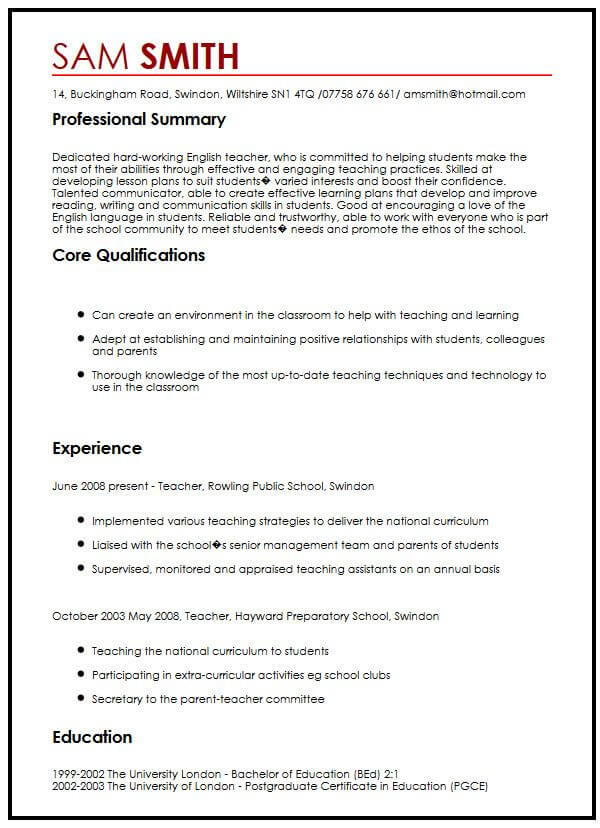 14, Buckingham Road, Swindon, Wiltshire SN1 4TQ /07758 676 661/ amsmith@hotmail.com
Professional Summary
Dedicated hard-working English teacher, who is committed to helping students make the most of their abilities through effective and engaging teaching practices. Skilled at developing lesson plans to suit students' varied interests and boost their confidence. Talented communicator, able to create effective learning plans that develop and improve reading, writing and communication skills in students. Good at encouraging a love of the English language in students. Reliable and trustworthy, able to work with everyone who is part of the school community to meet students' needs and promote the ethos of the school.
Core Qualifications
Can create an environment in the classroom to help with teaching and learning
Adept at establishing and maintaining positive relationships with students, colleagues and parents
Thorough knowledge of the most up-to-date teaching techniques and technology to use in the classroom
Experience
June 2008present - Teacher, Rowling Public School, Swindon
Implemented various teaching strategies to deliver the national curriculum
Liaised with the school's senior management team and parents of students
Supervised, monitored and appraised teaching assistants on an annual basis
October 2003May 2008, Teacher, Hayward Preparatory School, Swindon
Teaching the national curriculum to students
Participating in extra-curricular activities eg school clubs
Secretary to the parent-teacher committee
Education
1999-2002 The University London - Bachelor of Education (BEd) 2:12002-2003 The University of London - Postgraduate Certificate in Education (PGCE)
Conclusion
You will find that this CV Sample in English is just one of many excellent sample CVs that provide you with key information and ideas on how to write a great CV in English. Use our tools and CV builder on this site to help you further in your quest for the right job.