An entry level employee needs to have relevant qualifications and skills to do the job and your application should include a well-written and professional CV that integrates your credentials into a well-structured document. Our entry level CV sample is easy to read and is highly relevant, so when it lands on the recruiting manager's desk, they'll be sufficiently impressed to seriously consider selecting you for interview along with the top applicants.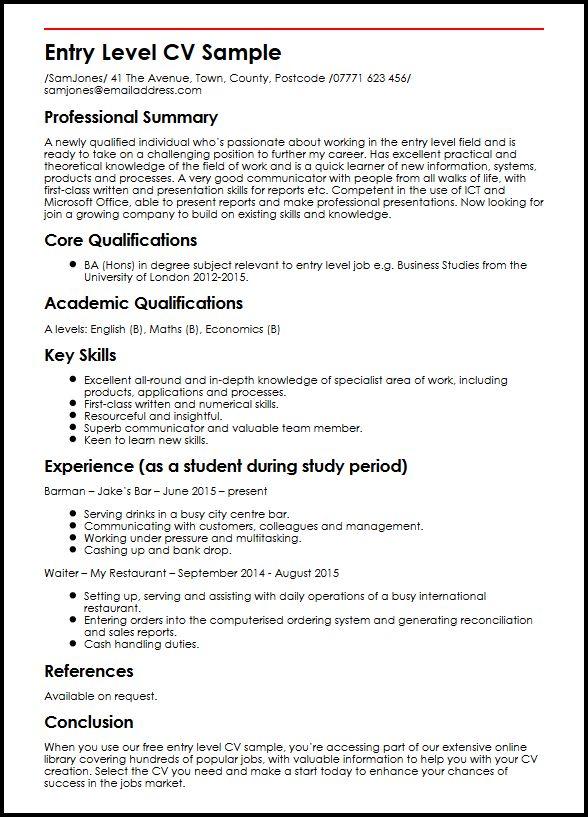 Entry Level CV Sample/SamJones/ 41 The Avenue, Town, County, Postcode /07771 623 456/ samjones@emailaddress.com
Professional Summary
A newly qualified individual who's passionate about working in the entry level field and is ready to take on a challenging position to further my career. Has excellent practical and theoretical knowledge of the field of work and is a quick learner of new information, systems, products and processes. A very good communicator with people from all walks of life, with first-class written and presentation skills for reports etc. Competent in the use of ICT and Microsoft Office, able to present reports and make professional presentations. Now looking for join a growing company to build on existing skills and knowledge.
Core Qualifications
BA (Hons) in degree subject relevant to entry level job e.g. Business Studies from the University of London 2012-2015.
Academic Qualifications
A levels: English (B), Maths (B), Economics (B)
Key Skills
Excellent all-round and in-depth knowledge of specialist area of work, including products, applications and processes.
First-class written and numerical skills.
Resourceful and insightful.
Superb communicator and valuable team member.
Keen to learn new skills.
Experience (as a student during study period)
Barman | Jake's Bar | June 2015 | present
Serving drinks in a busy city centre bar.
Communicating with customers, colleagues and management.
Working under pressure and multitasking.
Cashing up and bank drop.
Waiter | My Restaurant | September 2014 - August 2015
Setting up, serving and assisting with daily operations of a busy international restaurant.
Entering orders into the computerised ordering system and generating reconciliation and sales reports.
Cash handling duties.
References
Available on request.
Conclusion
When you use our free entry level CV sample, you're accessing part of our extensive online library covering hundreds of popular jobs, with valuable information to help you with your CV creation. Select the CV you need and make a start today to enhance your chances of success in the jobs market.