Customize this CV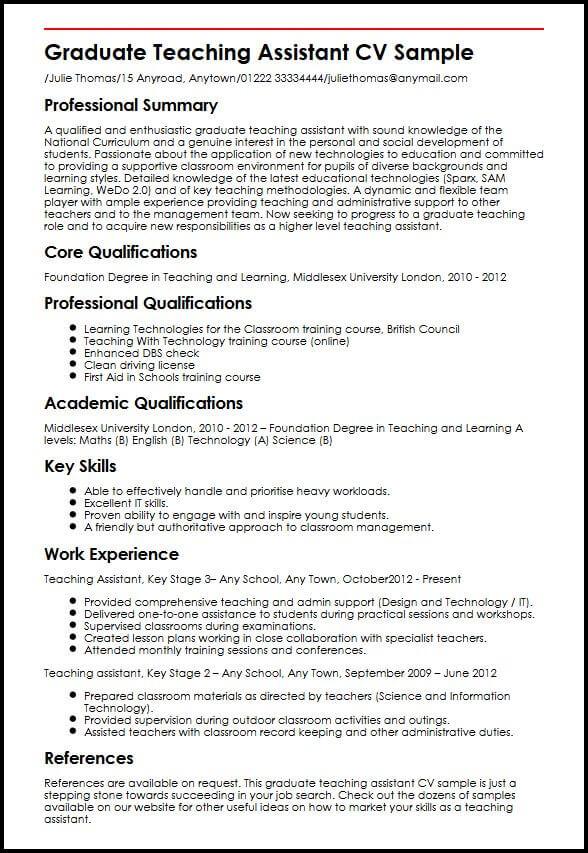 ---
Create This CV
If you are looking to be hired as a graduate teaching assistant, you will need a professionally written CV that shows employers that you can be a valuable addition to their school. You can now make a flawless first impression on prospective employers and school managers with our free graduate teaching assistant CV sample, where you will find expert guidance and useful tips on formatting and writing a winning CV that gets you an interview.
Graduate Teaching Assistant CV Sample
/Julie Thomas/15 Anyroad, Anytown/01222 33334444/juliethomas@anymail.com
Professional Summary
A qualified and enthusiastic graduate teaching assistant with sound knowledge of the National Curriculum and a genuine interest in the personal and social development of students. Passionate about the application of new technologies to education and committed to providing a supportive classroom environment for pupils of diverse backgrounds and learning styles. Detailed knowledge of the latest educational technologies (Sparx, SAM Learning, WeDo 2.0) and of key teaching methodologies. A dynamic and flexible team player with ample experience providing teaching and administrative support to other teachers and to the management team. Now seeking to progress to a graduate teaching role and to acquire new responsibilities as a higher level teaching assistant.
Core Qualifications
Foundation Degree in Teaching and Learning, Middlesex University London, 2010 – 2012
Professional Qualifications
Learning Technologies for the Classroom training course, British Council
Teaching With Technology training course (online)
Enhanced DBS check
Clean driving license
First Aid in Schools training course
Academic Qualifications
Middlesex University London, 2010 – 2012 | Foundation Degree in Teaching and Learning A levels: Maths (B) English (B) Technology (A) Science (B)
Key Skills
Able to effectively handle and prioritise heavy workloads.
Excellent IT skills.
Proven ability to engage with and inspire young students.
A friendly but authoritative approach to classroom management.
Work Experience
Teaching Assistant, Key Stage 3| Any School, Any Town, October2012 – Present
Provided comprehensive teaching and admin support (Design and Technology / IT).
Delivered one-to-one assistance to students during practical sessions and workshops.
Supervised classrooms during examinations.
Created lesson plans working in close collaboration with specialist teachers.
Attended monthly training sessions and conferences.
Teaching assistant, Key Stage 2 | Any School, Any Town, September 2009 | June 2012
Prepared classroom materials as directed by teachers (Science and Information Technology).
Provided supervision during outdoor classroom activities and outings.
Assisted teachers with classroom record keeping and other administrative duties.
References
References are available on request. This graduate teaching assistant CV sample is just a stepping stone towards succeeding in your job search. Check out the dozens of samples available on our website for other useful ideas on how to market your skills as a teaching assistant.