Bike Mechanic CV Example
The skills and experience needed to be a successful bike mechanic are considerable and very specific, so when you're applying for a job in this field you need to hone your CV content to show you're just the right person for the position. Our free online bike mechanic CV sample is the ideal tool for you to use and will improve your chances no end of getting to the top of the interview shortlist and further your bike mechanic career.
Create This CVSee all templates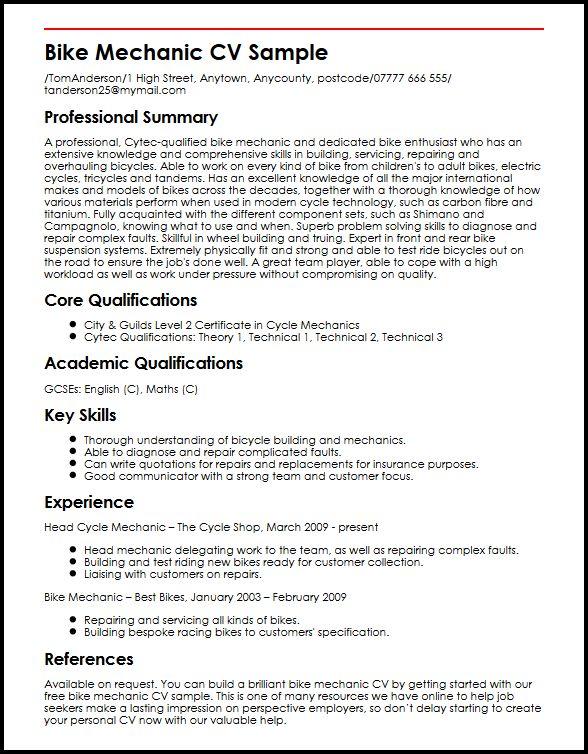 Build a professional CV that gets you hired.
Bike Mechanic CV Sample/TomAnderson/1 High Street, Anytown, Anycounty, postcode/07777 666 555/ tanderson25@mymail.com
Professional Summary
A professional, Cytec-qualified bike mechanic and dedicated bike enthusiast who has an extensive knowledge and comprehensive skills in building, servicing, repairing and overhauling bicycles. Able to work on every kind of bike from children's to adult bikes, electric cycles, tricycles and tandems. Has an excellent knowledge of all the major international makes and models of bikes across the decades, together with a thorough knowledge of how various materials perform when used in modern cycle technology, such as carbon fibre and titanium. Fully acquainted with the different component sets, such as Shimano and Campagnolo, knowing what to use and when. Superb problem solving skills to diagnose and repair complex faults. Skillful in wheel building and truing. Expert in front and rear bike suspension systems. Extremely physically fit and strong and able to test ride bicycles out on the road to ensure the job's done well. A great team player, able to cope with a high workload as well as work under pressure without compromising on quality.
Core Qualifications
City & Guilds Level 2 Certificate in Cycle Mechanics
Cytec Qualifications: Theory 1, Technical 1, Technical 2, Technical 3
Academic Qualifications
GCSEs: English (C), Maths (C)
Key Skills
Thorough understanding of bicycle building and mechanics.
Able to diagnose and repair complicated faults.
Can write quotations for repairs and replacements for insurance purposes.
Good communicator with a strong team and customer focus.
Experience
Head Cycle Mechanic | The Cycle Shop, March 2009 - present
Head mechanic delegating work to the team, as well as repairing complex faults.
Building and test riding new bikes ready for customer collection.
Liaising with customers on repairs.
Bike Mechanic | Best Bikes, January 2003 | February 2009
Repairing and servicing all kinds of bikes.
Building bespoke racing bikes to customers' specification.
References
Available on request.You can build a brilliant bike mechanic CV by getting started with our free bike mechanic CV sample. This is one of many resources we have online to help job seekers make a lasting impression on perspective employers, so don't delay starting to create your personal CV now with our valuable help.
Related CVs Mechanics CV Examples