Your ultimate guide to a personal statement
You're up against lots of other qualified and experienced professionals for a role so your CV instantly needs to hook a recruiter's attention.
A strong personal statement that details your background, personal attributes, and experience will show a recruiter that you're the person they should be hiring.
5 top personal statement examples
Our personal statement examples are written with recruiters and employers in mind. They're clear, concise, and get to the point quickly, which makes them easy to skim read.
Check out our personal statement examples for inspiration and start planning your own knock-out personal statement in our CV builder.
Why personal statements matter
The personal statement section is one of the most important aspects of a CV, as this is the area that recruiters and employers read to gain an understanding of the qualities you'll bring to a role and what impact you'll make to the company.
A strong personal statement that contains keywords around skills and experience that are related to the role you're interested in will help your CV get picked up by an ATS (Applicant Tracking System). This is a piece of software that recruiters use to sift through hundreds of CVs to pick out ones that contain details of skills and experience that match the role.
Head on over to our CV builder and choose a CV template to start building your detail-packed personal statement and get your CV placed on a recruiter's 'interested' pile.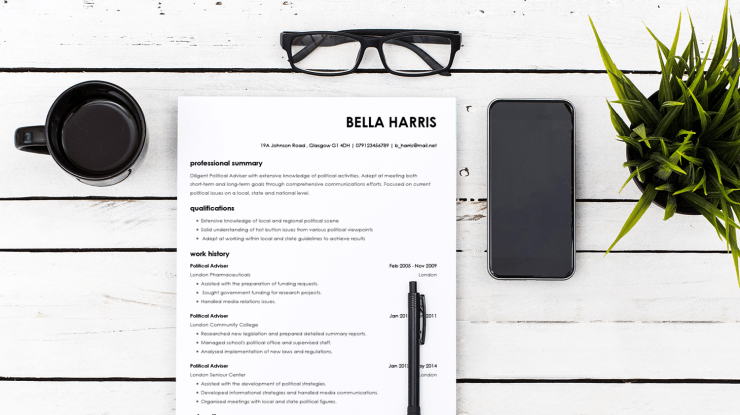 Dos and don'ts of personal statement writing
A personal statement for someone who is applying for their first or second role will be different to someone who is going after a more senior role. Whatever stage you're at in your career, our dos and don'ts will help you build a personal statement that shows you're the most qualified and motivated person for the role without sounding like you're bragging.
Do
Be clear and concise - the ideal length for a personal statement is 50 to 200 words maximum. Note how this accountant's personal statement concisely details their key skills, relevant work experience, and future aspirations in a short paragraph:

"Dependable accounting professional acknowledged for reliability, integrity, and quick-learning ability. Highly skilled with an eye for identifying and correcting errors. Enthusiastically seeking a role in which a strong work ethic and resourceful nature will be highly valued."

Use short, punchy sentences.
Keep a neutral tone, taking care not to write in the first or third person. An example of this is shown in this excerpt from our academic CV:

"An ambitious and talented professional with a proven academic background in science and valuable experience in teaching and lecturing. Possess first-class academic written skills and is also an effective verbal communicator."

Include elements of your personality so the recruiter can get to know you.
Read the job description and pick out keywords based on skills and experience so that you can include them in your personal statement.
Don't:
Think a personal statement isn't important - it is!
Include jokes - while you want to inject some personality into your personal statement, humour and jokes will undermine your professionalism, and may even cause offence.
Forget to use the spell-checker - there's nothing more off-putting for a recruiter than reading a personal statement that is littered with spelling and grammar mistakes. Take a moment to check over what you've written before hitting the 'send' button.
Copy someone else's personal statement - if you're stuck on what to write or are short on time it may be tempting to copy a friend's or a colleague's personal statement. Don't do it — a recruiter may notice that what's written in your personal statement doesn't reflect what's in your CV. This could lead them to reject your application.
Make it difficult to find - a personal statement should sit at the top of the CV between your contact details and work experience.
Give your career a head start with a strong personal statement
Your CV has less than six seconds to make a lasting impression on a recruiter. This means your personal statement needs to be concise and clear while selling your skills, experience, and qualifications. It should also detail your personality and future career aspirations.
Don't waste hours thinking about what to include in your personal statement. Check out our personal statement examples for inspiration and start building your personalised CV that includes an attention-grabbing personal statement with our easy to use CV builder.