There are plenty of job opportunities in the UK and a well-written, eye-catching CV that will gain the attention of the hiring managers is the first step towards winning an interview. Consulting our free British CV example below will give you valuable insights into how to format your own resume, outlining your most valuable skills and qualifications and tailoring it to the position for which you are applying.Keep your CV short and to the point: one page is ideal. British hiring managers are very likely to cross-check your profile with social media pages, so ensure that your Facebook and LinkedIn profiles are professional looking.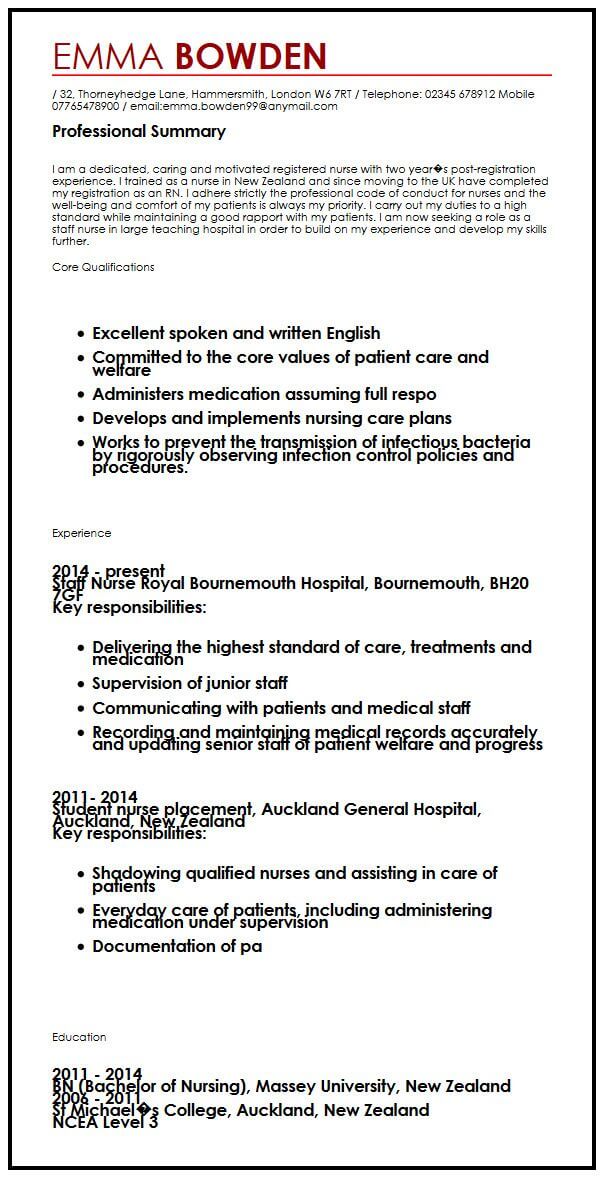 / 32, Thorneyhedge Lane, Hammersmith, London W6 7RT / Telephone:02345 678912 Mobile 07765478900 / email:emma.bowden99@anymail.com
Professional Summary
I am a dedicated, caring and motivated registered nurse with two year's post-registration experience. I trained as a nurse in New Zealand and since moving to the UK have completed my registration as an RN. I adhere strictly the professional code of conduct for nurses and the well-being and comfort of my patients is always my priority. I carry out my duties to a high standard while maintaining a good rapport with my patients.I am now seeking a role as a staff nurse in large teaching hospital in order to build on my experience and develop my skills further.Core Qualifications
Excellent spoken and written English
Committed to the core values of patient care and welfare
Administers medication assuming full respo
Develops and implements nursing care plans
Works to prevent the transmission of infectious bacteria by rigorously observing infection control policies and procedures.
Experience
2014 - presentStaff Nurse Royal Bournemouth Hospital, Bournemouth, BH20 7GFKey responsibilities:

Delivering the highest standard of care, treatments and medication
Supervision of junior staff
Communicating with patients and medical staff
Recording and maintaining medical records accurately and updating senior staff of patient welfare and progress

2011- 2014Student nurse placement, Auckland General Hospital, Auckland, New ZealandKey responsibilities:

Shadowing qualified nurses and assisting in care of patients
Everyday care of patients, including administering medication under supervision
Documentation of pa
Education
2011 - 2014BN (Bachelor of Nursing), Massey University, New Zealand2006 - 2011 St Michael's College, Auckland, New ZealandNCEA Level 3ConclusionThis British CV Sample is just one of hundreds of examples available on the website that provide valuable insights into the process of writing your own concise and effective CV; for further guidance, please consult the website's free tools and CV builder.