Coffee Shop Worker CV Sample
Creating a CV can be a daunting task, but it's one of the most important parts of your job search. The right format and layout, along with the right information, makes it easier for a prospective employer to scan your CV, so it's more likely that you will be considered for the role. Using a coffee shop worker CV sample can help you choose relevant work experience and qualifications, and list them in the correct order, so employers can find the information they need. Our coffee shop worker CV sample is an excellent starting point for crafting your own CV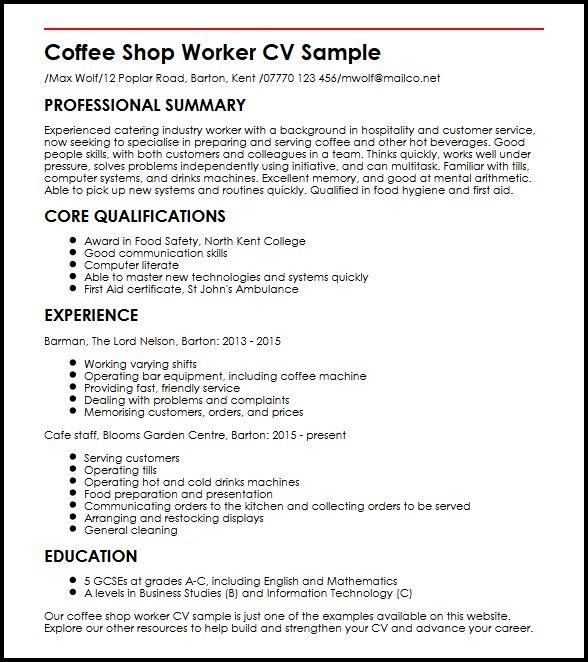 Coffee Shop Worker CV Sample/Max Wolf/12 Poplar Road, Barton, Kent /07770 123 456/mwolf@mailco.net
PROFESSIONAL SUMMARY
Experienced catering industry worker with a background in hospitality and customer service, now seeking to specialise in preparing and serving coffee and other hot beverages. Good people skills, with bothcustomers and colleagues in a team. Thinks quickly, works well under pressure, solves problems independently using initiative, and can multitask. Familiar with tills, computer systems, and drinks machines. Excellent memory, and good at mental arithmetic. Able to pick up new systems and routines quickly. Qualified in food hygiene and first aid.
CORE QUALIFICATIONS
Award in Food Safety, North Kent College
Good communication skills
Computer literate
Able to master new technologies and systems quickly
First Aid certificate, St John's Ambulance
EXPERIENCE
Barman, The Lord Nelson, Barton: 2013 - 2015
Working varying shifts
Operating bar equipment, including coffee machine
Providing fast, friendly service
Dealing with problems and complaints
Memorising customers, orders, and prices
Cafe staff, Blooms Garden Centre, Barton: 2015 - present
Serving customers
Operating tills
Operating hot and cold drinks machines
Food preparation and presentation
Communicating orders to the kitchen and collecting orders to be served
Arranging and restocking displays
General cleaning
EDUCATION
5 GCSEs at grades A-C, including English and Mathematics
A levels in Business Studies (B) and Information Technology (C)
Our coffee shop worker CV sample is just one of the examples available on this website. Explore our other resources to help build and strengthen your CV and advance your career.