Coffee Shop Manager CV Example
In order to secure the job that you really want, you will need to create a CV that highlights your abilities as well as your strengths. Creating a CV from scratch can be rather tricky, but it can become much simpler when you use a free coffee shop manager CV sample, as you will be able to get a sneak peek at the kinds of information you need to include and the appropriate format.
Create This CVSee all templates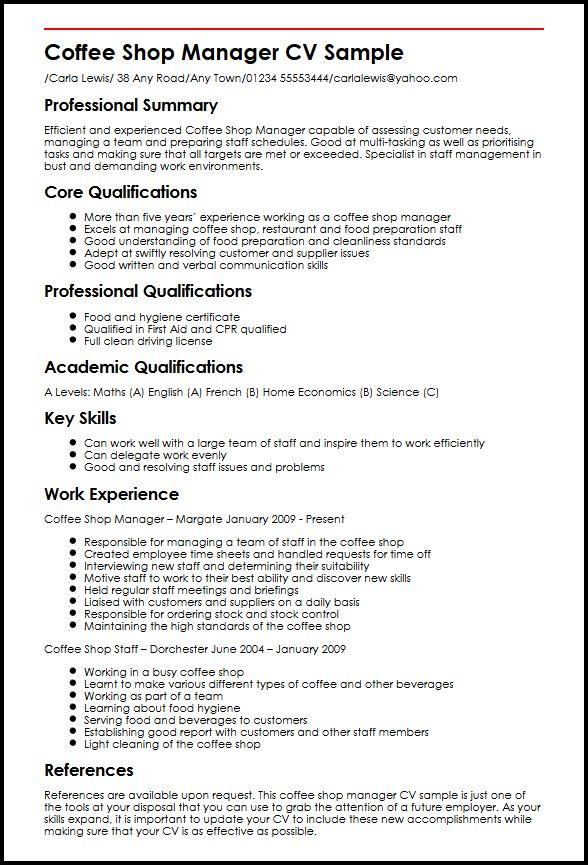 Build a professional CV that gets you hired.
Coffee Shop Manager CV Sample/Carla Lewis/ 38 Any Road/Any Town/01234 55553444/carlalewis@yahoo.com
Professional Summary
Efficient and experienced Coffee Shop Manager capable of assessing customer needs, managing a team and preparing staff schedules. Good at multi-tasking as well as prioritising tasks and making sure that all targets are met or exceeded. Specialist in staff management in bust and demanding work environments.
Core Qualifications
More than five years' experience working as a coffee shop manager
Excels at managing coffee shop, restaurant and food preparation staff
Good understanding of food preparation and cleanliness standards
Adept at swiftly resolving customer and supplier issues
Good written and verbal communication skills
Professional Qualifications
Food and hygiene certificate
Qualified in First Aid and CPR qualified
Full clean driving license
Academic Qualifications
A Levels: Maths (A) English (A) French (B) Home Economics (B) Science (C)
Key Skills
Can work well with a large team of staff and inspire them to work efficiently
Can delegate work evenly
Good and resolving staff issues and problems
Work Experience
Coffee Shop Manager | Margate January 2009 - Present
Responsible for managing a team of staff in the coffee shop
Created employee time sheets and handled requests for time off
Interviewing new staff and determining their suitability
Motive staff to work to their best ability and discover new skills
Held regular staff meetings and briefings
Liaised with customers and suppliers on a daily basis
Responsible for ordering stock and stock control
Maintaining the high standards of the coffee shop
Coffee Shop Staff | Dorchester June 2004 | January 2009
Working in a busy coffee shop
Learnt to make various different types of coffee and other beverages
Working as part of a team
Learning about food hygiene
Serving food and beverages to customers
Establishing good report with customers and other staff members
Light cleaning of the coffee shop
References
References are available upon request.This coffee shop manager CV sample is just one of the tools at your disposal that you can use to grab the attention of a future employer. As your skills expand, it is important to update your CV to include these new accomplishments while making sure that your CV is as effective as possible.
Related CVs Food Service CV Examples