Cafe Worker CV Example
The first step in every successful job application is tomarket yourself as effectively as possible by writing a CV that is tailored to the job you are seeking.To get your application noticed, your CV should list your most impressivequalifications, skills and experience. Studyinga cafe worker CV sample before you begin writing will assistyou in deciding the best format to use; it will alsogive you valuable guidance as to the kind of information that hiring managers are looking for.Use our free cafe worker CV sample below, which is an excellent example of the type of CV that will get you that all-important interview.
Create This CVSee all templates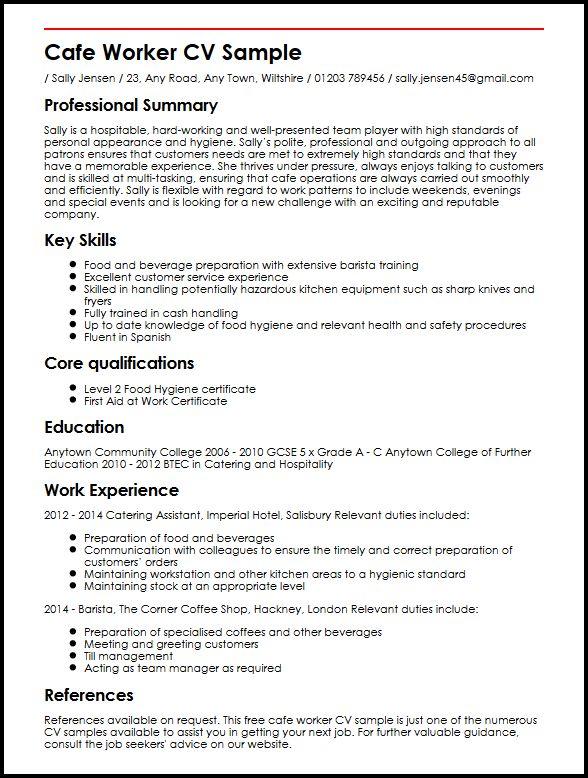 Build a professional CV that gets you hired.
Cafe Worker CV Sample / Sally Jensen / 23, Any Road, Any Town, Wiltshire / 01203 789456 / sally.jensen45@gmail.com Professional Summary
Sally is a hospitable, hard-working and well-presented team player with high standards of personal appearance and hygiene. Sally's polite, professional and outgoing approach to all patrons ensures that customers needs are met to extremely high standards and that they have a memorable experience.She thrives under pressure, always enjoys talking to customers and is skilled atmulti-tasking, ensuring that cafe operations are always carried out smoothly and efficiently. Sally is flexible with regard to work patterns to include weekends, evenings and special events andis looking for a new challenge with an exciting andreputable company.
Key Skills
Food and beverage preparation with extensive barista training
Excellent customer service experience
Skilled in handling potentially hazardous kitchen equipment such as sharp knives and fryers
Fully trained in cash handling
Up to date knowledge of food hygiene and relevant health and safety procedures
Fluent in Spanish
Core qualifications
Level 2 Food Hygiene certificate
First Aid at Work Certificate
Education
Anytown Community College 2006 -2010GCSE5x Grade A - CAnytown College of Further Education 2010 - 2012 BTEC in Catering and Hospitality
Work Experience
2012 - 2014Catering Assistant, Imperial Hotel, SalisburyRelevant duties included:

Preparation of food and beverages
Communication with colleagues to ensure the timely and correct preparation of customers' orders
Maintaining workstation and other kitchen areas to a hygienic standard
Maintaining stock at an appropriate level

2014 -Barista, The Corner Coffee Shop, Hackney, LondonRelevant duties include:

Preparation of specialised coffees and other beverages
Meeting and greeting customers
Till management
Acting as team manager as required
References
References available on request.This free cafe worker CV sample is just one of the numerous CV samples available to assist you in getting your next job. For further valuableguidance, consult the job seekers' advice on our website.
Related CVs Food Service CV Examples