Assistant Restaurant Manager CV Example
Not only is an assistant restaurant manager a rewarding job title, but it could very well provide opportunities for further advancement in the future.This role requires discipline, motivation and an ability to work with others.Still, any candidate needs to present themselves in the correct manner.This will often begin with a well-written curriculum vitae.As such a task can be slightly confusing, it is wise to take a look below at our assistant restaurant manager CV sample.This template can provide the clarity required to appreciate how such a document should be written.
Create This CVSee all templates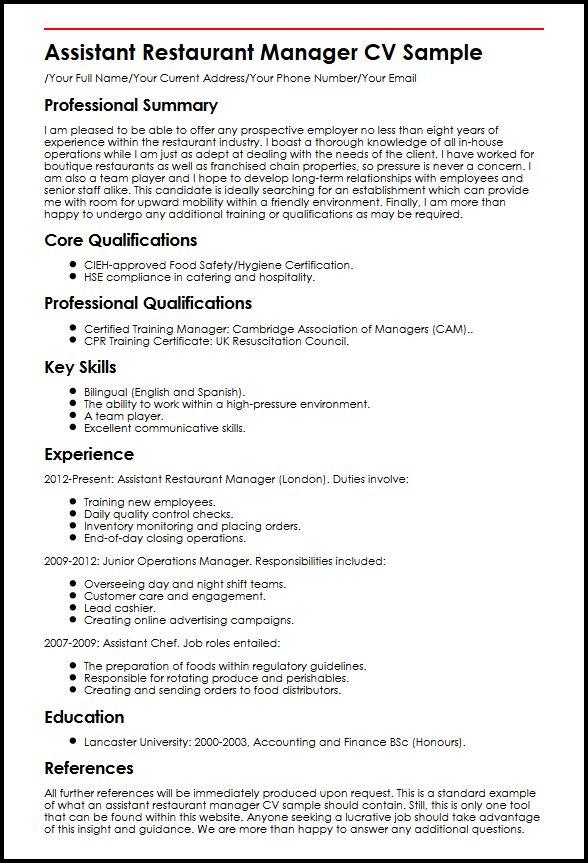 Build a professional CV that gets you hired.
Assistant Restaurant Manager CV Sample/Your Full Name/Your Current Address/Your Phone Number/Your Email
Professional Summary
I am pleased to be able to offer any prospective employer no less than eight years of experience within the restaurant industry.I boast a thorough knowledge of all in-house operations while I am just as adept at dealing with the needs of the client.I have worked for boutique restaurants as well as franchised chain properties, so pressure is never a concern.I am also a team player and I hope to develop long-term relationships with employees and senior staff alike.This candidate is ideally searching for an establishment which can provide me with room for upward mobility within a friendly environment.Finally, I am more than happy to undergo any additional training or qualifications as may be required.
Core Qualifications
CIEH-approved Food Safety/Hygiene Certification.
HSE compliance in catering and hospitality.
Professional Qualifications
Certified Training Manager: Cambridge Association of Managers (CAM)..
CPR Training Certificate: UK Resuscitation Council.
Key Skills
Bilingual (English and Spanish).
The ability to work within a high-pressure environment.
A team player.
Excellent communicative skills.
Experience
2012-Present: Assistant Restaurant Manager (London).Duties involve:
Training new employees.
Daily quality control checks.
Inventory monitoring and placing orders.
End-of-day closing operations.
2009-2012: Junior Operations Manager.Responsibilities included:
Overseeing day and night shift teams.
Customer care and engagement.
Lead cashier.
Creating online advertising campaigns.
2007-2009: Assistant Chef.Job roles entailed:
The preparation of foods within regulatory guidelines.
Responsible for rotating produce and perishables.
Creating and sending orders to food distributors.
Education
Lancaster University: 2000-2003, Accounting and Finance BSc (Honours).
References
All further references will be immediately produced upon request.This is a standard example of what an assistant restaurant manager CV sample should contain.Still, this is only one tool that can be found within this website.Anyone seeking a lucrative job should take advantage of this insight and guidance.We are more than happy to answer any additional questions.
Related CVs Food Service CV Examples