Server CV Example
A key aspect to any server job application, a useful CV will display the applicant's relevant expertise and skills. However, a CV can be just as effective if you have even a little bit of serving experience. This is because most bars and restaurants prefer to hire those who already have existing hospitality experience. Thus, putting together a server CV is one of the quickest and perhaps even most critical parts of speeding up your job search. Our server CV sample, shown below, is one of several that can help with this.
Create This CVSee all templates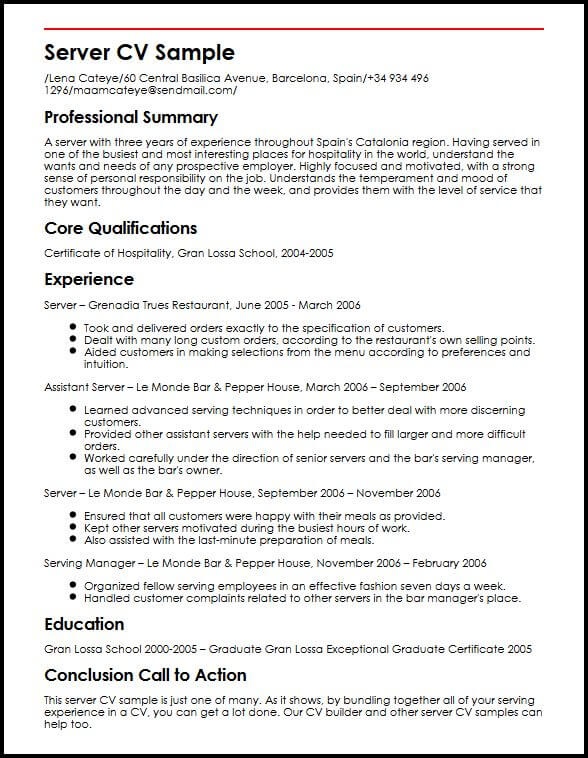 Build a professional CV that gets you hired.
Server CV Sample/Lena Cateye/60 Central Basilica Avenue, Barcelona, Spain/+34 934 496 1296/maamcateye@sendmail.com/
Professional Summary
A server with three years of experience throughout Spain's Catalonia region. Having served in one of the busiest and most interesting places for hospitality in the world, understand the wants and needs of any prospective employer. Highly focused and motivated, with a strong sense of personal responsibility on the job. Understands the temperament and mood of customers throughout the day and the week, and provides them with the level of service that they want.
Core Qualifications
Certificate of Hospitality, Gran Lossa School, 2004-2005
Experience
Server | Grenadia Trues Restaurant, June 2005 - March 2006
Took and delivered orders exactly to the specification of customers.
Dealt with many long custom orders, according to the restaurant's own selling points.
Aided customers in making selections from the menu according to preferences and intuition.
Assistant Server | Le Monde Bar & Pepper House, March 2006 | September 2006
Learned advanced serving techniques in order to better deal with more discerning customers.
Provided other assistant servers with the help needed to fill larger and more difficult orders.
Worked carefully under the direction of senior servers and the bar's serving manager, as well as the bar's owner.
Server | Le Monde Bar & Pepper House, September 2006 | November 2006
Ensured that all customers were happy with their meals as provided.
Kept other servers motivated during the busiest hours of work.
Also assisted with the last-minute preparation of meals.
Serving Manager | Le Monde Bar & Pepper House, November 2006 | February 2006
Organized fellow serving employees in an effective fashion seven days a week.
Handled customer complaints related to other servers in the bar manager's place.
Education
Gran Lossa School 2000-2005 | GraduateGran Lossa Exceptional Graduate Certificate 2005
Conclusion Call to Action
This server CV sample is just one of many. As it shows, by bundling together all of your serving experience in a CV, you can get a lot done. Our CV builder and other server CV samples can help too.
Related CVs Food Service CV Examples