Food and Beverage Assistant CV Example
The food and beverage industry is quite an interesting field and there are a number of unique opportunities for those who are seeking employment within this sector.Still, the competition can be quite stiff and firms tend to look for candidates who can present themselves in the most professional manner.This is when the power of a well-crafted CV becomes clear.There are countless job seekers who are unsure of what information should be included while others may not have a template to follow.This food and beverage assistant CV sample can be used as an outline when preparing such a document for a future interview.
Create This CVSee all templates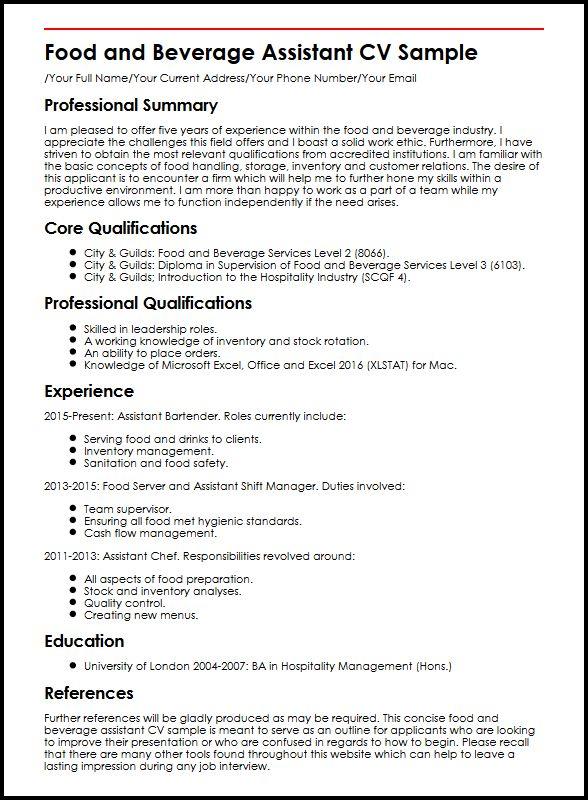 Build a professional CV that gets you hired.
Food and Beverage Assistant CV Sample/Your Full Name/Your Current Address/Your Phone Number/Your Email
Professional Summary
I am pleased to offer five years of experience within the food and beverage industry.I appreciate the challenges this field offers and I boast a solid work ethic.Furthermore, I have striven to obtain the most relevant qualifications from accredited institutions.I am familiar with the basic concepts of food handling, storage, inventory and customer relations.The desire of this applicant is to encounter a firm which will help me to further hone my skills within a productive environment.I am more than happy to work as a part of a team while my experience allows me to function independently if the need arises.
Core Qualifications
City & Guilds: Food and Beverage Services Level 2 (8066).
City & Guilds: Diploma in Supervision of Food and Beverage Services Level 3 (6103).
City & Guilds; Introduction to the Hospitality Industry (SCQF 4).
Professional Qualifications
Skilled in leadership roles.
A working knowledge of inventory and stock rotation.
An ability to place orders.
Knowledge of Microsoft Excel, Office and Excel 2016 (XLSTAT) for Mac.
Experience
2015-Present: Assistant Bartender.Roles currently include:
Serving food and drinks to clients.
Inventory management.
Sanitation and food safety.
2013-2015: Food Server and Assistant Shift Manager.Duties involved:
Team supervisor.
Ensuring all food met hygienic standards.
Cash flow management.
2011-2013: Assistant Chef.Responsibilities revolved around:
All aspects of food preparation.
Stock and inventory analyses.
Quality control.
Creating new menus.
Education
University of London 2004-2007: BA in Hospitality Management (Hons.)
References
Further references will be gladly produced as may be required.This concise food and beverage assistant CV sample is meant to serve as an outline for applicants who are looking to improve their presentation or who are confused in regards to how to begin.Please recall that there are many other tools found throughout this website which can help to leave a lasting impression during any job interview.
Related CVs Food Service CV Examples