Bar Supervisor CV Example
You can kick start your brand new career today, by getting a little help with that tricky first step: your CV. Use our free bar supervisor CV sample as a framework to get you started, with a sample layout and inspiration for your personal summary. Tailor this to your needs and then you can focus on selling yourself and starting your new role.
Create This CVSee all templates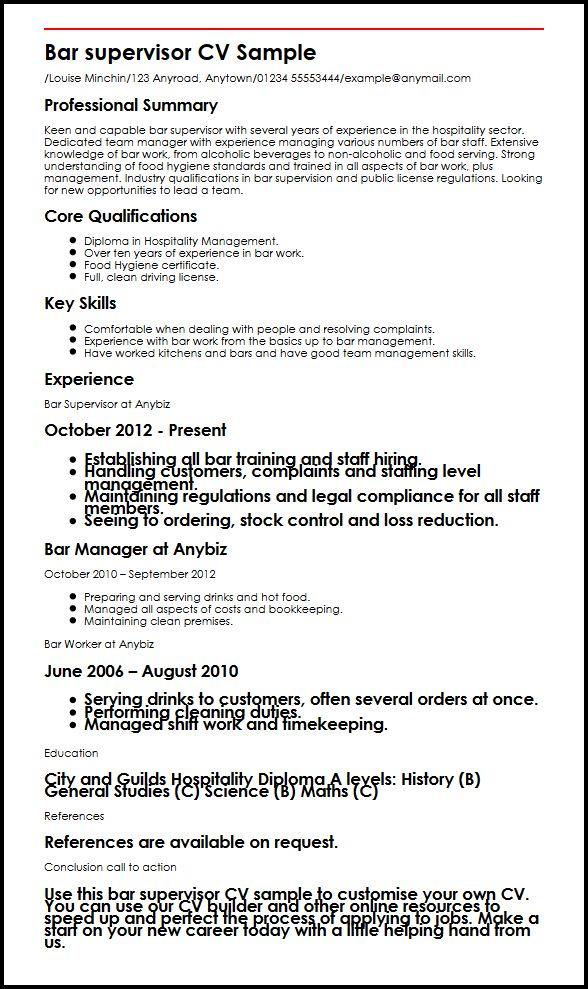 Build a professional CV that gets you hired.
Bar supervisor CV Sample/Louise Minchin/123 Anyroad, Anytown/01234 55553444/example@anymail.com
Professional Summary
Keen and capable bar supervisor with several years of experience in the hospitality sector. Dedicated team manager with experience managing various numbers of bar staff. Extensive knowledge of bar work, from alcoholic beverages to non-alcoholic and food serving. Strong understanding of food hygiene standards and trained in all aspects of bar work, plus management. Industry qualifications in bar supervision and public license regulations. Looking for new opportunities to lead a team.
Core Qualifications
Diploma in Hospitality Management.
Over ten years of experience in bar work.
Food Hygiene certificate.
Full, clean driving license.
Key Skills
Comfortable when dealing with people and resolving complaints.
Experience with bar work from the basics up to bar management.
Have worked kitchens and bars and have good team management skills.
Experience
Bar Supervisor at Anybiz
October 2012 - Present

Establishing all bar training and staff hiring.
Handling customers, complaints and staffing level management.
Maintaining regulations and legal compliance for all staff members.
Seeing to ordering, stock control and loss reduction.

Bar Manager at Anybiz
October 2010 | September 2012
Preparing and serving drinks and hot food.
Managed all aspects of costs and bookkeeping.
Maintaining clean premises.
Bar Worker at Anybiz
June 2006 | August 2010

Serving drinks to customers, often several orders at once.
Performing cleaning duties.
Managed shift work and timekeeping.
Education
City and Guilds Hospitality DiplomaA levels: History (B) General Studies (C) Science (B) Maths (C)
References
References are available on request.
Conclusion call to action
Use this bar supervisor CV sample to customise your own CV. You can use our CV builder and other online resources to speed up and perfect the process of applying to jobs. Make a start on your new career today with a little helping hand from us.
Related CVs Food Service CV Examples