CV Sample for a Part-Time Job
There are many reasons to want to get a part-time job. Perhaps you only have a limited number of hours in the week that you are able to work, or perhaps you already have a job, which means you are only seeking a few additional hours to fit in around it. Whatever your motivation for obtaining a part-time position, your CV must be laid out in an engaging and easy to read manner. Ensure your CV hits the mark with prospective employers by tailoring it to part-time positions, thanks to our free CV sample. It will help to make sure you add all of the relevant work experience, educational and vocational qualifications you have, as well as maintaining the right tone throughout.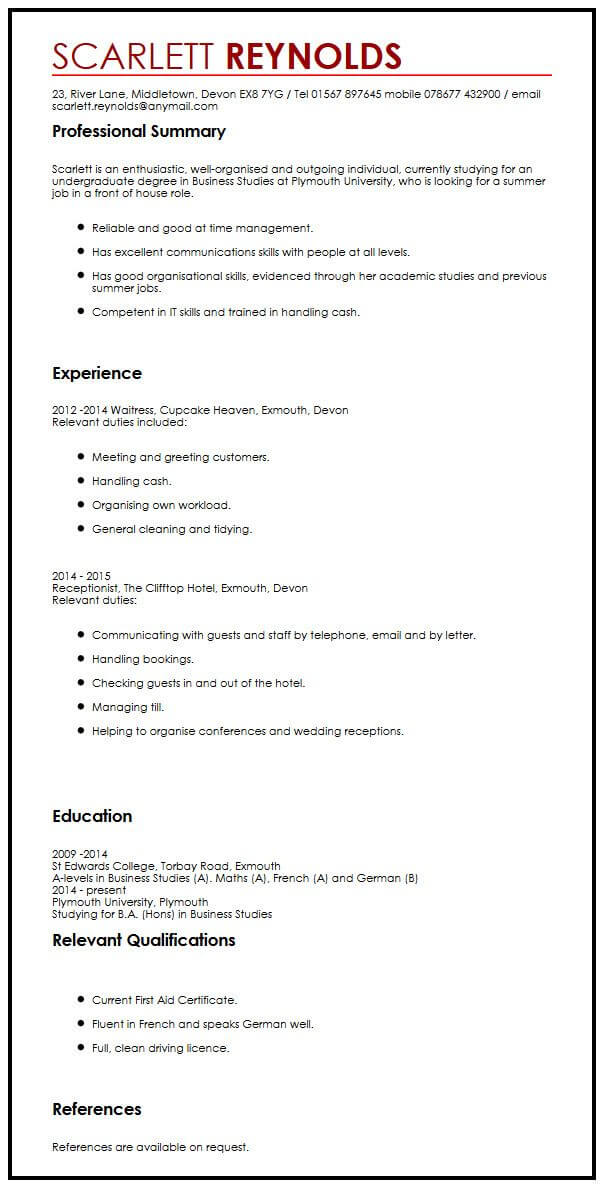 10 Made Up Street, Anyville/07221 124 1234/ani_chowdry@mail.uk
Professional Summary
I am a motivated and highly skilled educator with plenty of experience in the classroom as a teaching assistant and as an adult educational advisor. I have worked in a wide variety of educational settings, including further education institutes, private schools and kindergarten. My specialism is with literacy, but I am also an experienced teacher of British Sign Language (BSL). Following the birth of my first child, I am seeking a staged return to the world of work, initially with a part-time position to allow for my childcare responsibilities. I am happy to consider job share roles as well as morning-only positions. I am available to work between 14 and 21 hours per week on average.
Core Qualifications
Level 2 Award in Supporting Teaching and Learning in Schools BSL accredited at Level 5
Experience
BSL InstructorAny College2012 to 2014
Taught British Sign Language to small groups of adults during evening classes four nights a week.
Increased the pass rate from my predecessor in the role by 30%.
Undertook new 'taster' sessions within commercial organisations that were seeking to improve their training in hearing loss and communications.
Teaching AssistantAny School, 2010 to 2012
Handled all literacy classes for children aged six and seven who required additional educational support.
Helped the head teacher to plan learning activities and to update school records.
Gained experience with maintaining classroom discipline and preparing educational tools for a smooth transition between lessons.
Education
A-level in English (D), AS-levels in Sociology (B) and Psychology (C)GCSEs in 8 subjects, all with good grades
Conclusion
A CV sample such as this one for a part-time job, will assist anyone looking for an employment opportunity to get noticed by potential employers. There are a number of other examples that could be used instead. Simply take a look at the tools and CV builder section of this site for additional options and further guidance.