A perfect graphic design CV outlines your relevant qualifications, like a BA in graphic design, as well as your extensive experience of working with clients. It highlights your ability to design brands, deliver projects, and drive revenue through hands-on work experience.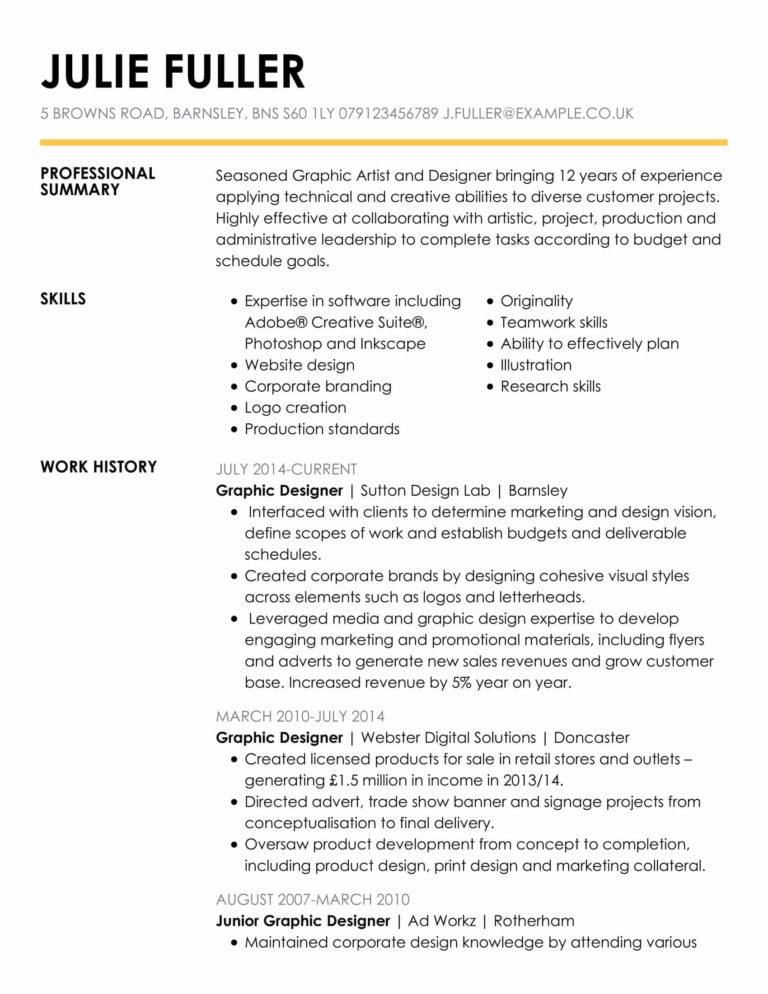 Graphic Designer CV Templates
A designer's CV has to look perfect the moment an employer sees it. Our CV templates give you a clean visual style, and a strong structure to make it easy for recruiters to find the key details, like your membership to the Chartered Society of Designers.
How to choose a graphic design CV template
Our templates have a clean, simple design that recruiters appreciate.
Font: The fonts are always unfussy, and generally are consistent across the entire CV. This eliminates clutter and shows that you appreciate design with visual consistency.
White space: The layout leaves plenty of room between sections, with generous margins. This shows recruiters that you understand the value of white space, and how it helps them to skim-read content.
Limited use of colour: By using colour only occasionally, the CV templates look professional and show creative restraint.
Our templates provide a structure that enhances readability for the recruiter.
Personal statement: Open your CV with this short paragraph, which briefly introduces you as a creative candidate worth considering for design jobs.
Work experience: Each role has a short series of bullet points that highlight your key responsibilities and achievements. This makes it quick to pick out professional highlights.
Qualifications: While many talented graphic designers are self-taught, including a section for your qualifications is always impressive.
Skills: A bullet-pointed section clearly communicates your personal, technical, and creative skillset.
Graphic Design CV Examples
Our graphic design CV example shows you exactly what a high impact designer CV should look like. From design and layout to content, here are key points to note:
Smart template choice: The CV template is clean and professional looking, with a deceptively simple layout. While it doesn't show off all the designer's original design skills or unusual graphics, it does demonstrate their ability to design for a specific audience.
Use of bullet points: Rather than writing long paragraphs or sentences, this designer has used bullet points to keep things brief.
A brief personal statement: This brief paragraph neatly explains that the graphic designer has 12 years' experience and knows how to work for a diverse range of clients.
Correct contact details: Up-to-date contact details are provided, including an email address that sounds professional, but isn't from their current employer.
A range of skills: By including a diverse range of skills like use of Adobe Photoshop and Illustrator, logo and brand creation, this creative designer shows off their versatility.
How to Write a Perfect Graphic Design CV: 5 Top Tips
The perfect graphic design CV showcases your formal qualifications and highlights skills like product development. It explains how you used these skills in the various positions you've held. With over a decade's experience, here are our 5 top tips for a brilliant graphic designer CV:
Feature keywords Many employers use applicant tracking systems (ATS), software that scans a CV and rejects it if it doesn't include certain words. Study the job description to understand which keywords apply to the specific role. Examples may include 'branding', 'creative' and 'infographic'.
Use the right language Use the kind of language that someone else in the profession will expect. Don't worry about including words like 'signage' and 'conceptualisation' in a graphic design CV – potential employers will understand what you mean.
Be specific Bring your achievements to life by backing them up with specific facts and figures. Rather than just saying that you increased revenue through your design work, point out that you lifted it by 5% year on year. This will have a much greater impact.
Include accreditations As well as the formal qualifications needed for the role, mention any professional accreditations you've gained. Being a member of the Chartered Society of Designers will show that you have an interest in both ongoing professional growth, and staying up-to-date with industry developments.
Check your spelling and grammar Letting spelling and grammar mistakes slip through to your finished CV will give a recruiter the impression that you don't pay attention to small details. Check and double-check your CV for errors.
Frequently Asked Questions About Graphic Designer CVs
What should a graphic designer put on a CV?
A graphic designer should put their formal qualifications and work experience on their CV:
The jobs you've done, in reverse chronological order.
Achievements and responsibilities from each post.
Specific facts and figures to show how effectively you handled your responsibilities.
A list of skills, like website design and infographics, that showcase your versatility.
If you have one, a link to your design portfolio.
How do I get my CV noticed?
Get your CV noticed by using a CV template that's visually impressive:
Clear headings and short sections.
Lists and bullet points to convey maximum information.
A CV template with a simple layout and plenty of white space around the text.
Keeping it brief and to the point.
Including a link to your design portfolio.
How do I make a graphic design resume?
You make a graphic design resume – or CV - by including key details that demonstrate your experience, versatility and creative approach as a graphic designer:
Create a personal statement that briefly summarises your ambitions and experience.
Highlight the formal qualifications and professional accreditations you hold.
Include skills like product development, corporate branding, and client liaison.
Check carefully for spelling and grammar mistakes.
Use our CV builder to make a perfect graphic design CV quickly and easily.
Essential Skills for Your Graphic Design CV
The skills listed on your graphic design CV should show that you know how to respond to client demands, design and deliver projects, and work to specific briefs.
Must-have skills for graphic designers
Expertise in software including Adobe® Illustrator, Photoshop, and Inkscape
Website design
Corporate branding
Logo creation
Production standards
Illustration
Research skills
Project management
dditional skills to help your CV beat the competition
Originality
Teamwork
Ability to effectively plan
Budgeting
Understanding of licensed products
Marketing know-how
Time management skills
Written and verbal communication
Leadership
Build Your Perfect Graphic Design CV
Building a perfect graphic design CV on your own is a difficult task, but when you work with our CV builder it suddenly becomes quick and easy.
We provide CV templates that give you the framework for setting out your qualifications, achievements, and experience in a clear and concise manner. Our help and tips will make it easy to fill in the right content, resulting in a graphic design CV that shows any recruiter that you're a candidate worth getting to know.