Customize this CV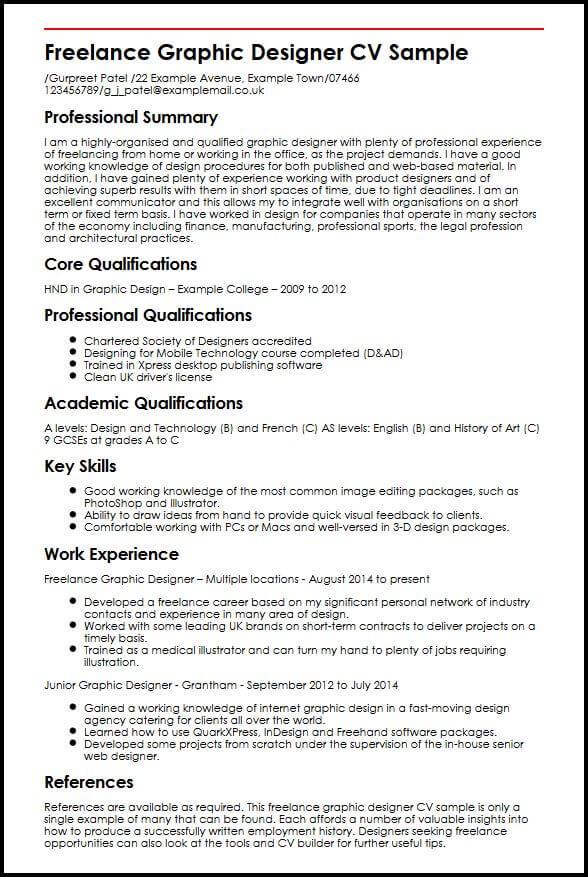 ---
Create This CV
To gain employment as any sort of freelancer, you will need to write a CV that shows off your skills and strengths just as well as examples of past work do. As well as listing your work history and experience, your CV ought to demonstrate your design ideas and passion for the industry. By making use of our freelance graphic designer CV sample, you will ensure that you include all of the right sort of written information. Additionally, you will discover that it helps you to choose the correct sort of formatting needed for graphic design jobs.
Freelance Graphic Designer CV Sample
/Gurpreet Patel /22 Example Avenue, Example Town/07466 123456789/g_j_patel@examplemail.co.uk
Professional Summary
I am a highly-organised and qualified graphic designer with plenty of professional experience of freelancing from home or working in the office, as the project demands. I have a good working knowledge of design procedures for both published and web-based material. In addition, I have gained plenty of experience working with product designers and of achieving superb results with them in short spaces of time, due to tight deadlines. I am an excellent communicator and this allows my to integrate well with organisations on a short term or fixed term basis. I have worked in design for companies that operate in many sectors of the economy including finance, manufacturing, professional sports, the legal profession and architectural practices.
Core Qualifications
HND in Graphic Design | Example College | 2009 to 2012
Professional Qualifications
Chartered Society of Designers accredited
Designing for Mobile Technology course completed (D&AD)
Trained in Xpress desktop publishing software
Clean UK driver's license
Academic Qualifications
A levels: Design and Technology (B) and French (C) AS levels: English (B) and History of Art (C) 9 GCSEs at grades A to C
Key Skills
Good working knowledge of the most common image editing packages, such as PhotoShop and Illustrator.
Ability to draw ideas from hand to provide quick visual feedback to clients.
Comfortable working with PCs or Macs and well-versed in 3-D design packages.
Work Experience
Freelance Graphic Designer | Multiple locations – August 2014 to present
Developed a freelance career based on my significant personal network of industry contacts and experience in many area of design.
Worked with some leading UK brands on short-term contracts to deliver projects on a timely basis.
Trained as a medical illustrator and can turn my hand to plenty of jobs requiring illustration.
Junior Graphic Designer – Grantham – September 2012 to July 2014
Gained a working knowledge of internet graphic design in a fast-moving design agency catering for clients all over the world.
Learned how to use QuarkXPress, InDesign and Freehand software packages.
Developed some projects from scratch under the supervision of the in-house senior web designer.
References
References are available as required. This freelance graphic designer CV sample is only a single example of many that can be found. Each affords a number of valuable insights into how to produce a successfully written employment history. Designers seeking freelance opportunities can also look at the tools and CV builder for further useful tips.