Debt Collector CV Example
The road to becoming a debt collector starts with crafting the ideal CV, to show employers that you're serious and a good choice. Getting this right can be tricky, so feel free to use our free debt collector CV sample to start the process. From here, you can write a strong CV with a smart, eye-catching layout that will kick start your new career.
Create This CVSee all templates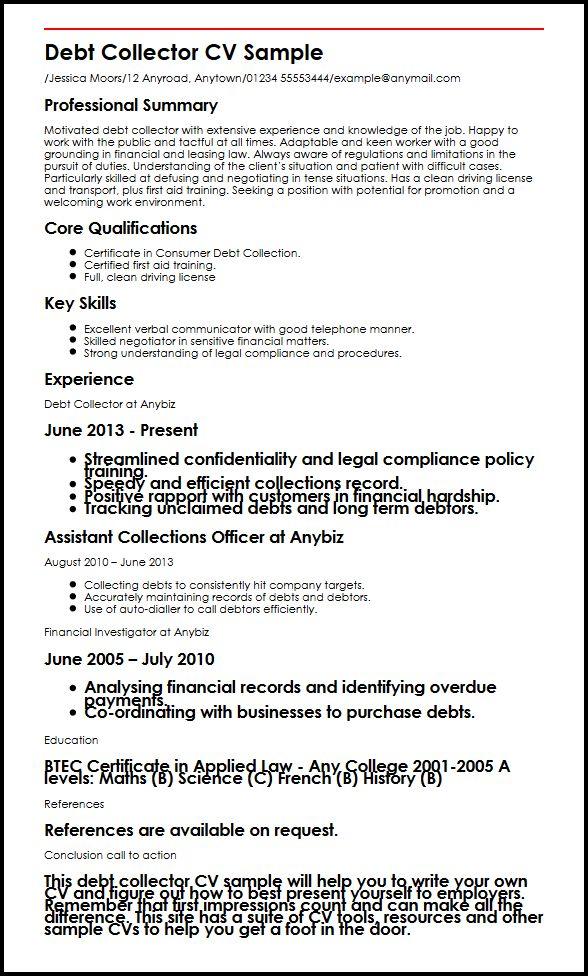 Build a professional CV that gets you hired.
Debt Collector CV Sample/Jessica Moors/12 Anyroad, Anytown/01234 55553444/example@anymail.com
Professional Summary
Motivated debt collector with extensive experience and knowledge of the job. Happy to work with the public and tactful at all times. Adaptable and keen worker with a good grounding in financial and leasing law. Always aware of regulations and limitations in the pursuit of duties. Understanding of the client's situation and patient with difficult cases. Particularly skilled at defusing and negotiating in tense situations. Has a clean driving license and transport, plus first aid training. Seeking a position with potential for promotion and a welcoming work environment.
Core Qualifications
Certificate in Consumer Debt Collection.
Certified first aid training.
Full, clean driving license
Key Skills
Excellent verbal communicator with good telephone manner.
Skilled negotiator in sensitive financial matters.
Strong understanding of legal compliance and procedures.
Experience
Debt Collector at Anybiz
June 2013 - Present

Streamlined confidentiality and legal compliance policy training.
Speedy and efficient collections record.
Positive rapport with customers in financial hardship.
Tracking unclaimed debts and long term debtors.

Assistant Collections Officer at Anybiz
August 2010 | June 2013
Collecting debts to consistently hit company targets.
Accurately maintaining records of debts and debtors.
Use of auto-dialler to call debtors efficiently.
Financial Investigator at Anybiz
June 2005 | July 2010

Analysing financial records and identifying overdue payments.
Co-ordinating with businesses to purchase debts.
Education
BTEC Certificate in Applied Law - Any College 2001-2005A levels: Maths (B) Science (C) French (B) History (B)
References
References are available on request.
Conclusion call to action
This debt collector CV sample will help you to write your own CV and figure out how to best present yourself to employers. Remember that first impressions count and can make all the difference. This site has a suite of CV tools, resources and other sample CVs to help you get a foot in the door.
Related CVs Billing collections