Payroll Officer CV Example
The very first step you need to take to become employed as a payroll officer is to fashion a well-written CV. It should accurately reflect both your skills in payroll administration as well as your wider abilities in the workplace more generally. In addition to highlighting your personal strengths, it should also take the right sort of format that is expected by employers nowadays. By using our free payroll officer CV sample, you will be able to adapt it to your specific work history, making it an invaluable tool for anyone seeking work in this area.
Create This CVSee all templates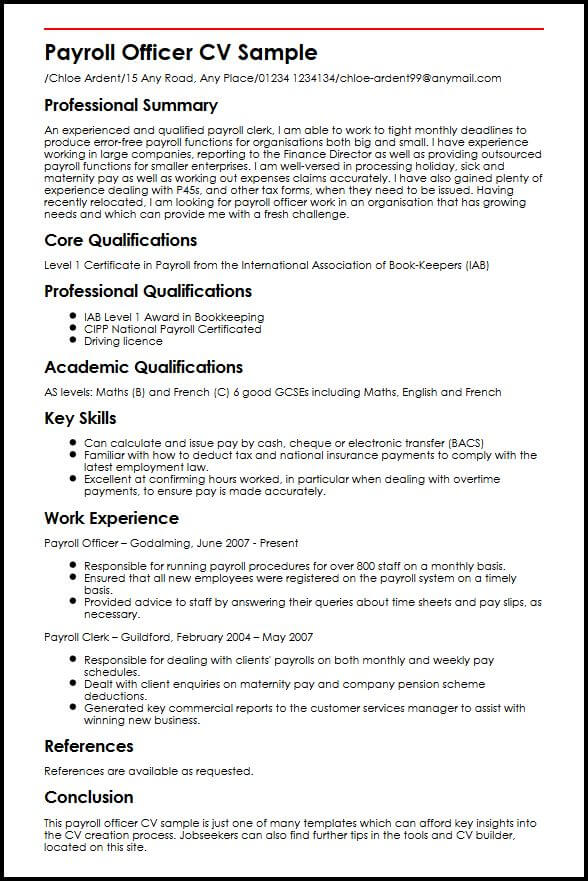 Build a professional CV that gets you hired.
Payroll Officer CV Sample/Chloe Ardent/15 Any Road, Any Place/01234 1234134/chloe-ardent99@anymail.com
Professional Summary
An experienced and qualified payroll clerk, I am able to work to tight monthly deadlines to produce error-free payroll functions for organisations both big and small. I have experience working in large companies, reporting to the Finance Director as well as providing outsourced payroll functions for smaller enterprises. I am well-versed in processing holiday, sick and maternity pay as well as working out expenses claims accurately. I have also gained plenty of experience dealing with P45s, and other tax forms, when they need to be issued. Having recently relocated, I am looking for payroll officer work in an organisation that has growing needs and which can provide me with a fresh challenge.
Core Qualifications
Level 1 Certificate in Payroll from the International Association of Book-Keepers (IAB)
Professional Qualifications
IAB Level 1 Award in Bookkeeping
CIPP National Payroll Certificated
Driving licence
Academic Qualifications
AS levels: Maths (B) and French (C)6 good GCSEs including Maths, English and French
Key Skills
Can calculate and issue pay by cash, cheque or electronic transfer (BACS)
Familiar with how to deduct tax and national insurance payments to comply with the latest employment law.
Excellent at confirming hours worked, in particular when dealing with overtime payments, to ensure pay is made accurately.
Work Experience
Payroll Officer | Godalming, June 2007 - Present
Responsible for running payroll procedures for over 800 staff on a monthly basis.
Ensured that all new employees were registered on the payroll system on a timely basis.
Provided advice to staff by answering their queries about time sheets and pay slips, as necessary.
Payroll Clerk | Guildford, February 2004 | May 2007
Responsible for dealing with clients' payrolls on both monthly and weekly pay schedules.
Dealt with client enquiries on maternity pay and company pension scheme deductions.
Generated key commercial reports to the customer services manager to assist with winning new business.
References
References are available as requested.
Conclusion
This payroll officer CV sample is just one of many templates which can afford key insights into the CV creation process. Jobseekers can also find further tips in the tools and CV builder, located on this site.
Related CVs Billing collections