Catering Manager CV Example
Catering is an industry which has enjoyed a great deal of prominence throughout the United Kingdom (and indeed around the world).Managers within this field have always been in high demand and applicants who are properly qualified will enjoy a great deal of success over time.Not only must you be equipped with the most pertinent skills, but presenting your qualifications in a decidedly efficient manner is important during the hiring process.The catering manager CV sample that we have constructed is meant to point you in the right direction.Please spend some time to appreciate the basic points that should always be mentioned.
Create This CVSee all templates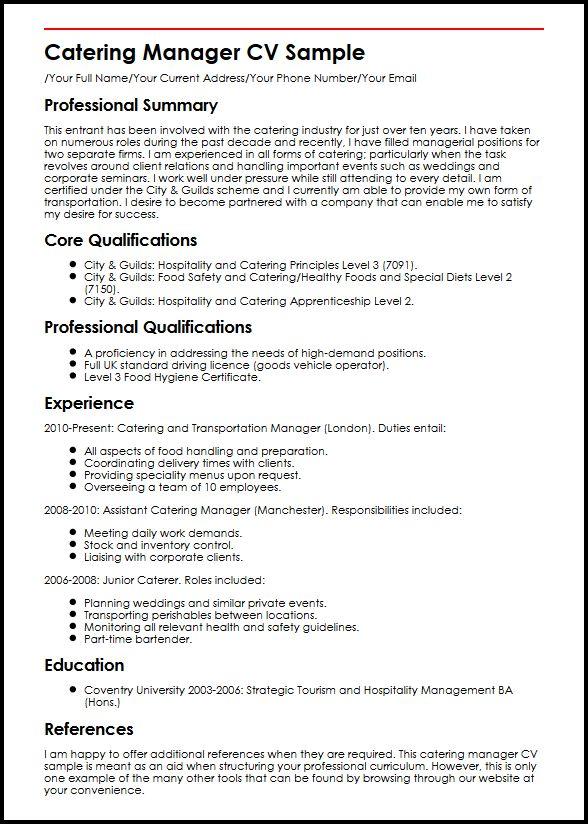 Build a professional CV that gets you hired.
Catering Manager CV Sample/Your Full Name/Your Current Address/Your Phone Number/Your Email
Professional Summary
This entrant has been involved with the catering industry for just over ten years.I have taken on numerous roles during the past decade and recently, I have filled managerial positions for two separate firms.I am experienced in all forms of catering; particularly when the task revolves around client relations and handling important events such as weddings and corporate seminars.I work well under pressure while still attending to every detail.I am certified under the City & Guilds scheme and I currently am able to provide my own form of transportation.I desire to become partnered with a company that can enable me to satisfy my desire for success.
Core Qualifications
City & Guilds: Hospitality and Catering Principles Level 3 (7091).
City & Guilds: Food Safety and Catering/Healthy Foods and Special Diets Level 2 (7150).
City & Guilds: Hospitality and Catering Apprenticeship Level 2.
Professional Qualifications
A proficiency in addressing the needs of high-demand positions.
Full UK standard driving licence (goods vehicle operator).
Level 3 Food Hygiene Certificate.
Experience
2010-Present: Catering and Transportation Manager (London).Duties entail:
All aspects of food handling and preparation.
Coordinating delivery times with clients.
Providing speciality menus upon request.
Overseeing a team of 10 employees.
2008-2010: Assistant Catering Manager (Manchester).Responsibilities included:
Meeting daily work demands.
Stock and inventory control.
Liaising with corporate clients.
2006-2008: Junior Caterer.Roles included:
Planning weddings and similar private events.
Transporting perishables between locations.
Monitoring all relevant health and safety guidelines.
Part-time bartender.
Education
Coventry University 2003-2006: Strategic Tourism and Hospitality Management BA (Hons.)
References
I am happy to offer additional references when they are required.This catering manager CV sample is meant as an aid when structuring your professional curriculum.However, this is only one example of the many other tools that can be found by browsing through our website at your convenience.
Related CVs Catering culinary