Head Chef CV Example
Not only is the title of head chef an extremely rewarding position, but it can also prove to be a source of stable income for decades.As with many reputable positions, there are specific certifications which are normally required while hands-on experience is always a massive advantage over other competitors.It it still just as important that a CV is constructed in the proper format and that it lists all talents in a professional manner.Anyone who may be unfamiliar with this requirement is likely to be slightly confused.The head chef CV sample found below is meant to serve as a suggestion and a rough template.
Create This CVSee all templates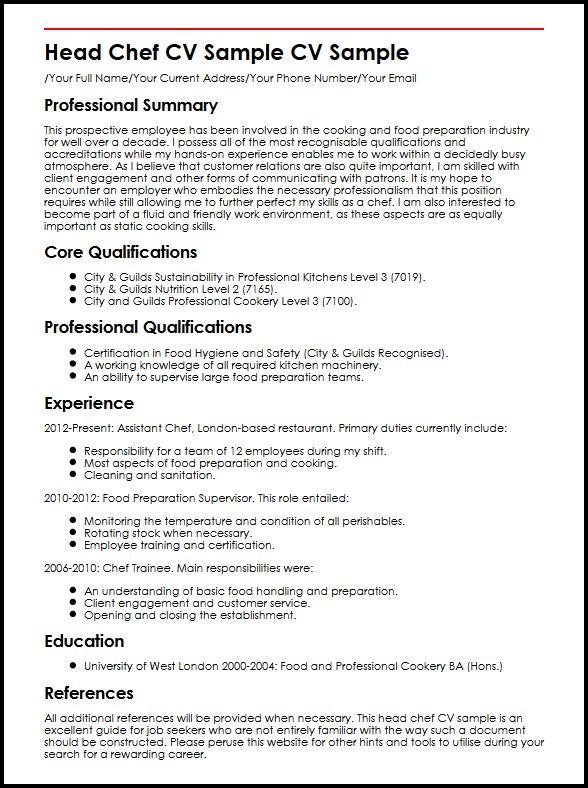 Build a professional CV that gets you hired.
Head Chef CV Sample CV Sample/Your Full Name/Your Current Address/Your Phone Number/Your Email
Professional Summary
This prospective employee has been involved in the cooking and food preparation industry for well over a decade.I possess all of the most recognisable qualifications and accreditations while my hands-on experience enables me to work within a decidedly busy atmosphere.As I believe that customer relations are also quite important, I am skilled with client engagement and other forms of communicating with patrons.It is my hope to encounter an employer who embodies the necessary professionalism that this position requires while still allowing me to further perfect my skills as a chef.I am also interested to become part of a fluid and friendly work environment, as these aspects are as equally important as static cooking skills.
Core Qualifications
City & Guilds Sustainability in Professional Kitchens Level 3 (7019).
City & Guilds Nutrition Level 2 (7165).
City and Guilds Professional Cookery Level 3 (7100).
Professional Qualifications
Certification in Food Hygiene and Safety (City & Guilds Recognised).
A working knowledge of all required kitchen machinery.
An ability to supervise large food preparation teams.
Experience
2012-Present: Assistant Chef, London-based restaurant.Primary duties currently include:
Responsibility for a team of 12 employees during my shift.
Most aspects of food preparation and cooking.
Cleaning and sanitation.
2010-2012: Food Preparation Supervisor.This role entailed:
Monitoring the temperature and condition of all perishables.
Rotating stock when necessary.
Employee training and certification.
2006-2010: Chef Trainee.Main responsibilities were:
An understanding of basic food handling and preparation.
Client engagement and customer service.
Opening and closing the establishment.
Education
University of West London 2000-2004: Food and Professional Cookery BA (Hons.)
References
All additional references will be provided when necessary.This head chef CV sample is an excellent guide for job seekers who are not entirely familiar with the way such a document should be constructed.Please peruse this website for other hints and tools to utilise during your search for a rewarding career.
Related CVs Catering culinary