Catering Assistant CV Example
Catering assistant jobs need a specific skill set and you can show you've got what it takes and are the right person for the job by using our catering assistant CV sample to start your CV writing process. Our sample suggests what to write to make sure you cover the right content in a logical and comprehensive way. Our hints and professional layout will help you to write a great CV that sets the right tone and highlights your skills, qualifications and abilities. When your CV lands on the desk of the person who's recruiting, they're bound to be impressed and will prioritise you for interview.
Create This CVSee all templates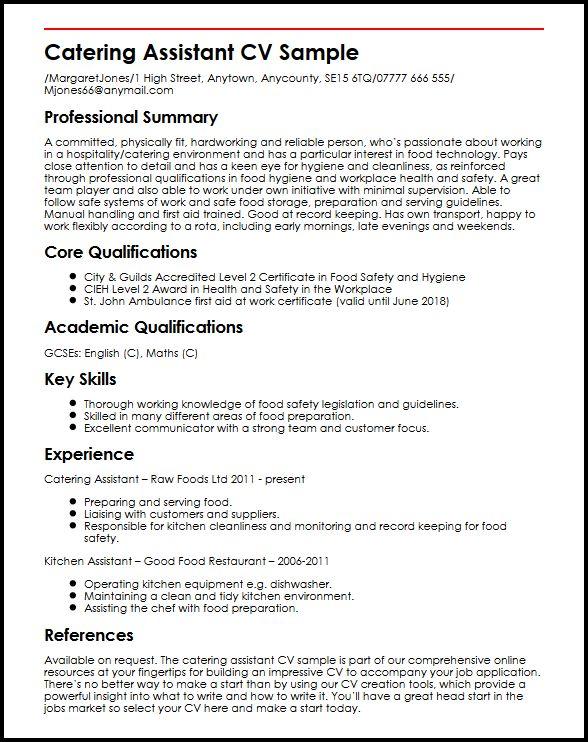 Build a professional CV that gets you hired.
Catering Assistant CV Sample/MargaretJones/1 High Street, Anytown, Anycounty, SE15 6TQ/07777 666 555/ Mjones66@anymail.com
Professional Summary
A committed, physically fit, hardworking and reliable person, who's passionate about working in a hospitality/catering environment and has a particular interest in food technology. Pays close attention to detail and has a keen eye for hygiene and cleanliness, as reinforced through professional qualifications in food hygiene and workplace health and safety. A great team player and also able to work under own initiative with minimal supervision. Able to follow safe systems of work and safe food storage, preparation and serving guidelines. Manual handling and first aid trained. Good at record keeping. Has own transport, happy to work flexibly according to a rota, including early mornings, late evenings and weekends.
Core Qualifications
City & Guilds Accredited Level 2 Certificate in Food Safety and Hygiene
CIEH Level 2 Award in Health and Safety in the Workplace
St. John Ambulance first aid at work certificate (valid until June 2018)
Academic Qualifications
GCSEs: English (C), Maths (C)
Key Skills
Thorough working knowledge of food safety legislation and guidelines.
Skilled in many different areas of food preparation.
Excellent communicator with a strong team and customer focus.
Experience
Catering Assistant | Raw Foods Ltd 2011 - present
Preparing and serving food.
Liaising with customers and suppliers.
Responsible for kitchen cleanliness and monitoring and record keeping for food safety.
Kitchen Assistant | Good Food Restaurant | 2006-2011
Operating kitchen equipment e.g. dishwasher.
Maintaining a clean and tidy kitchen environment.
Assisting the chef with food preparation.
References
Available on request.The catering assistant CV sample is part of our comprehensive online resources at your fingertips for building an impressive CV to accompany your job application. There's no better way to make a start than by using our CV creation tools, which provide a powerful insight into what to write and how to write it. You'll have a great head start in the jobs market so select your CV here and make a start today.