Assistant Pastry Chef CV Example
Not only is a pastry chef an extremely interesting job title, but this massive industry can offer lifelong opportunities for those who encounter the most appropriate company.An attention to detail, an artistic eye and a desire to succeed are key traits to possess.However, all of these talents will fall upon deaf years if an applicant does not embrace the proper presentation during a preliminary interview.This is why formatting a CV is so very important.The assistant pastry chef CV sample found below is intended to be a rough template for those who are confused in regards to how this document should appear.A memorable first impression is critical for those who are looking to find success within this exciting field.
Create This CVSee all templates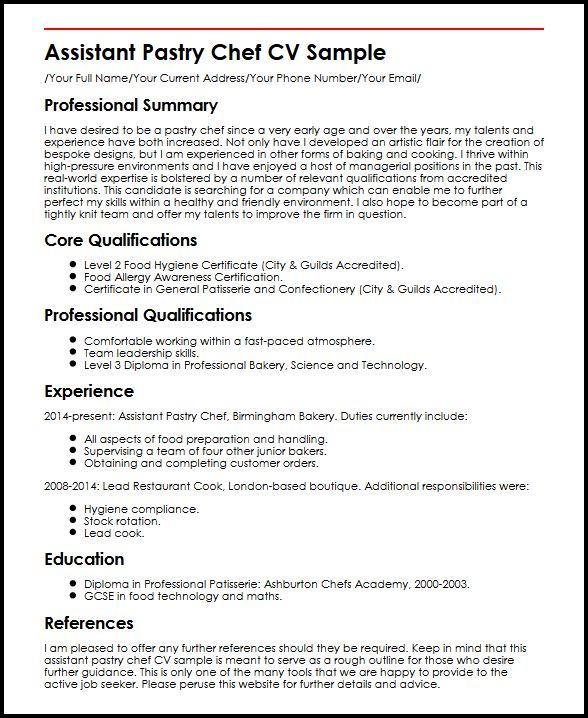 Build a professional CV that gets you hired.
Assistant Pastry Chef CV Sample/Your Full Name/Your Current Address/Your Phone Number/Your Email/
Professional Summary
I have desired to be a pastry chef since a very early age and over the years, my talents and experience have both increased.Not only have I developed an artistic flair for the creation of bespoke designs, but I am experienced in other forms of baking and cooking.I thrive within high-pressure environments and I have enjoyed a host of managerial positions in the past.This real-world expertise is bolstered by a number of relevant qualifications from accredited institutions.This candidate is searching for a company which can enable me to further perfect my skills within a healthy and friendly environment.I also hope to become part of a tightly knit team and offer my talents to improve the firm in question.
Core Qualifications
Level 2 Food Hygiene Certificate (City & Guilds Accredited).
Food Allergy Awareness Certification.
Certificate in General Patisserie and Confectionery (City & Guilds Accredited).
Professional Qualifications
Comfortable working within a fast-paced atmosphere.
Team leadership skills.
Level 3 Diploma in Professional Bakery, Science and Technology.
Experience
2014-present: Assistant Pastry Chef, Birmingham Bakery.Duties currently include:
All aspects of food preparation and handling.
Supervising a team of four other junior bakers.
Obtaining and completing customer orders.
2008-2014: Lead Restaurant Cook, London-based boutique.Additional responsibilities were:
Hygiene compliance.
Stock rotation.
Lead cook.
Education
Diploma in Professional Patisserie: Ashburton Chefs Academy, 2000-2003.
GCSE in food technology and maths.
References
I am pleased to offer any further references should they be required.Keep in mind that this assistant pastry chef CV sample is meant to serve as a rough outline for those who desire further guidance.This is only one of the many tools that we are happy to provide to the active job seeker.Please peruse this website for further details and advice.