Fraud Analyst CV Example
Taking the time to study this fraud analyst CV sample is a great way to take in all the information that you need to make your very own CV that will include the precise formatting and required information. If you are looking for a job as a fraud analyst, it is vital to create a CV that best displays your relevant abilities and skills as well as highlighting your key strengths. You can use this free fraud analyst CV sample as a mould to help you to appreciate the different elements you need to include when you create your own CV and you can the format that is set out here to guide you.
Create This CVSee all templates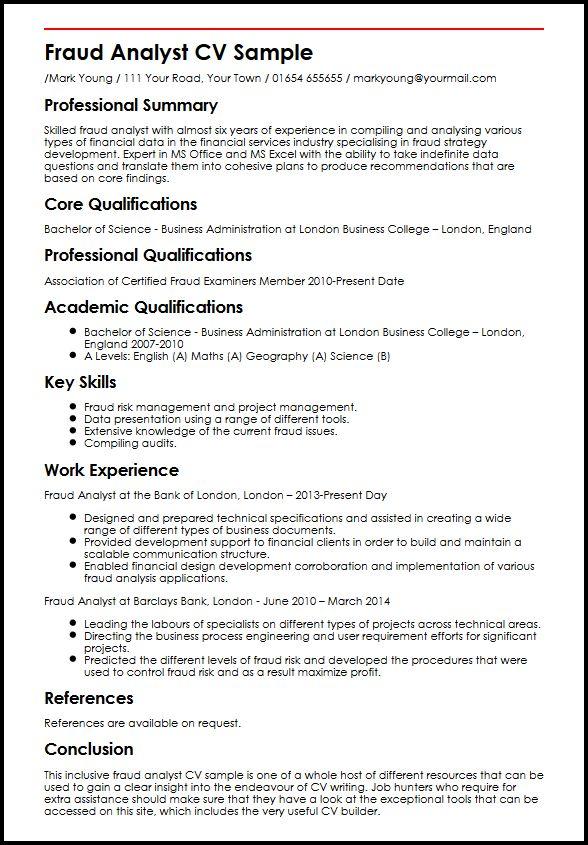 Build a professional CV that gets you hired.
Fraud Analyst CV Sample/Mark Young / 111 Your Road, Your Town / 01654 655655 / markyoung@yourmail.com
Professional Summary
Skilled fraud analyst with almost six years of experience in compiling and analysing various types of financial data in the financial services industry specialising in fraud strategy development. Expert in MS Office and MS Excel with the ability to take indefinite data questions and translate them into cohesive plans to produce recommendations that are based on core findings.
Core Qualifications
Bachelor of Science - Business Administration at London Business College | London, England
Professional Qualifications
Association of Certified Fraud Examiners Member 2010-Present Date
Academic Qualifications
Bachelor of Science - Business Administration at London Business College | London, England2007-2010
A Levels: English (A) Maths (A) Geography (A) Science (B)
Key Skills
Fraud risk management and project management.
Data presentation using a range of different tools.
Extensive knowledge of the current fraud issues.
Compiling audits.
Work Experience
Fraud Analyst at the Bank of London, London | 2013-Present Day
Designed and prepared technical specifications and assisted in creating a wide range of different types of business documents.
Provided development support to financial clients in order to build and maintain a scalable communication structure.
Enabled financial design development corroboration and implementation of various fraud analysis applications.
Fraud Analyst at Barclays Bank, London - June 2010 | March 2014
Leading the labours of specialists on different types of projects across technical areas.
Directing the business process engineering and user requirement efforts for significant projects.
Predicted the different levels of fraud risk and developed the procedures that were used to control fraud risk and as a result maximize profit.
References
References are available on request.
Conclusion
This inclusive fraud analyst CV sample is one of a whole host of different resources that can be used to gain a clear insight into the endeavour of CV writing. Job hunters who require for extra assistance should make sure that they have a look at the exceptional tools that can be accessed on this site, which includes the very useful CV builder.