Regional Manager CV Example
Gaining part-time work is the aspiration of many people in the workforce who have other responsibilities, including holding down other work, bringing up a family or caring for others. In order to get a job on a part-time basis, producing a well presented CV is essential. When applying for a post with reduced hours, make use of our CV example for a part-time job to help you lay your CV out in a professional way. It should also assist applicants with listing all of the details that make them individual, focussing on the best points for the particular job being applied for.

Create This CVSee all templates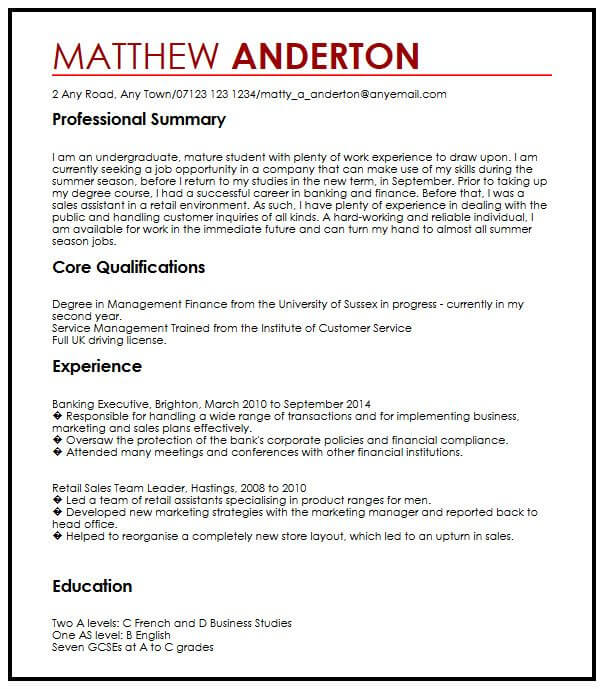 Build a professional CV that gets you hired.
12 Made Up Street, City/07441 121 1234/david.r.rogers@hotmail.uk
Professional Summary
An experienced retail store manager and with years of sales assistant roles before that, I am returning to the job market after a break of three years due to ill health. Now fully recovered, I am seeking a part-time job role in retail to work my way back into the job market. Ideally, my experience will lead to a managerial position in grocery retail, perhaps on a job share basis. I am equally ready for a job that relies on cover for weekend shopping or a role that provides holiday or maternity leave cover. With plenty of success in the past, I am keen to return to the world of retail and to drive forward sales and customer service levels for any prospective employer.
Core Qualifications
Level 3 Diploma in Management Retail Skills
Experience
Regional Retail Manager, SainsCo's Grocery Group, 2001 to 2013
Worked my way up from assistant store manager to one of only five regional retail managers in the country.
Oversaw the roll out of several new store layouts and altered staff working arrangements to cope with 24 hour retail services.
Developed novel approaches to newly launched product lines in store which led to increased take up.
Retail Sales AssistantBarrens' Outfitters, 1999 to 2001
Helped increase sales by 150 per cent in my first year working in store.
Developed a new product range of menswear with designers.
Gained a great deal of experience with customer complaints, returns and handling credit note procedures.
Education
A-levels in English and Business Studies (C grades)GCSEs in 9 subjects including English and Maths
Conclusion
This CV example for a part-time job will help anyone seeking employment to get their foot in the door with a new employer. There are many other samples that you can also you use on this site. Just look in the tools and CV builder section for more information and guidance.