Managing a bar can be an extremely rewarding experience.The environment tends to be very fluid and a part-time role can quickly turn into a full-time lifestyle.It should therefore be apparent that there is a great deal of competition within such a field.Presenting yourself to a prospective employer is critical to rise above the competition and much of this preparation should revolve around writing a concise and yet powerful CV.So, please examine the bar manager CV sample found below in greater detail.This is an efficient template for you to follow during the recruitment and interview processes.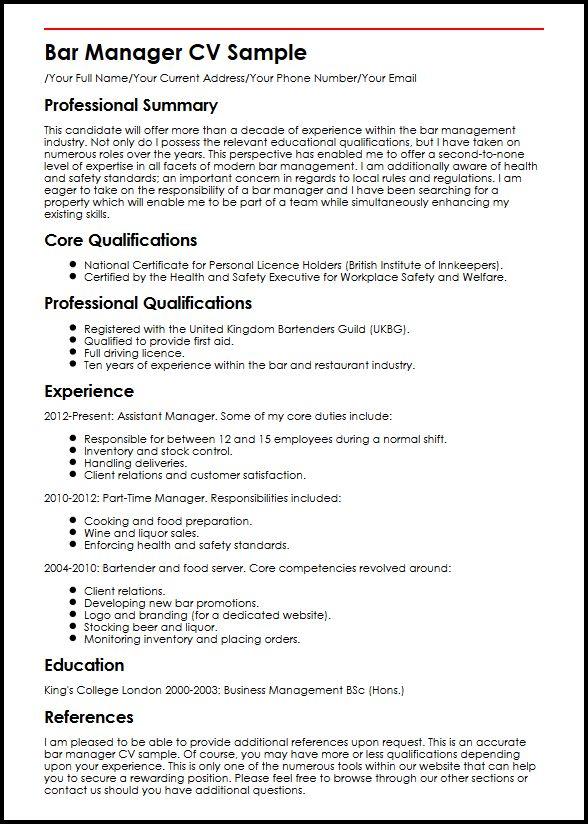 Bar Manager CV Sample/Your Full Name/Your Current Address/Your Phone Number/Your Email
Professional Summary
This candidate will offer more than a decade of experience within the bar management industry.Not only do I possess the relevant educational qualifications, but I have taken on numerous roles over the years.This perspective has enabled me to offer a second-to-none level of expertise in all facets of modern bar management.I am additionally aware of health and safety standards; an important concern in regards to local rules and regulations.I am eager to take on the responsibility of a bar manager and I have been searching for a property which will enable me to be part of a team while simultaneously enhancing my existing skills.
Core Qualifications
National Certificate for Personal Licence Holders (British Institute of Innkeepers).
Certified by the Health and Safety Executive for Workplace Safety and Welfare.
Professional Qualifications
Registered with the United Kingdom Bartenders Guild (UKBG).
Qualified to provide first aid.
Full driving licence.
Ten years of experience within the bar and restaurant industry.
Experience
2012-Present: Assistant Manager.Some of my core duties include:
Responsible for between 12 and 15 employees during a normal shift.
Inventory and stock control.
Handling deliveries.
Client relations and customer satisfaction.
2010-2012: Part-Time Manager.Responsibilities included:
Cooking and food preparation.
Wine and liquor sales.
Enforcing health and safety standards.
2004-2010: Bartender and food server.Core competencies revolved around:
Client relations.
Developing new bar promotions.
Logo and branding (for a dedicated website).
Stocking beer and liquor.
Monitoring inventory and placing orders.
Education
King's College London 2000-2003: Business Management BSc (Hons.)
References
I am pleased to be able to provide additional references upon request.This is an accurate bar manager CV sample.Of course, you may have more or less qualifications depending upon your experience.This is only one of the numerous tools within our website that can help you to secure a rewarding position.Please feel free to browse through our other sections or contact us should you have additional questions.