A perfect bartender CV tells an employer that you have experience working in a range of outlets, such as bars, restaurants, and pubs. It also outlines specialist bartender skills like cocktail making, and highlights the positive impact of your work.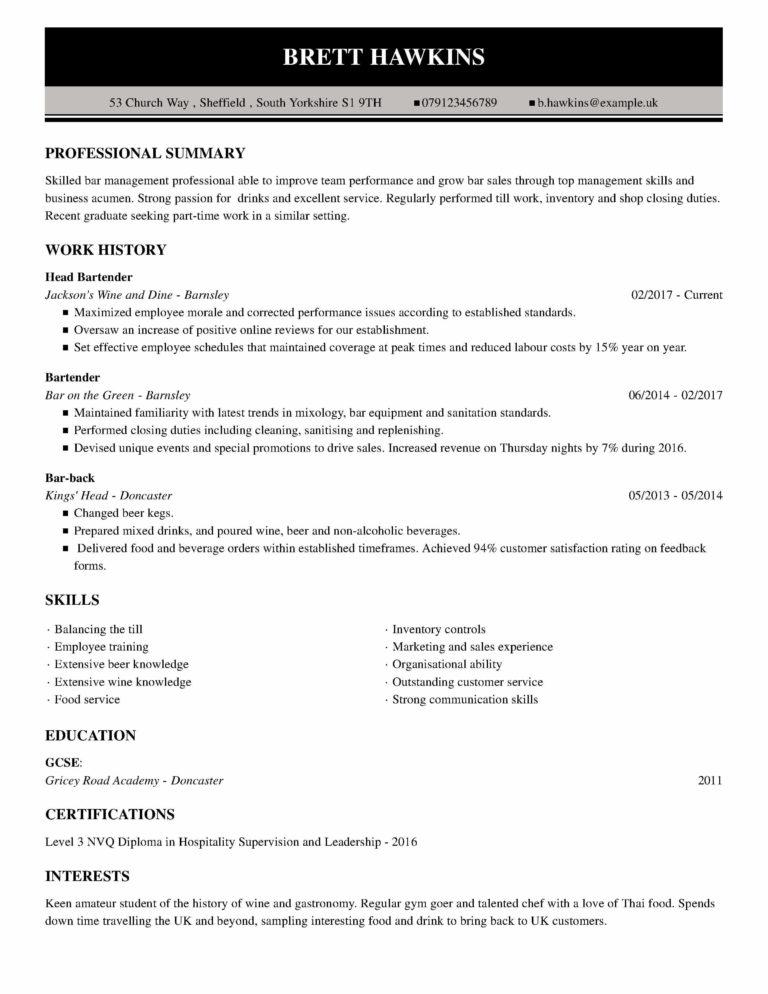 Bartender CV Templates
A CV for a bartender should be set out so it's easy for a recruiter to skim and pick out details like your success in driving sales and creating positive customer feedback. With over a decade's experience creating professional CV templates, we have what you need to build a great bartender CV, quickly and easily.
How to choose a bartender CV template
Our recommended bartender CV templates keep the design clean and simple.
Short headings: The headings for each section are short and self-explanatory. This looks smart, while also helping recruiters to find information quickly.
A single font: You might mix drinks, but don't mix fonts. Using the same font for the entire CV makes it look professional and polished. We've chosen standard fonts like Arial, which are always appropriate.
Subtle colour: One subtle colour helps to highlight parts of your bartender CV (like your name or the headings) to make them stand out.
The structure of our bartender CV templates follows a tried and tested formula that appeals to potential employers.
Personal statement: Open with this brief paragraph that summarises who you are, what you can do, and your ambitions. A great summary will encourage recruiters to read on.
Work experience: Listing your jobs in reverse chronological order enables a recruiter to instantly gauge your career progression.
Qualifications & certifications: Qualifications such as an NVQ in Hospitality Supervision and Leadership should be given a section of their own, so they get noticed.
Skills: A clear list of skills like food service, wine knowledge, and employee training shows the employer you've got what it takes to meet the demands of the job.
Our bartender CV example shows you the kind of impact a well-written CV can have. With over a decade's experience helping to build CVs for bar staff, here's what you should take note of before you apply:
An impactful personal statement: It's only 20 words long, but this personal statement packs a punch, highlighting the bartender's business acumen, management skills, and impact on sales.
Visual appeal: The use of clear sections separated by plenty of white space will appeal to employers at first glance, making them want to read on.
Work experience that showcases skills: The candidate has given examples of work experience chosen to highlight wide-ranging skills like staff management, mixology, and promotional activities.
Qualifications:Though bartending doesn't need a formal qualification, the candidate has included GCSEs to demonstrate a foundation of literacy and numeracy.
Personal development: The candidate highlights an NVQ in Hospitality Supervision and Leadership to showcase professional development and clear management ambitions.
Interests:The interests listed have been chosen carefully. 'Gastronomy' and 'the history of wine' are relevant to the role and show that the candidate brings their personality to the workplace.
How to Write a Perfect Bartender CV: 5 Top Tips
Writing a perfect bartender CV means showing a recruiter that you have a solid track record of pleasing customers, exceeding sales targets, and working to develop skills like marketing, cocktail making, and employee training. Here are our 5 top tips for building your own perfect CV:
Think about keywords: Many recruiters use Applicant Tracking Software (ATS) to filter bartending CVs, and reject those that don't include specific keywords. Review the job advert, and make sure you use words and phrases like 'sales', 'beverages', and 'closing duties'.
Use numbers: Your CV is no place to be modest. Don't just say that your promotions brought in revenue, tell the recruiter that you drove a 7% rise in takings. Explaining that you achieved a 94% positive rating from customers will be much more powerful than simply writing 'inspired positive feedback'.
Check your spelling: Check your spelling and grammar multiple times. The more senior the role, the more administration is involved, and mistakes could convince the recruiter you're not up to the job.
Consider including hobbies: If you have space, include hobbies and interests that are directly relevant to a bartending job. Keeping fit will come in handy if you have to change barrels or unload stock, while an interest in food helps when chatting to kitchen staff and diners.
Include certifications: If you've taken the time to study for an NVQ in Hospitality Supervision and Leadership, make sure it's featured prominently. It shows that you see bartending as a career, rather than just a temporary job.
Frequently Asked Questions About Bartender CVs
What do you put on a CV for bar work?
You should put your skills, work history, and bartending achievements on to your CV for bar work:
A summary of skills such as managing staff and driving sales.
Work experience including duties like reducing labour costs, developing special promotions, and delivering food and drink orders.
Skills such as balancing a till, and controlling inventories
Certifications such as an NVQ.
What is required to be a bartender?
A successful bartender requires the following skills:
Food and beverage knowledge.
Experience of handling money.
The ability to work in a team.
Customer service skills.
Good communication, particularly verbally.
See more useful bartending skills when you create your CV in our CV builder.
What qualities make a good bartender?
There are many qualities a good bartender requires. Here are a few that we think are important:
An outgoing, approachable personality.
The ability to stay calm under pressure – useful when dealing with difficult customers.
A good memory for dealing with big orders.
A genuine interest in providing excellent food and drink
Vital Skills for Your Bartender CV
Your bartender CV should make it clear that you have the skills needed to deal with customers and liaise with your team.
Essential skills for bartending positions
Balancing the till
Extensive beer knowledge
Extensive wine knowledge
Food service
Inventory controls
Outstanding customer service
Strong communication skills
Alcohol ordering
Maintained hygienic bar
Extra skills to help a bartender CV stand out
Employee training
Marketing and sales experience
Organisational ability
Cocktail list development
Courteous
Strong communication skills<
Suggestive selling
Organisational ability
Outstanding customer service
Problem solving
Build Your Perfect Bartender CV
When you put together CV templates, examples, and a CV builder, you have an unbeatable package to help you take the next step in your career.
Once you've chosen the format and layout, we'll help you with the content to create a CV that convinces recruiters that you're the best person for the job.