Finance Administrator CV Sample
There is a good deal to weigh up when planning a career in finance and an administrative role is often the way to get into the sector. In order to get a foothold or a step up in this part of business, a well-written CV can be invaluable. The way you express yourself in a CV should create a good fist impression with any would-be employer, so you should make sure the format you choose conforms to certain expectations. In addition, it should make the most of any aptitudes, experience and qualifications you have that are relevant. A winning CV will also convey something of your personality and not be dry document, perhaps offering some insight into your enthusiasm for financial administration. By using a finance administrator CV sample, you will be able to develop your CV into something that is much better placed to help you land your dream position.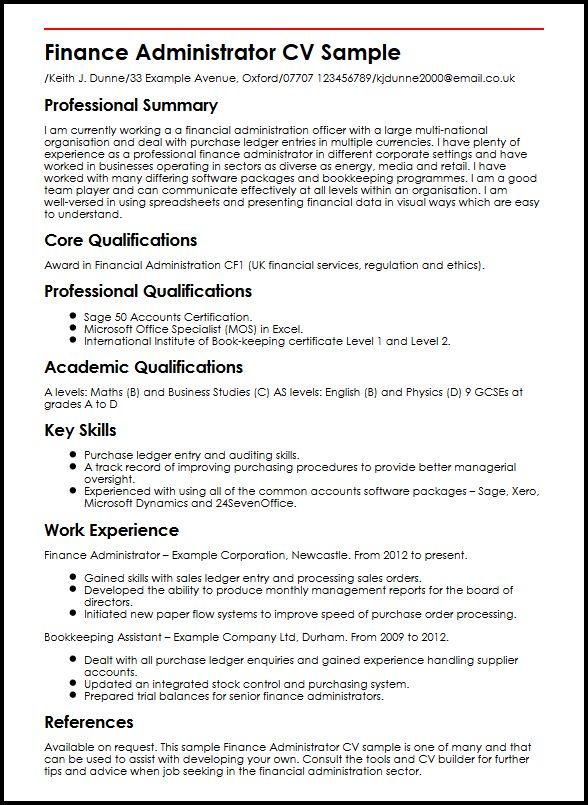 Finance Administrator CV Sample/Keith J. Dunne/33 Example Avenue, Oxford/07707 123456789/kjdunne2000@email.co.uk
Professional Summary
I am currently working a a financial administration officer with a large multi-national organisation and deal with purchase ledger entries in multiple currencies. I have plenty of experience as a professional finance administrator in different corporate settings and have worked in businesses operating in sectors as diverse as energy, media and retail. I have worked with many differing software packages and bookkeeping programmes. I am a good team player and can communicate effectively at all levels within an organisation. I am well-versed in using spreadsheets and presenting financial data in visual ways which are easy to understand.
Core Qualifications
Award in Financial Administration CF1 (UK financial services, regulation and ethics).
Professional Qualifications
Sage 50 Accounts Certification.
Microsoft Office Specialist (MOS) in Excel.
International Institute of Book-keeping certificate Level 1 and Level 2.
Academic Qualifications
A levels: Maths (B) and Business Studies (C)AS levels: English (B) and Physics (D)9 GCSEs at grades A to D
Key Skills
Purchase ledger entry and auditing skills.
A track record of improving purchasing procedures to provide better managerial oversight.
Experienced with using all of the common accounts software packages | Sage, Xero, Microsoft Dynamics and 24SevenOffice.
Work Experience
Finance Administrator| Example Corporation, Newcastle. From 2012 to present.
Gained skills with sales ledger entry and processing sales orders.
Developed the ability to produce monthly management reports for the board of directors.
Initiated new paper flow systems to improve speed of purchase order processing.
Bookkeeping Assistant| Example Company Ltd, Durham. From 2009 to 2012.
Dealt with all purchase ledger enquiries and gained experience handling supplier accounts.
Updated an integrated stock control and purchasing system.
Prepared trial balances for senior finance administrators.
References
Available on request.This sample Finance Administrator CV sample is one of many and that canbe used to assist with developing your own. Consult the tools and CV builder for further tips and advice when job seeking in the financial administration sector.