Health and safety officer 2 CV sample
When you're applying for a job in health and safety as a healthy and safety officer, you'll need a professional, well-written CV. By using our Health and safety officer 2 CV sample, you'll be able to showcase your qualifications, skills and achievements using the right words and the correct format to show you're the best person for the job. Our Health and safety officer 2 CV sample helps you to make a big impact, impressing the individual or team in charge of recruitment in the company you're hoping to join. This will ultimately help you on the way to securing that all-important interview.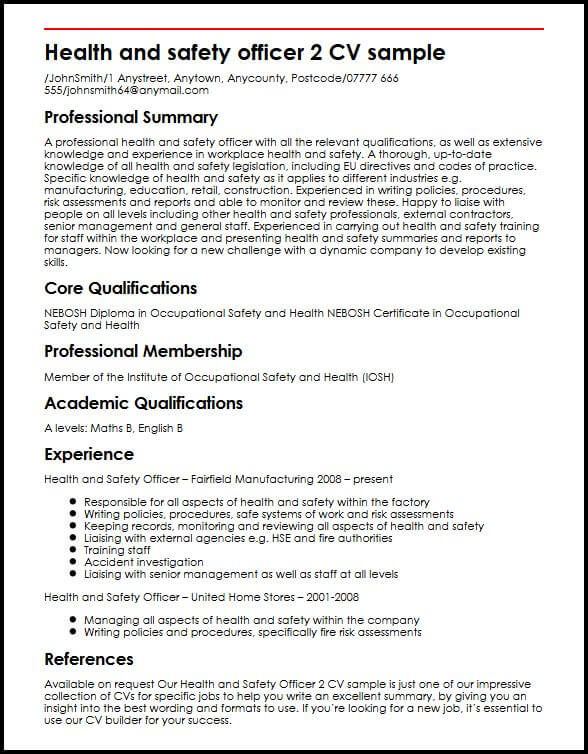 Health and safety officer 2 CV sample/JohnSmith/1 Anystreet, Anytown, Anycounty, Postcode/07777 666 555/johnsmith64@anymail.com
Professional Summary
A professional health and safety officer with all the relevant qualifications, as well as extensive knowledge and experience in workplace health and safety. A thorough, up-to-date knowledge of all health and safety legislation, including EU directives and codes of practice. Specific knowledge of health and safety as it applies to different industries e.g. manufacturing, education, retail, construction. Experienced in writing policies, procedures, risk assessments and reports and able to monitor and review these. Happy to liaise with people on all levels including other health and safety professionals, external contractors, senior management and general staff. Experienced in carrying out health and safety training for staff within the workplace and presenting health and safety summaries and reports to managers. Now looking for a new challenge with a dynamic company to develop existing skills.
Core Qualifications
NEBOSH Diploma in Occupational Safety and HealthNEBOSH Certificate in Occupational Safety and Health
Professional Membership
Member of the Institute of Occupational Safety and Health (IOSH)
Academic Qualifications
A levels: Maths B, English B
Experience
Health and Safety Officer | Fairfield Manufacturing 2008 | present
Responsible for all aspects of health and safety within the factory
Writing policies, procedures, safe systems of work and risk assessments
Keeping records, monitoring and reviewing all aspects of health and safety
Liaising with external agencies e.g. HSE and fire authorities
Training staff
Accident investigation
Liaising with senior management as well as staff at all levels
Health and Safety Officer | United Home Stores | 2001-2008
Managing all aspects of health and safety within the company
Writing policies and procedures, specifically fire risk assessments
References
Available on requestOur Health and Safety Officer 2 CV sample is just one of our impressive collection of CVs for specific jobs to help you write an excellent summary, by giving you an insight into the best wording and formats to use. If you're looking for a new job, it's essential to use our CV builder for your success.