It is becoming very common for individuals to seek employment outside of the United Kingdom.As there are a number of rewarding roles available, many applicants are interested in honing their skills abroad while working with a company that can provide them with further room for advancement.It should also be noted that the competition within the international job market is more robust than ever before.Presentation is therefore one of the keys to your ultimate success.The international CV example seen below can help you to appreciate what information should be presented to the recruiter, as well as how this document should be formatted.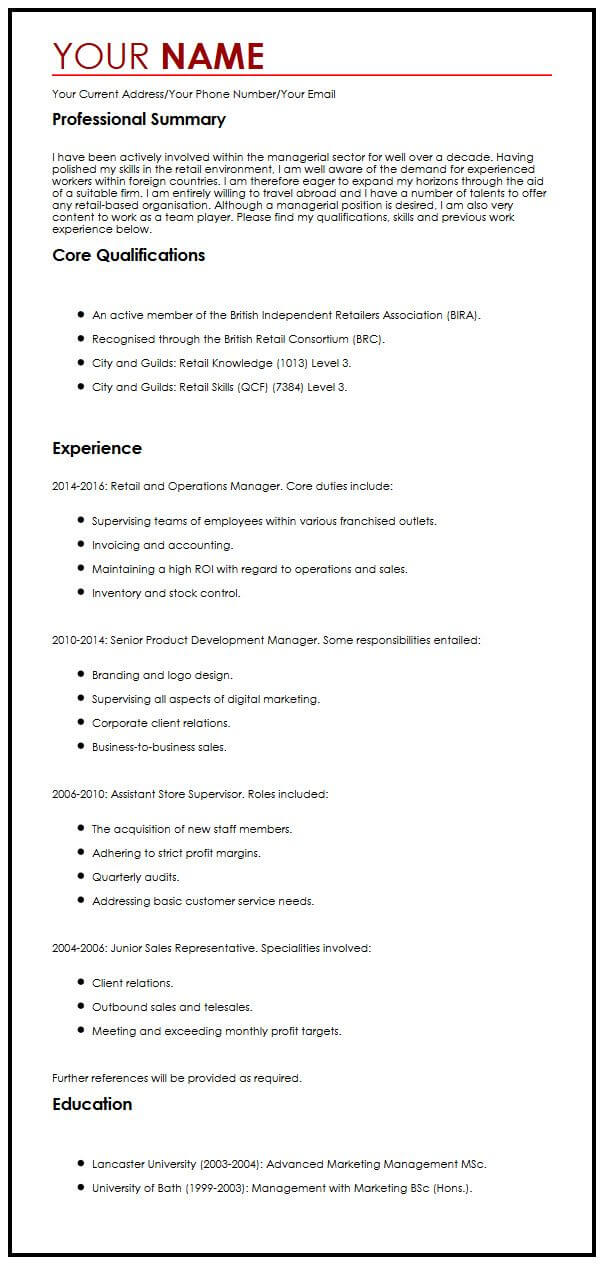 Your Current Address/Your Phone Number/Your Email
Professional Summary
I have been actively involved within the managerial sector for well over a decade.Having polished my skills in the retail environment, I am well aware of the demand for experienced workers within foreign countries.I am therefore eager to expand my horizons through the aid of a suitable firm.I am entirely willing to travel abroad and I have a number of talents to offer any retail-based organisation.Although a managerial position is desired, I am also very content to work as a team player.Please find my qualifications, skills and previous work experience below.
Core Qualifications
An active member of the British Independent Retailers Association (BIRA).
Recognised through the British Retail Consortium (BRC).
City and Guilds: Retail Knowledge (1013) Level 3.
City and Guilds: Retail Skills (QCF) (7384) Level 3.
Experience
2014-2016: Retail and Operations Manager.Core duties include:
Supervising teams of employees within various franchised outlets.
Invoicing and accounting.
Maintaining a high ROI with regard to operations and sales.
Inventory and stock control.
2010-2014: Senior Product Development Manager.Some responsibilities entailed:
Branding and logo design.
Supervising all aspects of digital marketing.
Corporate client relations.
Business-to-business sales.
2006-2010: Assistant Store Supervisor.Roles included:
The acquisition of new staff members.
Adhering to strict profit margins.
Quarterly audits.
Addressing basic customer service needs.
2004-2006: Junior Sales Representative.Specialities involved:
Client relations.
Outbound sales and telesales.
Meeting and exceeding monthly profit targets.
Further references will be provided as required.
Education
Lancaster University (2003-2004): Advanced Marketing Management MSc.
University of Bath (1999-2003): Management with Marketing BSc (Hons.).
Conclusion
This international CV example has illustrated some of the primary information that needs to be offered to a prospective employer.There are nonetheless a number of other unique tips and tricks that can be found within this website.Please examine them at your convenience.