Your kitchen porter CV sample needs to really say something about you. In particular you should use your experience to date, qualifications and skills to show how you are an excellent candidate for the post you are applying for. Look at other kitchen porter CV samples, how they are formatted and the information they contain. Make you CV informative and eye catching so that your prospective employer invites you for interview. The kitchen porter CV sample below is a good example of a CV that will do that and get you started on the road to success.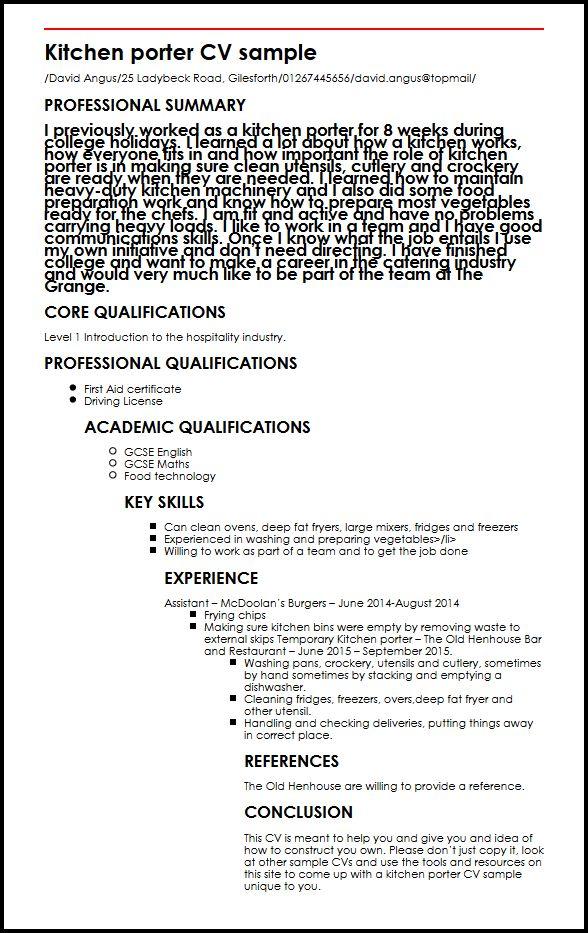 Kitchen porter CV sample/David Angus/25 Ladybeck Road, Gilesforth/01267445656/david.angus@topmail/
PROFESSIONAL SUMMARY
I previously worked as akitchen porter for 8 weeks duringcollege holidays. I learned a lot about how a kitchen works, how everyone fits in and how important the role of kitchen porter is inmakingsure clean utensils, cutlery and crockery are ready when they are needed.I learned how to maintain heavy-duty kitchen machinery and I also did some food preparation work and know how to prepare most vegetables ready for the chefs.I am fit and active and have no problems carrying heavy loads. I like to work in a team and I have good communications skills. Once I know what the job entails I use my own initiative and don't need directing. I have finished college and want to make a career in the catering industry and would very much like to be part of the team at The Grange.
CORE QUALIFICATIONS
Level 1 Introduction to the hospitality industry.
PROFESSIONAL QUALIFICATIONS
First Aid certificate
Driving License

ACADEMIC QUALIFICATIONS

GCSE English
GCSE Maths
Food technology

KEY SKILLS

Can clean ovens, deep fat fryers, large mixers, fridges and freezers
Experienced in washing and preparing vegetables>/li>
Willing to work as part of a team and to get the job done

EXPERIENCE

Assistant | McDoolan's Burgers | June 2014-August 2014

Frying chips
Making sure kitchen bins were empty by removing waste to external skipsTemporary Kitchen porter | The Old Henhouse Bar and Restaurant | June 2015 | September 2015.

Washing pans, crockery, utensils and cutlery, sometimes by hand sometimes by stacking and emptying a dishwasher.
Cleaning fridges, freezers, overs,deep fat fryer and other utensil.
Handling and checkingdeliveries, putting things away in correct place.

REFERENCES

The Old Henhouse are willing to provide a reference.

CONCLUSION

This CV is meant to help you and give you and idea of how to construct you own. Please don't just copy it, look at other sample CVs and use the tools and resources on this site to come up with a kitchen porter CV sample unique to you.