Customize this CV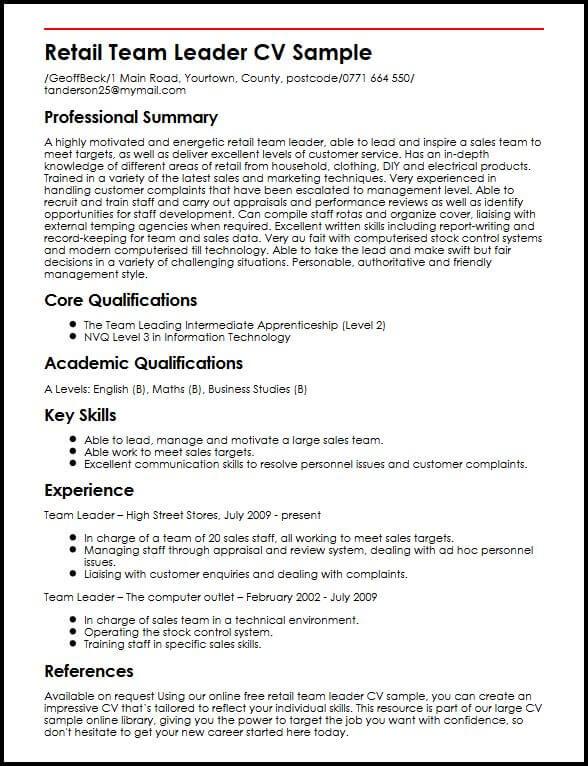 ---
Create This CV
A retail team leader is a role that requires considerable experience and unique skills, reinforced by the relevant qualifications. You need to highlight that you have these in your CV, using the right language and format and there's no better way to achieve this than through our free retail team leader CV sample. By using our guide, your finished CV will land on the desk of the recruitment manager and make a great impression, promoting your chances of getting to the interview stage no end.
Retail Team Leader CV Sample
/GeoffBeck/1 Main Road, Yourtown, County, postcode/0771 664 550/ tanderson25@mymail.com
Professional Summary
A highly motivated and energetic retail team leader, able to lead and inspire a sales team to meet targets, as well as deliver excellent levels of customer service. Has an in-depth knowledge of different areas of retail from household, clothing, DIY and electrical products. Trained in a variety of the latest sales and marketing techniques. Very experienced in handling customer complaints that have been escalated to management level. Able to recruit and train staff and carry out appraisals and performance reviews as well as identify opportunities for staff development. Can compile staff rotas and organize cover, liaising with external temping agencies when required. Excellent written skills including report-writing and record-keeping for team and sales data. Very au fait with computerised stock control systems and modern computerised till technology. Able to take the lead and make swift but fair decisions in a variety of challenging situations. Personable, authoritative and friendly management style.
Core Qualifications
The Team Leading Intermediate Apprenticeship (Level 2)
NVQ Level 3 in Information Technology
Academic Qualifications
A Levels: English (B), Maths (B), Business Studies (B)
Key Skills
Able to lead, manage and motivate a large sales team.
Able work to meet sales targets.
Excellent communication skills to resolve personnel issues and customer complaints.
Experience
Team Leader | High Street Stores, July 2009 – present
In charge of a team of 20 sales staff, all working to meet sales targets.
Managing staff through appraisal and review system, dealing with ad hoc personnel issues.
Liaising with customer enquiries and dealing with complaints.
Team Leader | The computer outlet | February 2002 – July 2009
In charge of sales team in a technical environment.
Operating the stock control system.
Training staff in specific sales skills.
References
Available on request Using our online free retail team leader CV sample, you can create an impressive CV that's tailored to reflect your individual skills. This resource is part of our large CV sample online library, giving you the power to target the job you want with confidence, so don't hesitate to get your new career started here today.