Tender CV Example
The first definitive step as you seek to grow your career objective as a tender professional is to carefully draft a CV that stands out, positively highlighting your critical personal strengths while reflecting your skills and competencies.Our Tender CV sample is one among the many tools we have carefully assembled to help you gather in-depth insights into what needs to be part of your CV. In addition, the sample guides you on the best format for a CV guaranteed to hold the attention of any professional recruiter.
Create This CVSee all templates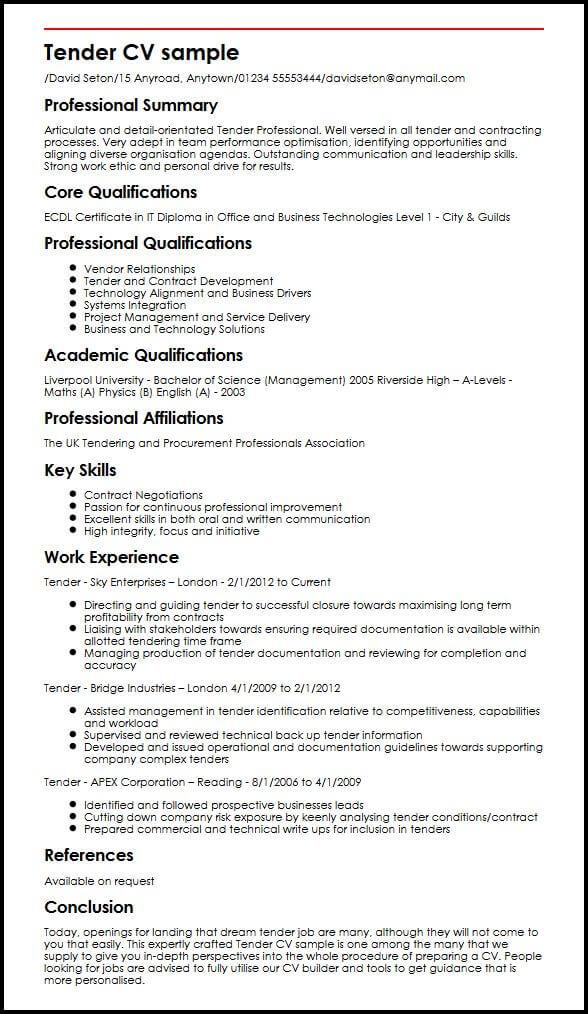 Build a professional CV that gets you hired.
Tender CV sample /David Seton/15 Anyroad, Anytown/01234 55553444/davidseton@anymail.com
Professional Summary
Articulate and detail-orientated Tender Professional. Well versed in all tender and contracting processes. Very adept in team performance optimisation, identifying opportunities and aligning diverse organisation agendas. Outstanding communication and leadership skills. Strong work ethic and personal drive for results.
Core Qualifications
ECDL Certificate in ITDiploma in Office and Business Technologies Level 1 - City & Guilds
Professional Qualifications
Vendor Relationships
Tender and Contract Development
Technology Alignment and Business Drivers
Systems Integration
Project Management and Service Delivery
Business and Technology Solutions
Academic Qualifications
Liverpool University - Bachelor of Science (Management) 2005Riverside High | A-Levels - Maths (A)Physics (B) English (A)- 2003
Professional Affiliations
The UK Tendering and Procurement Professionals Association
Key Skills
Contract Negotiations
Passion for continuous professional improvement
Excellent skills in both oral and written communication
High integrity, focus and initiative
Work Experience
Tender - Sky Enterprises | London - 2/1/2012 to Current
Directing and guiding tender to successful closure towards maximising long term profitability from contracts
Liaising with stakeholders towards ensuring required documentation is available within allotted tendering time frame
Managing production of tender documentation and reviewing for completion and accuracy
Tender - Bridge Industries | London 4/1/2009 to 2/1/2012
Assisted management in tender identification relative to competitiveness, capabilities and workload
Supervised and reviewed technical back up tender information
Developed and issued operational and documentation guidelines towards supporting company complex tenders
Tender - APEX Corporation | Reading - 8/1/2006 to 4/1/2009
Identified and followed prospective businesses leads
Cutting down company risk exposure by keenly analysing tender conditions/contract
Prepared commercial and technical write ups for inclusion in tenders
References
Available on request
Conclusion
Today, openings for landing that dream tender job are many, although they will not come to you that easily. This expertly crafted Tender CV sample is one among the many that we supply to give you in-depth perspectives into the whole procedure of preparing a CV. People looking for jobs are advised to fully utilise our CV builder and tools to get guidance that is more personalised.