Food and Beverage Manager CV Example
A management role within the food and beverage industry can be quite demanding and only the most professional of applicants can expect to enjoy a rewarding career.However, this is also an extremely competitive landscape and it is just as critical to make absolutely certain that a CV reflects the qualities that employers desire.There are numerous different applicants and in order to rise head and shoulders above a masses, a handful of key areas need to be addressed.We have aimed to take the guesswork out of the process by providing you with a comprehensive food and beverage manager CV sample.Please browse the text below to appreciate why such a strategy is so effective.
Create This CVSee all templates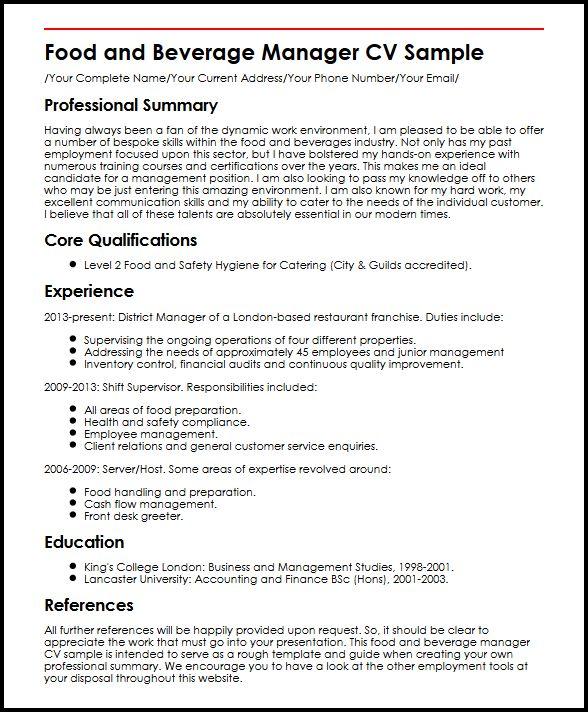 Build a professional CV that gets you hired.
Food and Beverage Manager CV Sample/Your Complete Name/Your Current Address/Your Phone Number/Your Email/
Professional Summary
Having always been a fan of the dynamic work environment, I am pleased to be able to offer a number of bespoke skills within the food and beverages industry.Not only has my past employment focused upon this sector, but I have bolstered my hands-on experience with numerous training courses and certifications over the years.This makes me an ideal candidate for a management position.I am also looking to pass my knowledge off to others who may be just entering this amazing environment.I am also known for my hard work, my excellent communication skills and my ability to cater to the needs of the individual customer.I believe that all of these talents are absolutely essential in our modern times.
Core Qualifications
Level 2 Food and Safety Hygiene for Catering (City & Guilds accredited).
Experience
2013-present: District Manager of a London-based restaurant franchise.Duties include:
Supervising the ongoing operations of four different properties.
Addressing the needs of approximately 45 employees and junior management
Inventory control, financial audits and continuous quality improvement.
2009-2013: Shift Supervisor.Responsibilities included:
All areas of food preparation.
Health and safety compliance.
Employee management.
Client relations and general customer service enquiries.
2006-2009: Server/Host.Some areas of expertise revolved around:
Food handling and preparation.
Cash flow management.
Front desk greeter.
Education
King's College London: Business and Management Studies, 1998-2001.
Lancaster University: Accounting and Finance BSc (Hons), 2001-2003.
References
All further references will be happily provided upon request.So, it should be clear to appreciate the work that must go into your presentation.This food and beverage manager CV sample is intended to serve as a rough template and guide when creating your own professional summary.We encourage you to have a look at the other employment tools at your disposal throughout this website.
Related CVs Food Service CV Examples