Fraud Investigator CV Example
The road to your new dream job starts with crafting the ideal CV to show employers that you're serious and a good choice. Getting this right can be tricky, so feel free to use our free fraud investigator CV sample to start the process. From here, you can write a strong CV with a smart, eye-catching layout that will kick start your new career.
Create This CVSee all templates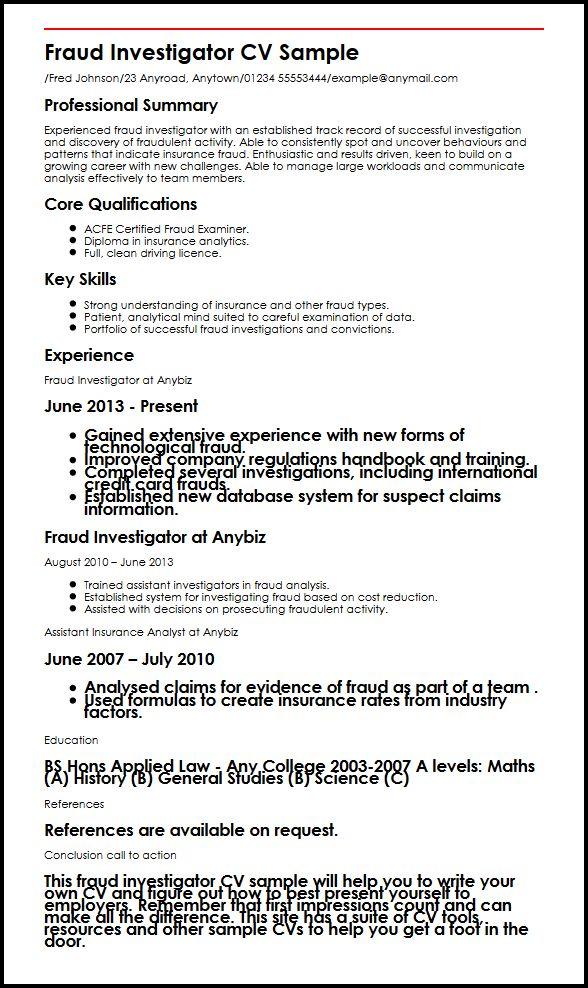 Build a professional CV that gets you hired.
Fraud Investigator CV Sample/Fred Johnson/23 Anyroad, Anytown/01234 55553444/example@anymail.com
Professional Summary
Experienced fraud investigator with an established track record of successful investigation and discovery of fraudulent activity. Able to consistently spot and uncover behaviours and patterns that indicate insurance fraud. Enthusiastic and results driven, keen to build on a growing career with new challenges.Able to manage large workloads and communicate analysis effectively to team members.
Core Qualifications
ACFE Certified Fraud Examiner.
Diploma in insurance analytics.
Full, clean driving licence.
Key Skills
Strong understanding of insurance and other fraud types.
Patient, analytical mind suited to careful examination of data.
Portfolio of successful fraud investigations and convictions.
Experience
Fraud Investigator at Anybiz
June 2013 - Present

Gained extensive experience with new forms of technological fraud.
Improved company regulations handbook and training.
Completed several investigations, including international credit card frauds.
Established new database system for suspect claims information.

Fraud Investigator at Anybiz
August 2010 | June 2013
Trained assistant investigators in fraud analysis.
Established system for investigating fraud based on cost reduction.
Assisted with decisions on prosecuting fraudulent activity.
Assistant Insurance Analyst at Anybiz
June 2007 | July 2010

Analysed claims for evidence of fraud as part of a team .
Used formulas to create insurance rates from industry factors.
Education
BS Hons Applied Law - Any College 2003-2007A levels: Maths (A) History (B) General Studies (B) Science (C)
References
References are available on request.
Conclusion call to action
This fraud investigator CV sample will help you to write your own CV and figure out how to best present yourself to employers. Remember that first impressions count and can make all the difference. This site has a suite of CV tools, resources and other sample CVs to help you get a foot in the door.