Senior International Relations Specialist CV Example
A CV should always be written with the international market in mind.As many jobs are now being outsourced to different parts of the world, presenting a well-rounded and rather "universal" document can make the job-seeking process much easier.However, what is the correct way to format such a CV?Are there any tips or tricks that need to be taken into account beforehand?We will attempt to answer these questions with the help of the international CV sample found below.Please have a closer look at its format, its contents and how the structure is arranged.

Create This CVSee all templates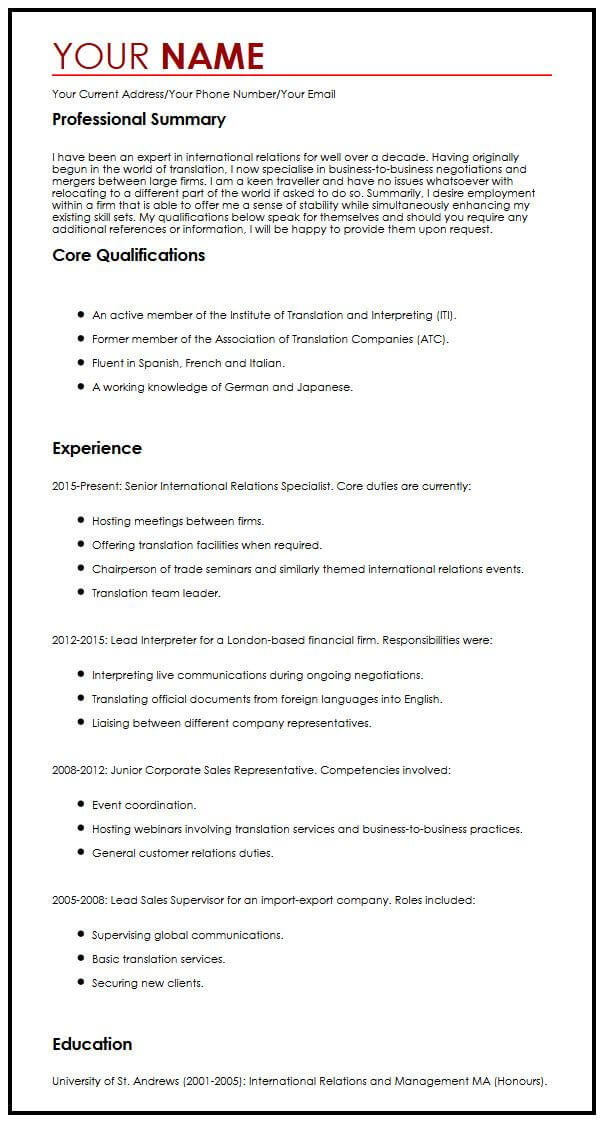 Build a professional CV that gets you hired.
Your Current Address/Your Phone Number/Your Email
Professional Summary
I have been an expert in international relations for well over a decade.Having originally begun in the world of translation, I now specialise in business-to-business negotiations and mergers between large firms.I am a keen traveller and have no issues whatsoever with relocating to a different part of the world if asked to do so.Summarily, I desire employment within a firm that is able to offer me a sense of stability while simultaneously enhancing my existing skill sets.My qualifications below speak for themselves and should you require any additional references or information, I will be happy to provide them upon request.
Core Qualifications
An active member of the Institute of Translation and Interpreting (ITI).
Former member of the Association of Translation Companies (ATC).
Fluent in Spanish, French and Italian.
A working knowledge of German and Japanese.
Experience
2015-Present: Senior International Relations Specialist.Core duties are currently:
Hosting meetings between firms.
Offering translation facilities when required.
Chairperson of trade seminars and similarly themed international relations events.
Translation team leader.
2012-2015: Lead Interpreter for a London-based financial firm.Responsibilities were:
Interpreting live communications during ongoing negotiations.
Translating official documents from foreign languages into English.
Liaising between different company representatives.
2008-2012: Junior Corporate Sales Representative.Competencies involved:
Event coordination.
Hosting webinars involving translation services and business-to-business practices.
General customer relations duties.
2005-2008: Lead Sales Supervisor for an import-export company.Roles included:
Supervising global communications.
Basic translation services.
Securing new clients.
Education
University of St. Andrews (2001-2005): International Relations and Management MA (Honours).
Conclusion
This international CV sample is typical of what should be seen in regards to layout, content and categories.Of course, you can choose to replace the fields above with those that are more relevant to your intended position.Please also note that there are many other CV examples located throughout this site.Use these additional resources to discover even more tips and tricks while searching for a job.
Related CVs Translation interpretation