Customize this CV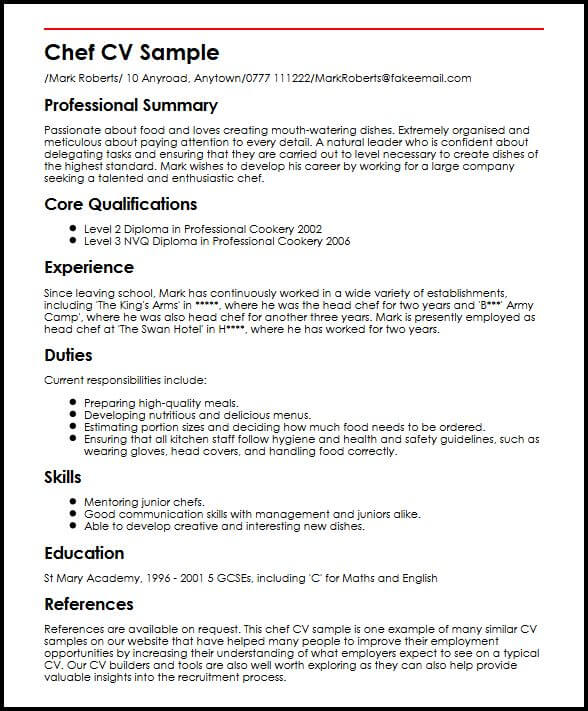 ---
Create This CV
In today's ultracompetitive job market, finding a job as a chef can be very difficult. A CV that is well-written and properly constructed is essential to ensuring that your application is more likely to be noticed by a future employer. Before you start writing your CV, have a look at our chef CV sample to get an idea of the type of information to include, and to get a feel for the layout of a typical CV. Many candidates have found it incredibly helpful in getting an understanding of what is required on a CV.
Chef CV Sample
/Mark Roberts/ 10 Anyroad, Anytown/0777 111222/MarkRoberts@fakeemail.com
Professional Summary
Passionate about food and loves creating mouth-watering dishes. Extremely organised and meticulous about paying attention to every detail. A natural leader who is confident about delegating tasks and ensuring that they are carried out to level necessary to create dishes of the highest standard. Mark wishes to develop his career by working for a large company seeking a talented and enthusiastic chef.
Core Qualifications
Level 2 Diploma in Professional Cookery 2002
Level 3 NVQ Diploma in Professional Cookery 2006
Experience
Since leaving school, Mark has continuously worked in a wide variety of establishments, including 'The King's Arms' in *****, where he was the head chef for two years and 'B***' Army Camp', where he was also head chef for another three years. Mark is presently employed as head chef at 'The Swan Hotel' in H****, where he has worked for two years.
Duties
Current responsibilities include:
Preparing high-quality meals.
Developing nutritious and delicious menus.
Estimating portion sizes and deciding how much food needs to be ordered.
Ensuring that all kitchen staff follow hygiene and health and safety guidelines, such as wearing gloves, head covers, and handling food correctly.
Skills
Mentoring junior chefs.
Good communication skills with management and juniors alike.
Able to develop creative and interesting new dishes.
Education
St Mary Academy, 1996 – 2001 5 GCSEs, including 'C' for Maths and English
References
References are available on request. This chef CV sample is one example of many similar CV samples on our website that have helped many people to improve their employment opportunities by increasing their understanding of what employers expect to see on a typical CV. Our CV builders and tools are also well worth exploring as they can also help provide valuable insights into the recruitment process.