Financial Controller CV Sample
The first step in growing your career as financial controller is to design an outstanding CV that will positively highlights all your strengths while also clearly reflecting your finance management abilities and skills. Our free Financial Controller CV Sample is a very valuable tool that will come to your aid in terms of gaining insights into what you need to include in your CV. The sample also guides you on what CV format is most suitable in catching the attention of HR manager.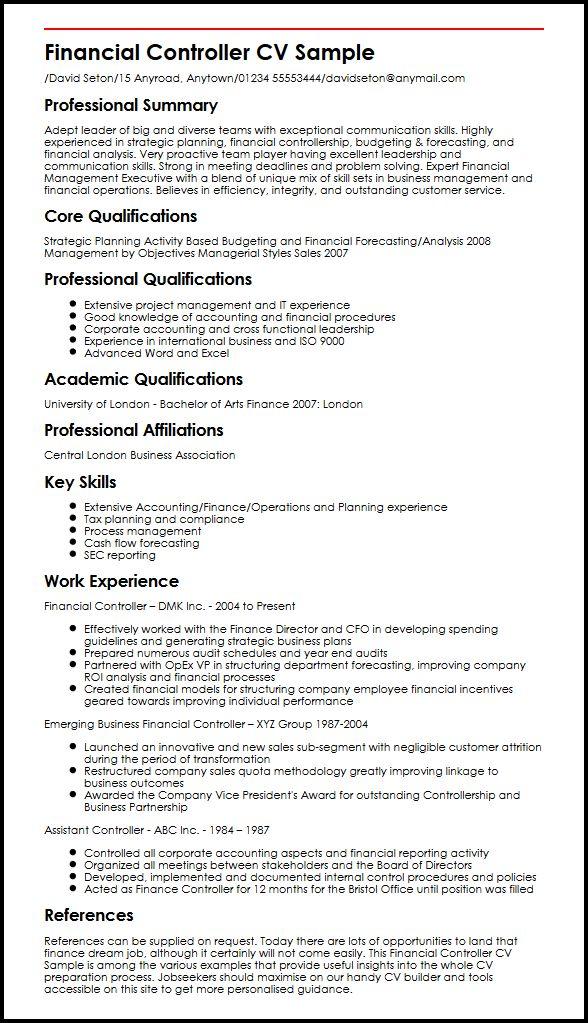 Financial Controller CV Sample/David Seton/15 Anyroad, Anytown/01234 55553444/davidseton@anymail.com
Professional Summary
Adept leader of big and diverse teams with exceptional communication skills. Highly experienced in strategic planning, financial controllership, budgeting & forecasting, and financial analysis. Very proactive team player having excellent leadership and communication skills. Strong in meeting deadlines and problem solving. Expert Financial Management Executive with a blend of unique mix of skill sets in business management and financial operations. Believes in efficiency, integrity, and outstanding customer service.
Core Qualifications
Strategic Planning Activity Based Budgeting and Financial Forecasting/Analysis 2008Management by Objectives Managerial Styles Sales 2007
Professional Qualifications
Extensive project management and IT experience
Good knowledge of accounting and financial procedures
Corporate accounting and cross functional leadership
Experience in international business and ISO 9000
Advanced Word and Excel
Academic Qualifications
University of London - Bachelor of Arts Finance 2007: London
Professional Affiliations
Central London Business Association
Key Skills
Extensive Accounting/Finance/Operations and Planning experience
Tax planning and compliance
Process management
Cash flow forecasting
SEC reporting
Work Experience
Financial Controller | DMK Inc. - 2004 to Present
Effectively worked with the Finance Director and CFO in developing spending guidelines and generating strategic business plans
Prepared numerous audit schedules and year end audits
Partnered with OpEx VP in structuring department forecasting, improving company ROI analysis and financial processes
Created financial models for structuring company employee financial incentives geared towards improving individual performance
Emerging Business Financial Controller | XYZ Group 1987-2004
Launched an innovative and new sales sub-segment with negligible customer attrition during the period of transformation
Restructured company sales quota methodology greatly improving linkage to business outcomes
Awarded the Company Vice President's Award for outstanding Controllership and Business Partnership
Assistant Controller - ABC Inc. - 1984 | 1987
Controlled all corporate accounting aspects and financial reporting activity
Organized all meetings between stakeholders and the Board of Directors
Developed, implemented and documented internal control procedures and policies
Acted as Finance Controller for 12 months for the Bristol Office until position was filled
References
References can be supplied on request.Today there are lots of opportunities to land that finance dream job, although it certainly will not come easily. This Financial Controller CV Sample is among the various examples that provide useful insights into the whole CV preparation process. Jobseekers should maximise on our handy CV builder and tools accessible on this site to get more personalised guidance.