Bank Compliance Officer CV Example
Your very first step towards developing and growing your career in the banking industry as compliance officer is to design a CV that stands out, one that positively highlights all your banking strengths while at the same time clearly reflecting your financial compliance skills and competencies. Our freely available bank compliance officer CV sample is a priceless tool designed to assist you in getting insights into what need to be included in your resume. The sample will in addition guide you about the most suitable format for your CV so that it instantly grabs the HR Manager's attention.
Create This CVSee all templates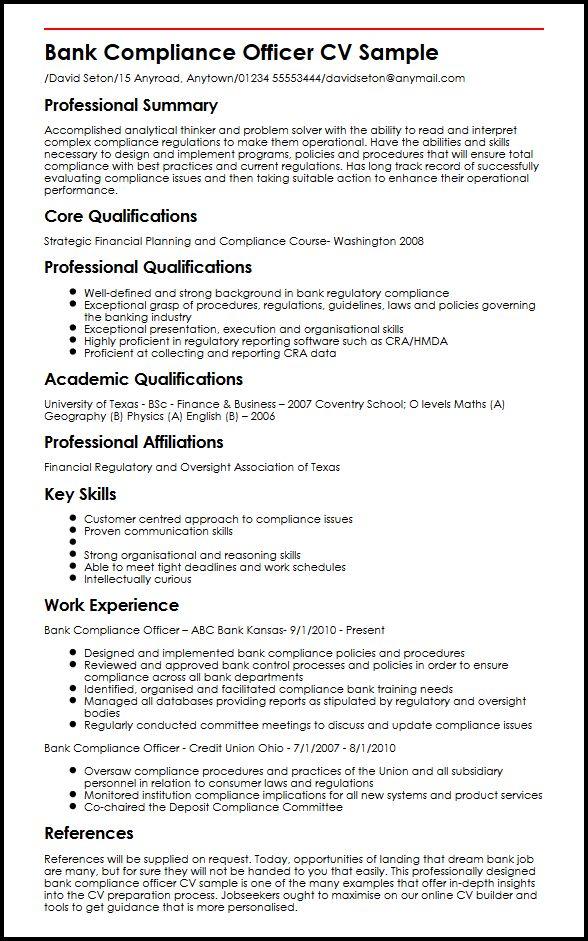 Build a professional CV that gets you hired.
Bank Compliance Officer CV Sample/David Seton/15 Anyroad, Anytown/01234 55553444/davidseton@anymail.com
Professional Summary
Accomplished analytical thinker and problem solver with the ability to read and interpret complex compliance regulations to make them operational. Have the abilities and skills necessary to design and implement programs, policies and procedures that will ensure total compliance with best practices and current regulations.Has long track record of successfully evaluating compliance issues and then taking suitable action to enhance their operational performance.
Core Qualifications
Strategic Financial Planning and Compliance Course- Washington 2008
Professional Qualifications
Well-defined and strong background in bank regulatory compliance
Exceptional grasp of procedures, regulations, guidelines, laws and policies governing the banking industry
Exceptional presentation, execution and organisational skills
Highly proficient in regulatory reporting software such as CRA/HMDA
Proficient at collecting and reporting CRA data
Academic Qualifications
University of Texas - BSc - Finance & Business | 2007Coventry School; O levels Maths (A) Geography (B) Physics (A) English (B) | 2006
Professional Affiliations
Financial Regulatory and Oversight Association of Texas
Key Skills
Customer centred approach to compliance issues
Proven communication skills
Strong organisational and reasoning skills
Able to meet tight deadlines and work schedules
Intellectually curious
Work Experience
Bank Compliance Officer | ABC Bank Kansas- 9/1/2010 - Present
Designed and implemented bank compliance policies and procedures
Reviewed and approved bank control processes and policies in order to ensure compliance across all bank departments
Identified, organised and facilitated compliance bank training needs
Managed all databases providing reports as stipulated by regulatory and oversight bodies
Regularly conducted committee meetings to discuss and update compliance issues
Bank Compliance Officer - Credit Union Ohio - 7/1/2007 - 8/1/2010
Oversaw compliance procedures and practices of the Union and all subsidiary personnel in relation to consumer laws and regulations
Monitored institution compliance implications for all new systems and product services
Co-chaired the Deposit Compliance Committee
References
References will be supplied on request.Today, opportunities of landing that dream bank job are many, but for sure they will not be handed to you that easily. This professionally designed bank compliance officer CV sample is one of the many examples that offer in-depth insights into the CV preparation process. Jobseekers ought to maximise on our online CV builder and tools to get guidance that is more personalised.