Immigration Consultant CV Example
If you are hunting for a job as an immigration consultant, it is essential to create a CV that highlights your key skills as well as stressing your relevant strengths. You are encouraged use this free immigration consultant CV sample as an outline to help you to recognise the different elements that you need to incorporate when you create your own immigration consultant CV and you can employ the format that has been used here to assist you.
Create This CVSee all templates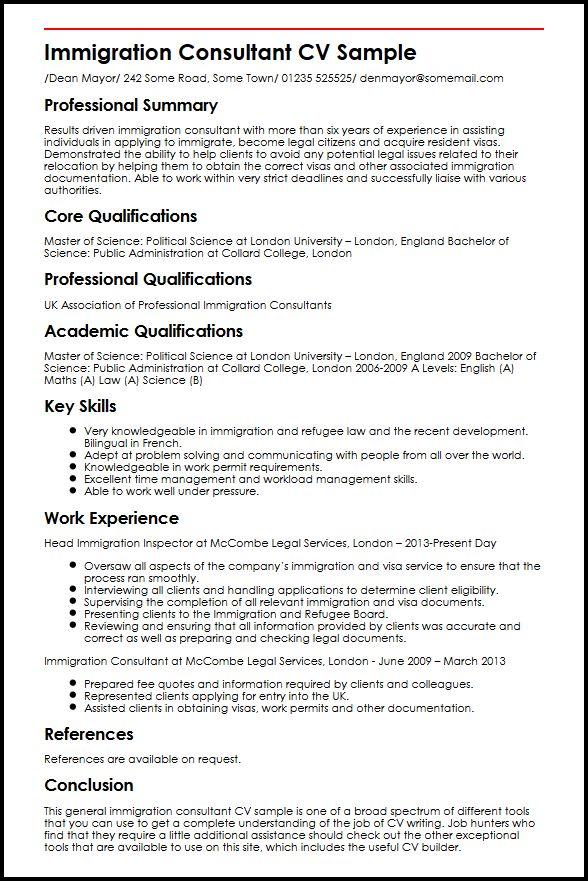 Build a professional CV that gets you hired.
Immigration Consultant CV Sample/Dean Mayor/ 242 Some Road, Some Town/ 01235 525525/ denmayor@somemail.com
Professional Summary
Results driven immigration consultant with more than six years of experience in assisting individuals in applying to immigrate, become legal citizens and acquire resident visas. Demonstrated the ability to help clients to avoid any potential legal issues related to their relocation by helping them to obtain the correct visas and other associated immigration documentation. Able to work within very strict deadlines and successfully liaise with various authorities.
Core Qualifications
Master of Science: Political Science at London University | London, EnglandBachelor of Science: Public Administration at Collard College, London
Professional Qualifications
UK Association of Professional Immigration Consultants
Academic Qualifications
Master of Science: Political Science at London University | London, England 2009Bachelor of Science: Public Administration at Collard College, London 2006-2009A Levels: English (A) Maths (A) Law (A) Science (B)
Key Skills
Very knowledgeable in immigration and refugee law and the recent development.Bilingual in French.
Adept at problem solving and communicating with people from all over the world.
Knowledgeable in work permit requirements.
Excellent time management and workload management skills.
Able to work well under pressure.
Work Experience
Head Immigration Inspector at McCombe Legal Services, London | 2013-Present Day
Oversaw all aspects of the company's immigration and visa service to ensure that the process ran smoothly.
Interviewing all clients and handling applications to determine client eligibility.
Supervising the completion of all relevant immigration and visa documents.
Presenting clients to the Immigration and Refugee Board.
Reviewing and ensuring that all information provided by clients was accurate and correct as well as preparing and checking legal documents.
Immigration Consultant at McCombe Legal Services, London - June 2009 | March 2013
Prepared fee quotes and information required by clients and colleagues.
Represented clients applying for entry into the UK.
Assisted clients in obtaining visas, work permits and other documentation.
References
References are available on request.
Conclusion
This general immigration consultant CV sample is one of a broad spectrum of different tools that you can use to get a complete understanding of the job of CV writing. Job hunters who find that they require a little additional assistance should check out the other exceptional tools that are available to use on this site, which includes the useful CV builder.