CV Example with a Personal Statement
It is a false belief that the modern CV should only contain data concerning past employment history, references and skills.On the contrary (and due to steep levels of competition), presentations that contain a personal statement may very well receive the attention that they deserve.As this should be done with a bit of care, it is a good idea to take a look at a CV example with a personal statement attached.This will help you to appreciate where it needs to be placed as well as what should be mentioned.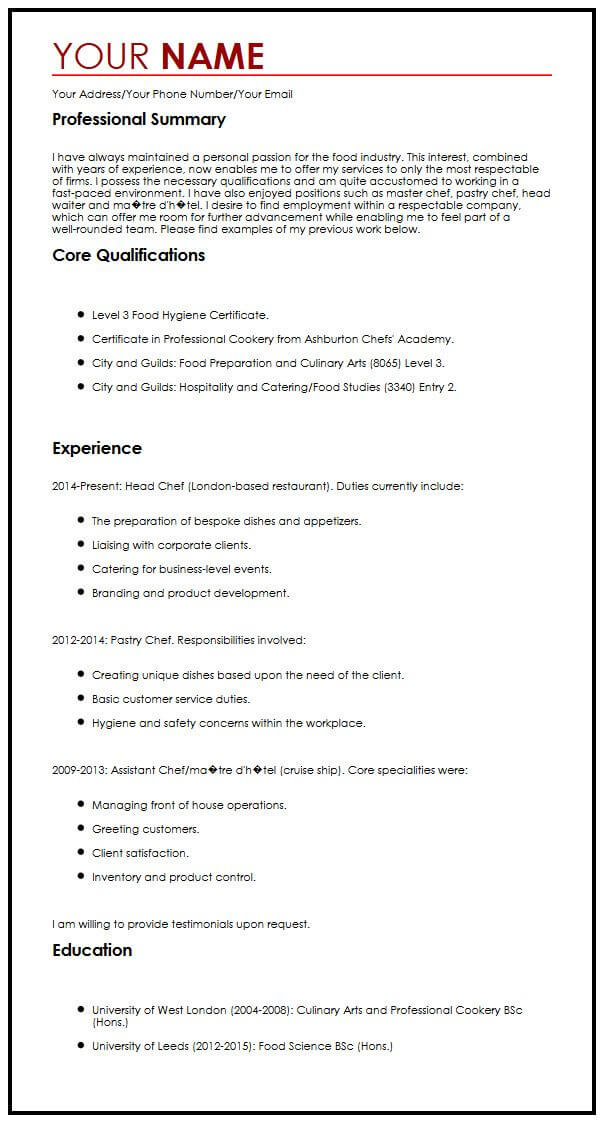 Your Address/Your Phone Number/Your Email
Professional Summary
I have always maintained a personal passion for the food industry.This interest, combined with years of experience, now enables me to offer my services to only the most respectable of firms.I possess the necessary qualifications and am quite accustomed to working in a fast-paced environment.I have also enjoyed positions such as master chef, pastry chef, head waiter and maître d'hôtel.I desire to find employment within a respectable company, which can offer me room for further advancement while enabling me to feel part of a well-rounded team.Please find examples of my previous work below.
Core Qualifications
Level 3 Food Hygiene Certificate.
Certificate in Professional Cookery from Ashburton Chefs' Academy.
City and Guilds: Food Preparation and Culinary Arts (8065) Level 3.
City and Guilds: Hospitality and Catering/Food Studies (3340) Entry 2.
Experience
2014-Present: Head Chef (London-based restaurant).Duties currently include:
The preparation of bespoke dishes and appetizers.
Liaising with corporate clients.
Catering for business-level events.
Branding and product development.
2012-2014: Pastry Chef.Responsibilities involved:
Creating unique dishes based upon the need of the client.
Basic customer service duties.
Hygiene and safety concerns within the workplace.
2009-2013: Assistant Chef/maître d'hôtel (cruise ship).Core specialities were:
Managing front of house operations.
Greeting customers.
Client satisfaction.
Inventory and product control.
I am willing to provide testimonials upon request.
Education
University of West London (2004-2008): Culinary Arts and Professional Cookery BSc (Hons.)
University of Leeds (2012-2015): Food Science BSc (Hons.)
Conclusion
We can see that alongside basic qualifications, the applicant was able to add a bit of a personal touch to the presentation.This could very well be the factor that causes a recruiter to take further note of the CV itself.Please keep in mind that this CV example with a personal statement is one of many samples to be found throughout this site.It is recommended that you take a further look to encounter even more job-seeking tips.