Get your personal profile right so recruiters read the rest
A personal profile is a short, sharp paragraph that sits at the top of your CV and is your opportunity to describe why you're perfect for the job.
Creating an effective personal profile is a key part of your career success. Our tips and CV builder make it quick and easy.
How to write a personal profile: 10 top tips
An excellent personal profile, also known as a personal statement, plays a key role in making your CV successful. It captures what you have to offer in 50-200 words, connects to your cover letter, and sets the tone for the rest of your CV.
These top tips will help you to gather the right material and build a powerful profile that appeals to prospective employers.
Brainstorm before you write
Don't assume you can just sit down to create a generic profile. Each application requires a customised approach based on the job description. Jot down ideas that pop into your head to give you a pool to choose from.
Look at CV examples from your peers
Your peers' examples are a valuable resource. Note what they've included - and what they've left out. Pay attention to the clear, simple language used and how they quickly grab an employer's attention.
Use a CV builder to guide you
Shaping all the raw material into a short, impactful paragraph is challenging. Our CV builder makes it easier, providing structure and suggested copy to help you succinctly make the points you need to make.
Keep it short
Your profile is the hook that will persuade employers to read the rest of your CV. They only have 6 seconds to scan the whole document, and only a short summary will do.
Use keywords from the job description
70% of companies now use ATS (Applicant Tracking Systems): software that scans a CV for specific keywords. If your CV doesn't include these job-specific keywords, it'll be discarded before employers see it. Read the job description carefully and ensure that relevant keywords feature in your profile.
Be positive
Your profile sells you as the perfect candidate, so use positive language throughout. Focus on your strengths, and don't refer to weaknesses. Choose adjectives like accurate, confident, and responsible. Use dynamic verbs like completed, achieved, and implemented.
Choose one voice
Write your profile either in the first person ('I am a qualified Chef...') or the third person ('Qualified Chef...'). Either tense is fine - just be consistent. Swapping between then makes you look careless and unprofessional.
Check you haven't missed anything important
Review the job advert and your profile side by side, checking that you've addressed all the key points and used the appropriate keywords.
Ensure your personal profile matches your full CV
Because an excellent personal profile persuades employers to read the rest of your CV, you need to ensure they're well matched. Do this by customising your CV for each job. Really stand out by making sure it's also well matched with your cover letter.
Proofread
Many candidates forget this simple step, and their CVs are discarded as a result. Research shows that as many as 90% of applicants are rejected because of spelling mistakes. Don't just rely on software - take time to also manually check and recheck your CV, slowly and carefully.
20 of the UK's best CV personal profile examples
An effective personal profile creates a positive, memorable impression on recruiters, persuading them to read your full CV.
Our UK CV profile examples offer you a dynamic introduction to your application. They get to the point extremely quickly, while also ticking all the recruiters' boxes.

1/20

Good personal profile for CVs

A good personal profile makes its points quickly and effectively. Positive language and an emphasis on pertinent career information come together to create a high-impact paragraph to introduce your full CV.

2/20

Our Administrator personal profile shares your strengths in just a few lines. Strategic use of keywords will help both ATS and humans to see that you're the perfect candidate.

3/20

Best personal profile for CVs

The best personal profile will make employers want to read the rest of your CV. Our profile examples will help you make a strong professional impression, positioning yourself as the perfect applicant.

4/20

Short personal profile examples

Our personal profile examples are short - just 50-200 words. They effectively summarise your strengths and whet the recruiter's appetite to discover more.

5/20

Writing a fashion CV profile isn't just about style - it's also about substance. Choose your focus carefully, balancing work successes and experience with skills and personal achievements.

6/20

HR career successes can be communicated effectively in a succinct summary. Use your knowledge of the application process to tick all the right boxes and exceed expectations.

7/20

While IT's about the small details, you need to stay strategic in your personal profile. Give a flavour of your career aims, professional experience, and skills. And while the profile is personal to you, keep the content and tone professional.

8/20

Online CV personal profiles

Our online CV profile examples combine knowledge and experience gained over a decade. Start working on your own profile in our CV builder, where step-by-step tips and advice help to ensure your career success.

9/20

Our business profile examples capture the broad sweep of your achievements in a concise and powerful manner. Thanks to careful proofreading and spellchecking, they're error-free.

10/20

General personal profile examples

General personal profile CV examples are a great starting point, whatever your field. Use the example as a starting point for your writing, making sure you mention keywords specific to the role you're applying for.

11/20

2019 CV personal profile examples

Apply for a new role with confidence when you use our 2019 CV personal profile examples. Balance achievements with skills to make an impact that encourages employers to read your full CV.

12/20

Generic personal profile

A generic CV personal profile is an excellent starting point. Our profile examples give you an idea of what's expected and allow you to customise them with relevant personal details.

13/20

Interesting CV personal profile

Every CV personal profile needs to be interesting - otherwise potential employers will discard your CV. Stand out by being relevant and concise, and using keywords selectively.

14/20

Self-starter CV personal profile

Self-starters are motivated, disciplined, and focused. Our profile examples show how to capture these attributes concisely, selling you as the perfect candidate for the role.

15/20

Our academic profile examples summarise your qualifications and professional knowledge. More than any other, these profiles need to be proofread carefully for flawless spelling and grammar.

16/20

Creative personal profile examples

Our creative CV personal profile highlights your achievements and suitability for the role. Its positive language entices employers to read your full CV.

17/20

A strong structure is key to our construction personal profiles. Build a solid foundation to your CV by adding positive, dynamic language and carefully chosen keywords.

18/20

Basic personal profile examples

Our basic profile examples give you a brilliant introduction to your CV. It's short but has a big impact, packing a load of information into just a few lines. And it makes recruiters want to read on.

19/20

Our retail personal profile focuses on your strengths, successes, and skills like smashing sales targets. It clearly demonstrates that you know how to sell and that you understand how to sell yourself.

20/20
What makes a good CV personal profile
A good CV personal profile makes employers want to read your CV. It summarises your strengths in a relevant way, packing a load of detail into just a few short sentences.
Is your profile any good? Here's what you should think about:
Strategically choosing content
Each word has to work to earn its place in your profile. It's short, and the rest of your CV will build on the achievements, knowledge, and skills that you've already mentioned. Only mention career goals and skills that have an excellent bearing on the position you're applying for.
Choosing the right voice
Both the first or third person are acceptable choices for your profile. The choice is a personal preference. The first person creates a more personal connection. Third person creates a more formal tone. As a first step, look at what your peers have chosen in their writing.
Keeping it brief
Your profile is like a promo for a TV show: short and enticing. Show you know your strengths by limiting yours to 50-200 words. Only include what's most important - be ruthless and avoid padding it out with unnecessary information.
Being honest
Your profile is so short that it has no room for lies or dishonesty. Only highlight skills and work achievements that are truthful. Recruiters are quick to spot exaggeration and lies, and even quicker to discard CVs that are dishonest.
Using keywords wisely
Figure out what the keywords are for a particular application by carefully reading the job specification. Don't 'keyword stuff' by over-using them - just use a few of the most prominent to make your point.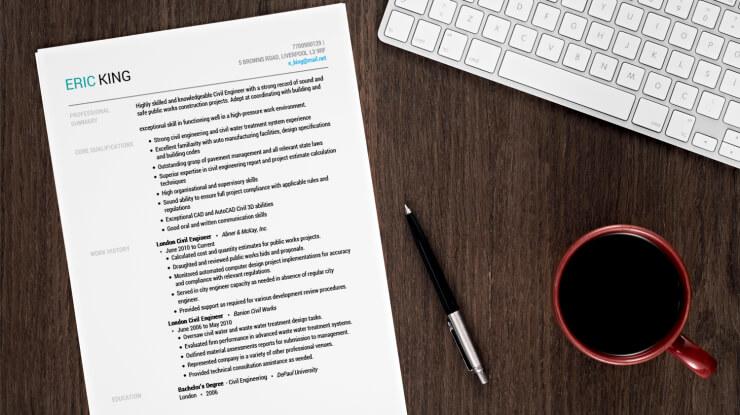 3 common questions about CV personal profiles
1. What is the definition of a personal profile?
The definition of a personal profile is an introductory paragraph at the start of a CV. It offers a brief summary of the candidate's strengths and experience. It should:
Be 50-200 words long.
Only include facts that are relevant to role you're applying for.
Focus on strengths and not mention weaknesses.
Include keywords discovered by reviewing the job description.
Work well with the content of the rest of the CV and your cover letter.
2. How do I write a personal profile?
Write a personal profile by summarising your most relevant experience, qualifications, and skills into a short, powerful paragraph. First, complete the rest of the CV, then: 
Look through the employment history, education, and skills sections and pick out the most important facts.
Edit those points to the shortest possible form.
Make sure the tone and voice are consistent, and that you've chosen relevant keywords.
Refer to your cover letter to make sure the profile relates well to it.
3. How can I tell if my CV personal profile is well written?
You can tell if your personal profile is well written by comparing it to profiles for similar jobs. Still not sure? You can:
Ask friends to read it and give an honest appraisal.
Read it out loud to see how it flows and how the grammar sounds.
Proofread it for spelling mistakes and typos.
Want to see well written personal profiles? View examples in our CV builder.
How to structure your CV's personal profile
A strong structure helps you build a powerful personal profile. We've broken it down into 3 parts:
1. Who you are
Do: Get straight to the point. Frame the description to meet the job advert: A qualified hairdresser. A hedge fund manager with 25 years' experience. An English Literature graduate. 
Don't: Include irrelevant information. If it doesn't relate to the advertised job description in some way, it's unnecessary.
2. What you have to offer
Do: Tell the truth. Exaggerating or lying wastes everyone's time, and reference checks will reveal the truth.
Do: Briefly refer to your most relevant qualifications and experience. If you're award-winning, say so.
Don't: Use clichéd phrases like 'works well as part of a team'. Recruiters expect this as a minimum, and it wastes valuable space.
Don't: Start each sentence with 'I'. It turns a compelling paragraph into a boring list.
3. Skills
Do: Carefully choose the skills you mention, customising them for each specific role.
Don't: Forget to include a mix of hard and soft skills, as long as they're related to the role.
Build a perfect CV from the first paragraph
Writing a great CV is about making an instant impact. Your personal profile needs to persuade the recruiter to take the time to read about your professional achievements.
Our online CV builder makes it quick and easy to craft a personal profile that gets results. Take the next step in your career - build your perfect CV personal profile now!