Get Your CV's Personal Profile Right So Recruiters Read the Rest
A personal profile is a short, sharp paragraph that sits at the top of your CV and introduces you to the recruiter. Between 50 and 200 words, these paragraphs give you an opportunity to describe your skills and strengths, what you could bring to the job, and why you're perfect for the role.
The average recruiter spends just 6 seconds looking at a CV before deciding whether to read the rest of it. The bulk of this time will be spent scanning your personal profile. If it doesn't include the details most relevant to the position in question, the recruiter is unlikely to read further.
Creating an effective personal profile is key to job-hunting success. Our CV builder is here to help you, making it quick and easy to build a job-winning personal profile.
How to Write a Personal Profile: 11 Top Tips
A good personal profile plays a key role in making your CV successful. It captures what you have to offer the recruiter in a short but high impact format, and sets the tone for the rest of your CV.
The key to writing the perfect CV personal profile lies in the preparation. Take the following tips on board and you'll find it easy to gather the material you need and to craft it into a package that will appeal to recruiters.
1.
Brainstorm before you write
Don't assume you can simply sit down to create a CV and write your personal statement from scratch. The key skills, life achievements, and experiences that you want to include will differ for each application. What you include - and leave out - will depend upon the specific job description.
Sit down with a blank piece of paper and jot down the first ideas that come into your head, no matter how sensible or foolish they might seem at first. You don't have to include everything in the finished personal statement, but brainstorming in the manner can tap into ideas that might otherwise not occur to you.  
When it comes to creating an effective CV personal profile, examples written by other people are a valuable resource.
Take a look at the personal profile CV examples written by your peers who went on to get the jobs they were seeking. Note what they've included and what they've left out. Since they got the job in question, you can be sure they made the right choices.
You'll also get an idea of the kind of clear, simple language to use, and how to grab a recruiter's attention within the first sentence or two.
3.
Use a CV builder to help guide you through the process
There's no shame in admitting that writing a personal statement is difficult. Taking a step back and deciding which aspects of your personality to include is hard enough to begin with. Shaping all that material into a short, high impact package can make the task even more challenging!
A CV builder can remove much of the stress. It provides a template and structure designed for the profession in question, and prompts about the kind of content to include. The right CV builder will enable you to create the kind of personal statement that will grab the attention of a recruiter during those vital first 6 seconds.
4.
Keep it short and impactful
Your personal statement needs to serve as the 'hook' that persuades a recruiter to read the rest of your CV. You can't rely on advantages such as great qualifications to do the hard work for you: Research shows that the average vacancy receives 75 applications from graduates.
Your personal statement has to be the thing that makes you stand out from the crowd. Keep it as short as possible. A recruiter dealing with multiple applications will be looking for something that, quickly and easily, makes them want to learn more.
5.
Highlight keywords mentioned in the job description
70% of companies now use ATS (Applicant Tracking Systems): software that scans a CV looking for specific keywords. If your CV doesn't include these job-specific keywords, it will be filtered out and recruiters even get to look at it.
So it's vital to read the job description carefully, make a note of the relevant keywords, and ensure that at least some of them feature in your personal statement.
If a recruiter does get to see your CV, the personal statement will be the first thing they see, and a couple of well-chosen keywords will encourage them to read on.
6.
Use positive language & highlight what you have to offer
The CV's personal statement is your chance to sell yourself as a perfect candidate for the post in question. Use positive language throughout.
For example, use words such as accurate, confident, and responsible; strengthen these words by using them with dynamic verbs such as completed, achieved, and implemented.
Highlight your plus points and don't mention things you can't do, or experience you haven't had yet. In other words, as you can see in our CV profile examples, don't give them a reason to reject you.
The rest of your CV will fill in specific details to back up these claims, but this is your chance to create a positive first impression, and the language you use is key.
7.
Review your CV and the job ad to check that you've not missed something important
The job ad is the key to unlocking a successful CV. When you've written your personal statement, sit down with the job ad and statement side by side and go through them. Tick off the key points in the ad that are referenced in your personal statement.
Both the ATS and a recruiter will be doing the same thing: looking for evidence that you understand what the post requires, and you've taken the time to show you can provide it. Our CV profile examples will show you how to do this without making your CV less readable.
8.
Make sure the personal profile matches up to the rest of your CV
Although an excellent personal profile will play the key role of persuading a recruiter to read the rest of your CV, you have to make sure that the two match up.
You should alter your personal profile to meet the demands of different jobs. If you do, you should make sure that the rest of the CV reflects these changes.
For example, if your personal statement highlights your ability to deal with the public, but your employment history is full of examples of you working alone, then a recruiter will be forced to ask which is accurate.
When you're writing something as close to home as a CV personal profile it can be difficult to form a clear opinion of the results. You may think you know yourself better than anybody else, but natural modesty often stops people from highlighting their best points clearly enough.
Overcome this by seeking a second opinion from someone who knows you. Let them read your personal profile and ask for an honest opinion on what you might have missed out, or what should be emphasised more.
Checking the spelling of your CV's personal profile may seem so obvious it's not worth saying, but it's the kind of simple step that people often forget in the stress to shape the content. Research shows that as many as 90% of applicants are rejected because of spelling mistakes on their CV.
Don't rely on an automated spellcheck either, since misspelled words with more than one meaning can sometimes slip through. Take the time to manually check and re-check your CV slowly and carefully.
You can choose whether to write your personal profile in the first person or third. The first person involves writing 'I am a qualified chef seeking a new challenge, my experience includes...', whereas the third person would state 'Qualified chef seeking a new challenge, experience includes...'.
Either can be equally effective, and we provide CV profile examples which use both. Once you've made the choice, ensure that you use the same voice throughout your CV personal profile. Switching between them will make you look unprofessional and careless in the first few lines of your CV.
See 20 of the UK's Best CV Personal Profiles
When the average recruiter spends just 6 seconds looking at each CV, and skims the content haphazardly rather than reading from top to bottom in a uniform manner, the power of the CV's personal profile is magnified.
An effective personal profile creates a positive, memorable impression on recruiters that persuades them to read your full CV.
What Makes a Good CV Personal Profile?
A good CV personal profile is one that makes the recruiter want to find out more. It pulls together all of your best assets, explains them with reference to the job in question and packs everything into just a few short sentences.
With an absolute maximum of 200 words to play with, it's vital that not a word is wasted.
A strong CV personal profile will grab the attention of the recruiter during those vital first few seconds, and will include enough specific detail to convince them that you're a serious candidate for the job. Getting this right will depend upon the structure, the language and the information included.
Some of the most important things to think about are:
Choosing which strengths and skills to highlight
Only mention skills that have a bearing on the job. List the strengths you're thinking of including, and compare that list to the job description. You may be a qualified chef, for example, but if you're applying for a job in construction then it's not worth mentioning in your personal profile.
The recruiter should be able to spend a few seconds glancing through your personal profile and picking up mentions of a range of relevant skills and strengths.
Writing in the first or third person
The first or third person voices are both acceptable in terms of language and grammar, so the choice comes down to tone.
The first person is probably more suited to creative jobs, or those that involve a degree of personal interaction. If the CV in general focuses on your personality rather than employment or education history, then the first person might be more suitable.
The third person is a better choice if the overall tone is more formal. When the focus is on the qualifications and experience you can bring to the post, then detailing these in a more impersonal manner will strike a more professional note.
Keeping the length down
'Keep it short' is a rule that applies to CVs in general, but is even more important when considering a personal profile. Ideally, a personal profile should be one paragraph long - the CV equivalent of speed dating.
Recruiters have to read through literally hundreds of personal profiles. If yours is longer than 200 words then it simply won't be read. Don't feel frustrated about the things you don't have room to include - be ruthless and focus on including the information that's most relevant to this specific job.
Authenticity
While the key to an effective personal profile is to sell yourself to the recruiter, it's vital that you don't go too far and end up sounding unrealistic. The recruiter will be an expert in their field, so any over-the-top claims will stand out immediately.
Although some people exaggerate in their CV, we don't recommend it. Recruiters learn to spot lies, and will ask applicants to back up their claims during interviews. By all means claim to be an excellent sales person with a proven track record of results, but if you call yourself the best salesperson in the world, then expect your CV to be rejected.
Keyword stuffing
Keywords are particular words or phrases that a recruiter and an ATS will be on the lookout for. You can usually figure out what the keywords for a particular application will be by carefully reading the job specification or ad, and looking at other examples of personal profiles.
Once you have an idea of the keywords, it may be tempting to use them repeatedly. This is known as 'keyword stuffing' and is a big mistake. Many ATS bots are programmed to spot this tactic, and even if they don't, a human recruiter will find a keyword-stuffed personal statement highly unappealing to read.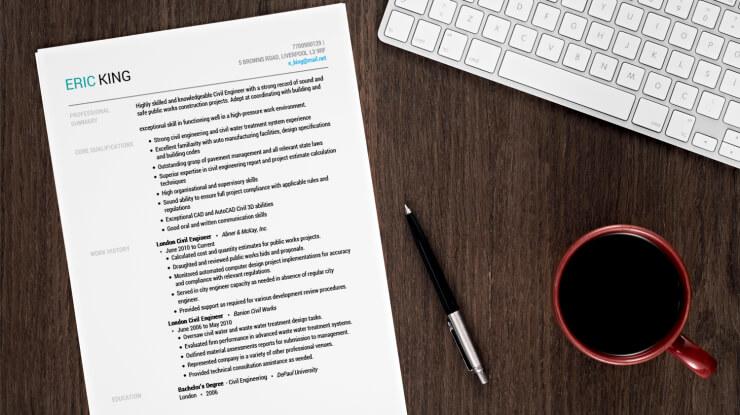 3 Common Questions UK Jobseekers Ask About CV Personal Profiles
1. What is the definition of a personal profile?
A personal profile is an introductory paragraph at the start of a CV that offers a summary of the applicant and their skills and strengths. It should:
Be between 50 and 200 words long.
Only include facts that are relevant to the job being applied for.
Be positive - highlighting what you can do and not mentioning those things which you can't.
Match the content of the rest of the CV.
Include keywords picked up by studying the job description and similar personal profiles.
2: How do I write a personal profile?
Even though the personal profile is the first thing a recruiter will see, it is easier to write one effectively if you do it after completing the rest of the CV.
Look through the sections of the CV such as employment history, education and additional skills and pick out the facts from each that you think are the most important.
Cut those facts down to the shortest possible form and start with the fact that you think is most relevant to a particular application.
Make sure the tone and voice are consistent throughout the personal profile, and that you make use of any keywords you've identified.
3 .How can I tell if my CV personal profile is well written?
The easiest way of telling if your personal profile is well written is to compare it to other profiles for similar positions, particularly the kind of examples used by a CV builder. If you're still not sure, you can:
Ask friends to read it and give an honest appraisal.
Read it out loud to yourself to see if it flows and the grammar sounds correct.
Check and re-check it for spelling mistakes, as just one is enough to cause your CV to be rejected.
How to Structure your CV's Personal Profile
At first, it may seem as if the facts included in a personal profile are the most important. But while these are vital details, the truth is that a personal profile needs a very strong structure, just like the rest of the CV.
The structure prevents the profile from being too long or vague. It also helps you to focus on the key information you need to include. You can break the structure of the CV personal profile down into three parts:
1. Who you are.
Do - get straight to the point. You are a qualified hairdresser. You are a hedge fund manager with 25 years' experience. You are a graduate with a degree in English Literature. Make sure you frame the description in a manner that meets the specifications of the job.
If you're applying for a job in the kitchen of a restaurant, for example, you might say that you are a waiter/bar person with cooking experience, rather than simply a waiter and bar person.
Don't - include irrelevant details. You might be extremely proud of the fact that you are an experienced mountaineer who has climbed several peaks over 1,000 metres in height, but it doesn't have much bearing on your application for a job in the finance sector.
Ask yourself if a detail would be likely to be mentioned in the wider job description and if not, leave it out
2. What you have to offer the employer
Do - tell the truth. Don't make up or exaggerate achievements in order to fit the profile. Always remember that this is a job you're hoping to get, and ask yourself if you really want to spend every day working at something you're not really qualified to do.
Do - briefly summarise your major qualifications, experience and expertise. If there's too much to fit into 200 words or less, be ruthless about choosing only the most relevant. Make a good job of the personal profile, and the recruiter will get to read the rest in your education and employment history.
Don't - use clichéd phrases such as 'works well as part of a team'. Recruiters will expect this as a minimum anyway, and in the meantime the cliché has taken up valuable space in your personal profile.
Don't - start every sentence with 'I' if you're writing in the first person. It will turn what should be a compelling paragraph into a boring list.
3. Key skills
Do - carefully choose the skills you mention to match a specific role. Once you've done the work of crafting one personal profile, it may be tempting to simply reuse it. But even jobs in the same industry are all slightly different, and your personal profile should reflect this.
Don't - confuse soft and hard skills. Decide which are more appropriate for the job in question and concentrate on them.
Get Your CV Right From the Very First Paragraph
Writing a great CV is about making an instant impact. Your CV is the first chance a recruiter has to learn about you. And even if you have the most impressive professional achievements, your personal profile needs to persuade the recruiter to take the time to read about them.
A recruiter spends an average of just 6 seconds looking at a CV, which means that the personal profile sitting at the top of your CV plays a pivotal role in convincing a recruiter to read on.
It's your chance to create a single paragraph summary of everything that you have to offer. It needs to cover who you are, what you have achieved and how your combination of skills and experience would be perfect for the job in question.
Because a CV personal profile is so important, writing it can feel stressful. Our online CV builder removes that stress, making it quick and easy. We provide successful personal profile examples to act as inspiration and guidance, as well as tailored CV templates that meet recruiters' expectations. Your personal profile can both beat ATS and appeals to recruiters at first glance.
Combine this with a CV that's built with a professional CV template and you have the perfect introduction to any recruiter. Take the next step in your career and build your perfect CV personal profile now!