Everything You Need to Know About Personal Statements
On average, recruiters only spend 6 seconds reviewing a CV. The perfect personal statement examples below will grab their attention, turning those 6 seconds into 60 or more, setting you on the right path to being invited for an interview.
What Makes a Strong Personal Statement?
What is the purpose of a personal statement?
The primary purpose of a personal statement is to create a short, compelling paragraph that positions you as the most qualified and motivated candidate for the role. It says who you are and what you bring to the table, and briefly touches on your ambitions and drive.
A strong personal statement summarises your experience in a way that's relevant and interesting to recruiters. The structure and key characteristics are:
A brief paragraph that tells the same story as your cover letter and sets the tone for your CV.
Short, punchy sentences that are easy to read.
Highlighted experience, skills, and strengths relevant to the job.
Keywords that match up with those in the job advert.
How to choose what to highlight
Read through the job description and jot down projects and achievements that showcase the required skills and experience. Then put yourself in the potential employer's shoes and ask:
What makes you the ideal candidate for this position?
What would your colleagues say about you?
Why consider you ahead of other applicants?
Why do you want to work for this employer?
What's your proudest career moment?
Your personal statement should showcase your strengths and sell yourself as the perfect applicant. Still struggling? Ask a friend to do the exercise with you or answer on your behalf. 
Choosing a voice for your personal statement
The third person is traditionally the most popular voice for personal statement examples. People are less comfortable talking confidently about themselves and feel that it's less arrogant or boastful than the first person.
But some recruiters believe that the third person is unnatural and inauthentic. Since they know you've written the application, why pretend otherwise?
How do you choose? Avoid pronouns altogether. Instead of writing 'I managed a team of sales executives', or 'She managed a team of executives', just write 'managed a team of sales executives'. 
20 Great UK Personal Statement Examples
The best way to create a great personal statement is to listen to expert advice and find personal statement examples to follow.
Our personal statement examples are written for jobs with UK employers in mind. They'll help you to save time sifting through thousands of random examples that don't hit the mark, and spend more time making progress on your job hunt.
3 Common Questions About Personal Statements
Trying to get your personal statement right can be overwhelming, and many jobseekers look for advice. Here are 3 common questions they ask:
1. Do you include a personal statement in a CV?
Yes, you must include a personal statement in your CV. Why?
Not having one gives recruiters and great excuse to move on.
Done well, it will inspire recruiters to actually read your CV.
It's a good opportunity to apply more context to your listed experience.
It will help you highlight key projects and success stories early.
It's a great opportunity to demonstrate a culture fit with your personality.
2. How do you write a CV personal statement?
Write a CV personal statement by being succinct and focused on what makes you right for the job. Remember:
Summarise who you are and why you're right for the opportunity.
Keep it short, between 50 and 200 words maximum.
Include an element of personality so employers get to know you.
Be punchy and intriguing enough to persuade recruiters to read the rest of your application.
3. Where should your personal statement be on your CV?
Your personal statement should be in the same place on every CV:
Below your name and contact details.
In a full-width section.
Above your work experience.
Why Your CV's Personal Statement is So Important
Recruiters don't read every CV or job application. They spend an average of just 6 seconds on any CV that passes ATS filters. It's not a lot of time to make a brilliant first impression.
A well-crafted personal statement is an important part of making that great first impression when you apply for a new career opportunity. Think of it like an elevator pitch or the first episode of a new TV series you're about to binge-watch. It has to grab your attention quickly.
As our example CVs show, an attention-grabbing statement:
Is short and snappy: between 50-200 words.
Includes unique phrasing, customised with keywords for each position.
Highlights key successes and ambitious goals.
Helps hiring managers to understand who you are.
Your personal statement is a great opportunity to shine and get a recruiter's attention. Get it wrong and your CV won't pass the 6 second test. Get it right and recruiters will read your whole CV, massively increasing your chances of being invited to interview.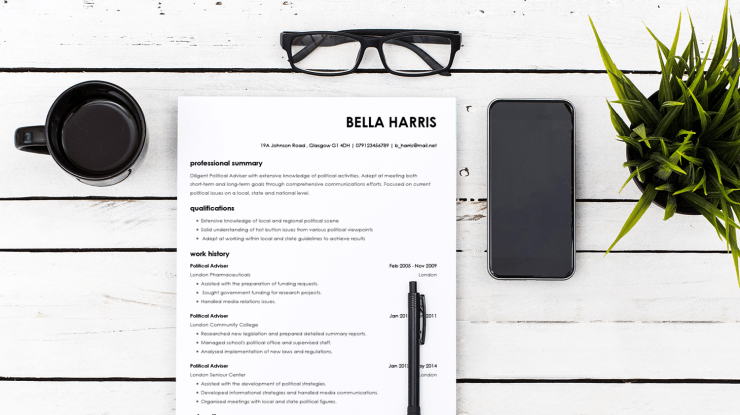 9 Mistakes to Avoid When Writing Your Personal Statement
Many of us struggle to write about ourselves in personal statements, particularly because we don't want to sound arrogant. But as we try to strike the right balance we risk making other common mistakes:
Leaving the statement off altogether
There is conflicting advice available on personal statements, and some people think they're optional. This isn't true - they are absolutely necessary. Even if it's an ultra short summary, it's better for your application to have a personal statement than to leave it off.
Not paying attention to length
Your personal statement is a short paragraph that should be between 50-200 words. Just write what you need to get the message across. Avoid the temptation to pad it out with unnecessary details to make it to the full 200 words.
Trying to be funny
Your personal statement needs to convey confidence, but jokes can show you're nervous. Jokes also undermine your professionalism, making it look like you're not taking the application seriously. Express your personality, but save the banter for your mates at the weekend.
Forgetting to use spellcheck
If you're applying for loads of roles or rushing because you're excited, it's easy to hit the send button too early. Simple spelling mistakes and typos in your statement give the recruiter a reason to discard your job application.
Failing to focus on keywords outlined in the job description
Writing a CV that doesn't include keywords from the job description is risky. Your personal statement needs to help you pass ATS filters and give the right signal to recruiters, and keywords are an important part of this. Take the time on your application and it will pay off.
Introducing information that isn't in the CV anywhere else
Your personal statement should highlight specific projects or successes that are already listed in your CV. Don't include a new academic or volunteer experience - make sure you apply a consistent approach across your CV and cover letter.
Lying or stretching the truth
Dishonesty is never a good idea, whether you're stretching the truth a little or a lot. Even if you fool recruiters and your application gets to the interview phase, the truth will come out. Our CV examples help you position yourself in the best light while still telling the truth.
Copy someone else's personal statement
What works for one person won't work for you, so don't be tempted to copy your friend's personal statement. Chances are if you are copying someone else's personal statement they are applying for similar roles, and you have no guarantee what they have written is a successful approach.
Our personal statement examples are created so you can adapt them to be unique, so there's no risk of the same one landing in the recruiter's inbox.
Using clichés
Recruiters deal with hundreds of applications every week. They've seen it all and are tired of reading overused stock phrases. Avoid cliches like:
Team player.
Good with people.
Working well under pressure.
Best of breed.
Results driven.
Highly qualified.
Build a Perfect Personal Statement
To stand out from the crowd your personal statement needs to tell your story. As a seasoned recruiter advises:
"People love stories, so tell them a story. It also makes it easier for others to remember you later on. It's proven that our minds remember details better when there's a story or association attached to the subject. In other words, if you want people to remember you, tell them a story, and make sure it's a good one." Paul McDonald, Senior Executive Director, Robert Half
Together we can help you find your story and tell it through a strong, consistent application. Get started by heading over to our CV builder and begin building your perfect personal statement.