Everything You Need to Know About Personal Statements
Did you know on average recruiters only spend 6 seconds reviewing a CV? If your job search isn't going well, a good personal statement could turn those 6 seconds into 24 seconds or more, setting you on a path towards the interview stage.
It will also help you customise your CV for the individual job and stand out as a result. As a career coach explains:
"
It is important to target your CV to a particular role to stand out from the competition. Making your CV appear too generic will give the impression that you have made little effort in the application process."
-Corinne Mills, career coach
What is the purpose of a personal statement?
The primary purpose of a personal statement is to summarise your experience and motivate recruiters to read the rest of your CV. To do that well you need to write it in a way that gets their attention and include your key strengths.
To help your CV stand out, we've put together some personal statement tips. These plus our personal statement examples give you everything you need to know to build a perfect personal statement, and take the next step in your career.
What Makes a Strong Personal Statement?
A strong personal statement summarises your experience in a way that's relevant and interesting to recruiters. Do this well and you will help them quickly get a measure of who you are, and why they should read on. The structure and characteristics of a strong personal statement should include:
Highlighted experience, skills and strengths relevant to the job.
Professionally written copy that sets the tone and language for your CV.
Short punchy sentences that are easy to read.
Relevant keywords for the job and essential requirements.
Most importantly, a strong personal statement should 'make a statement'. That is express who you are and showcase your personality, which will help you demonstrate why you're the ideal candidate.
How to choose which strengths and skills to highlight
The best way to do this is to read through the job description with a notepad handy. Write down any memories or projects that showcase the skills and experience on the list of requirements. You can also put yourself in the recruiter's shoes and ask these questions:
What makes you the ideal candidate for this position?
Why should they consider you ahead of any other candidates applying?
What is it about this employer that inspires you?
If you had to pick a proud moment from your career what would it be?
What would your colleagues say about you?
The personal statement is about exploring your own strengths and selling yourself. If you're struggling, ask a friend to do the exercise with you or answer on your behalf. Chances are they'll be much more comfortable talking you up, and will boost your confidence in the process.
Choosing a voice for your personal statement: First vs third person
Traditionally, third person is the most popular voice for CV personal statements. This is mainly because people are less comfortable talking confidently about themselves, and some people worry that first person could come across as arrogant or boastful.
But some recruiters believe that the third person is unnatural and inauthentic. From their perspective, they know you have written it, so why pretend otherwise? And applicants for marketing or PR roles are often advised to use the first person, as one recruitment blog notes:
"
We estimate that around ten percent of all CVs that we receive... are written in the third person. Upon reading these CVs our first thought is often that perhaps the candidate started their CV with a testimonial... but then we read on. And get highly confused as it becomes clear that they either got somebody else to write their CV, or they have made the decision to roll with it. In some disciplines, this may be deemed the best way to write a CV, but in our opinion, marketing and PR are not amongst them."
The best way to increase your chances of pleasing everyone is to avoid pronouns where possible. That is, avoid the use of 'I', 'me', 'he' or 'she. For example, instead of writing 'I managed a team of sales executives', write 'managed a team of sales executives'. This neatly resolves the debate.
Whichever voice you decide to use, the ultimate goal is to make your personal statement interesting and easy to read. Choose a CV personal statement template that makes sense, do what comes naturally and you'll be onto a winner. Just make sure you remain consistent throughout your CV.
20 Great Personal Statement Examples from UK CVs
The best way to create a great personal statement is to follow by example, by listening to expert advice and finding personal statement examples.
Our personal statement examples are written for jobs with UK employers in mind. They'll help you to save time sifting through thousands of random examples that don't hit the mark, and spend more time making progress on your job hunt.
3 Common Questions UK Jobseekers Ask About Personal Statements
Trying to get your personal statement right can be overwhelming and many jobseekers come up against the same challenges. The three common questions about personal statements are:
1. Do you include a personal statement in a CV?
Yes, you must include a personal statement in your CV. Why?
Not having one gives recruiters and great excuse to move on.
Done well, it will inspire recruiters to actually read your CV.
It's a good opportunity to apply more context to your listed experience.
It will help you highlight key projects and success stories early.
It's a great opportunity to demonstrate your culture fit with your personality.
2. How do you write a CV personal statement?
Write a CV personal statement by being succinct and focused on what makes you right for the job. Remember:
Third person will help you seem less boastful or arrogant.
Keep it short, between 50 and 200 words maximum.
Include an element of personality so they get to know you.
Be intriguing enough to persuade recruiters to read your CV.
Summarise who you are and why you're right for them.
3. Where should your personal statement be on your CV?
Don't be tempted to mix things up and change the location of your personal statement. Your personal statement should be:
The first thing recruiters see.
Below your name and contact details.
Above your work experience.
Why Your CV's Personal Statement is So Important
Despite the common perception that recruiters spend 30 seconds skimming through CVs, research actually revealed that recruiters only spend an average of 6 seconds. That doesn't give you much time to make an impression.
An while an average of 118 people apply for any one job, only 20% of these applicants actually get an interview. When you look at this way you can see why previous applications may not have passed the bar if you didn't include a well-crafted personal statement.
It's easy to get frustrated when you are applying for jobs without much success, and it can be tempting to start copying and pasting your way through applications. But it's a habit that you need to nip in the bud if you want to get noticed in that pile of 118 CVs.
Think of your personal statement like that first episode test when you start a new TV series binge. It has to grab your attention quickly, or you won't invest the time. One of the best ways to do that is to put in the extra time and care into your personal statement.
Keep it short and snappy (between 50 - 200 words).
Include unique phrasing, and customise it for each job.
Include ambitious goals and relevant key successes.
Use this opportunity to help them understand who you are.
Include keywords that were included in the job description.
Your CV should be more than just a list of experience and skills. It should represent who you are and summarise how your experience directly relates to the job at hand.
The personal statement is your opportunity to shine and get a recruiter's attention. Get it wrong and your CV won't get read. Get it right and recruiters will actually read your whole CV, giving you a much better chance of making it to the interview phase.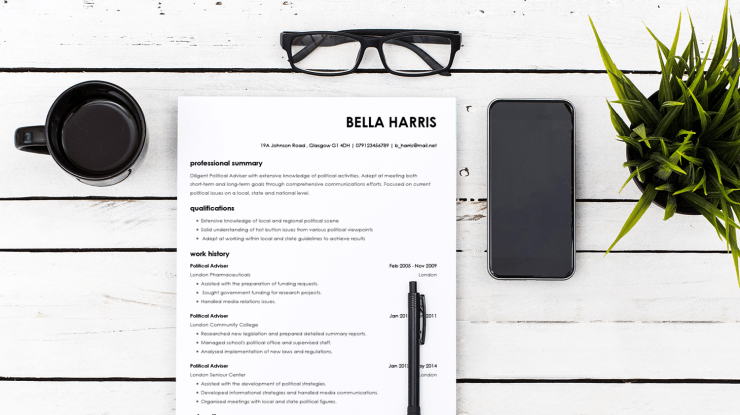 9 Mistakes to Avoid When Writing Your Personal Statement
Many people struggle to write about themselves in a personal statement. In fact, one study even suggested that putting ourselves out there professionally makes us feel 'dirty', literally. The study concluded that:
"
Networking in pursuit of professional goals can impinge on an individual's moral purity."
But a psychologist advised it can be done - as long as you don't relay your accomplishments in a way that sounds like bragging.
Struggling to highlight our strengths without bragging can lead to mistakes. Here are some of the most common mistakes that UK jobseekers make when writing their personal statements:
1.
Leave the statement off altogether
There is conflicting advice on personal statements and some people believe they are not always necessary. This is probably because many jobseekers don't know what a personal statement should look like.
This also presents you with an opportunity to get it right and stand out. Even if you opt for a short summary, having a personal statement at the top of your CV better than leaving it off.
2.
Not pay attention to length
There are several reasons the length of your personal statement is important. Too short, and you are underselling yourself or seem lazy. Too long, and you run the risk of being ignored or struggling with the two-page rule for your CV.
Your personal statement is a small paragraph that should be between 50 - 200 words. Use what you need to get the message across - but don't be tempted to pad it out with unnecessary detail just to make it to the full 200 words.
Many people use humour to cover their nerves or insecurity. It's something that could serve you well at the interview stage (within reason) but your personal statement is not the place to do this.
It may look like you're not taking your application seriously or the office joker who is easily distracted and less productive. This doesn't mean you can't be creative or express your personality, but save the banter for your mates at the weekend.
4.
Forget to use spellcheck
If you're preparing a high volume of applications or excitedly rushing to apply for a great job you might hit that send button a little too early.
In reality, the person reading your application is looking for a reason to move on. It doesn't matter how impressive you are, one typo or spelling error gives the recruiter a great excuse to dump your CV and move on to the next candidate.
5.
Fail to focus on keywords outlined in the job description
This is one of the most common errors, and it applies not just to your personal statement, but your entire application.
Recruiters and employers are often dealing with an inbox full of applications and will spot a duplicated copy and paste job a mile off. If you don't spend the time customising your application then you give the impression that you're just applying for anything and everything.
It's simple really. If you really want the job, take that extra time to customise your application by using the keywords outlined in the job ad.
6.
Introduce information that isn't in the CV anywhere else
Talking about an academic or volunteer experience you haven't included in your list of experience or education is a big no-no. This could make the recruiter question your honesty and struggle to understand your professional journey.
Your personal statement should highlight specific projects or successes from existing listed experience or education on your CV. Any random additions that don't relate back to your CV should be avoided.
7.
Lie, or stretch the truth
This is a big no-no. Recruiters are very experienced at spotting dishonesty. They won't hesitate to skip past your application if your personal statement is more ambiguous fluff than substance.
Even if you get to the interview phase, the truth will always be revealed. Even if you do manage to cover it and actually get the job, eventually the lie will catch up with you. None of these scenarios are good for you in the long term: honesty is always the best policy.
8.
Copy someone else's personal statement
What works for one person won't work for you, so don't be tempted to copy your friend's personal statement. Chances are if you are copying someone else's personal statement they are applying for similar roles, and you have no guarantee what they have written is a successful approach.
Our personal statement examples are created so you can adapt them to be unique, so there's no risk of the same one landing in the recruiter's inbox.
9.
Use clichéd or stock phrases
Recruiters are dealing with hundreds of applications and have seen it all. No matter how good the latest hit single may be, if you hear the same song over and over again you are going to grow tired of it. The same applies to overused stock phrases, which include:
Team player or good with people
Work well 'under pressure'
Best of breed
Results driven
Highly qualified
Any blanket terms or overused phrases like this should be avoided if you want to avoid your CV being cast aside out of frustration.
Build Your Perfect Personal Statement
Everyone is different, so why should all of our job applications be the same? If you've been applying for jobs without much success, then it really is time to get personal. It's time to take your CV to the next level and make it stand out with a professional personal statement.
A personal statement should:
Be a small paragraph, 50 - 200 words.
Be customised for every single job application.
Help recruiters quickly understand why they should read on.
Include relevant keywords that recruiters will be scanning for.
Be written professionally, use short sentences and be easy to read.
Still looking for inspiration? Take some advice from a seasoned recruiter:
"
People love stories, so tell them a story. It also makes it easier for others to remember you later on. It's proven that our minds remember details better when there's a story or association attached to the subject. In other words, if you want people to remember you, tell them a story, and make sure it's a good one." -Paul McDonald, Senior Executive Director, Robert Half
Together we can help you find your story. Get started: head over to our CV builder to find a template that works for the industry or specific job you're applying for. Then get help from out sample copy and tips to build your perfect personal statement.