Customize this CV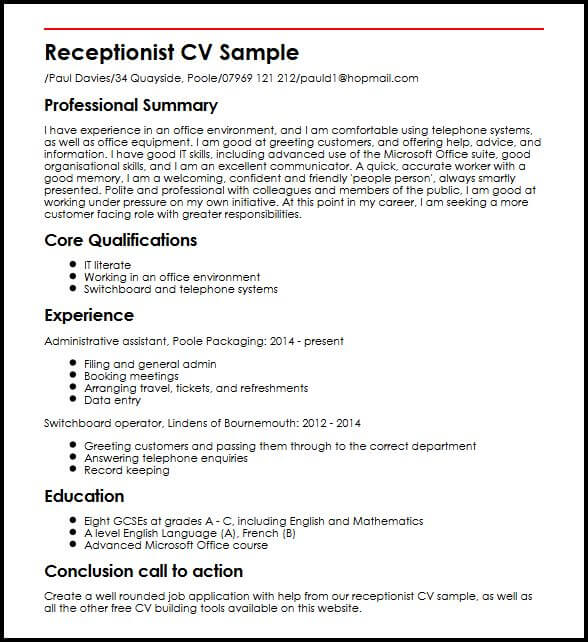 ---
Create This CV
When you apply for a job, it is important to make sure your CV is up to date and reflects your skills and experience in relation to the job you want. The format and style of a CV can be just as important as the content, since using the correct layout and placing your career and educational background in the right order will enable recruiters and employers to get straight to the key information. The receptionist CV sample below is just one of the CV templates available on this website, and is a good example of the kind of document that will impress a potential employer.
Receptionist CV Sample
/Paul Davies/34 Quayside, Poole/07969 121 212/pauld1@hopmail.com
Professional Summary
I have experience in an office environment, and I am comfortable using telephone systems, as well as office equipment. I am good at greeting customers, and offering help, advice, and information. I have good IT skills, including advanced use of the Microsoft Office suite, good organisational skills, and I am an excellent communicator. A quick, accurate worker with a good memory, I am a welcoming, confident and friendly 'people person', always smartly presented. Polite and professional with colleagues and members of the public, I am good at working under pressure on my own initiative. At this point in my career, I am seeking a more customer facing role with greater responsibilities.
Core Qualifications
IT literate
Working in an office environment
Switchboard and telephone systems
Experience
Administrative assistant, Poole Packaging: 2014 – present
Filing and general admin
Booking meetings
Arranging travel, tickets, and refreshments
Data entry
Switchboard operator, Lindens of Bournemouth: 2012 – 2014
Greeting customers and passing them through to the correct department
Answering telephone enquiries
Record keeping
Education
Eight GCSEs at grades A – C, including English and Mathematics
A level English Language (A), French (B)
Advanced Microsoft Office course
Conclusion call to action
Create a well rounded job application with help from our receptionist CV sample, as well as all the other free CV building tools available on this website.