A perfect receptionist CV demonstrates experience working with the public and providing administrative support in an exceptionally busy and varied job. It shows that you have the ability to juggle multiple tasks while always remaining professional and client-focused.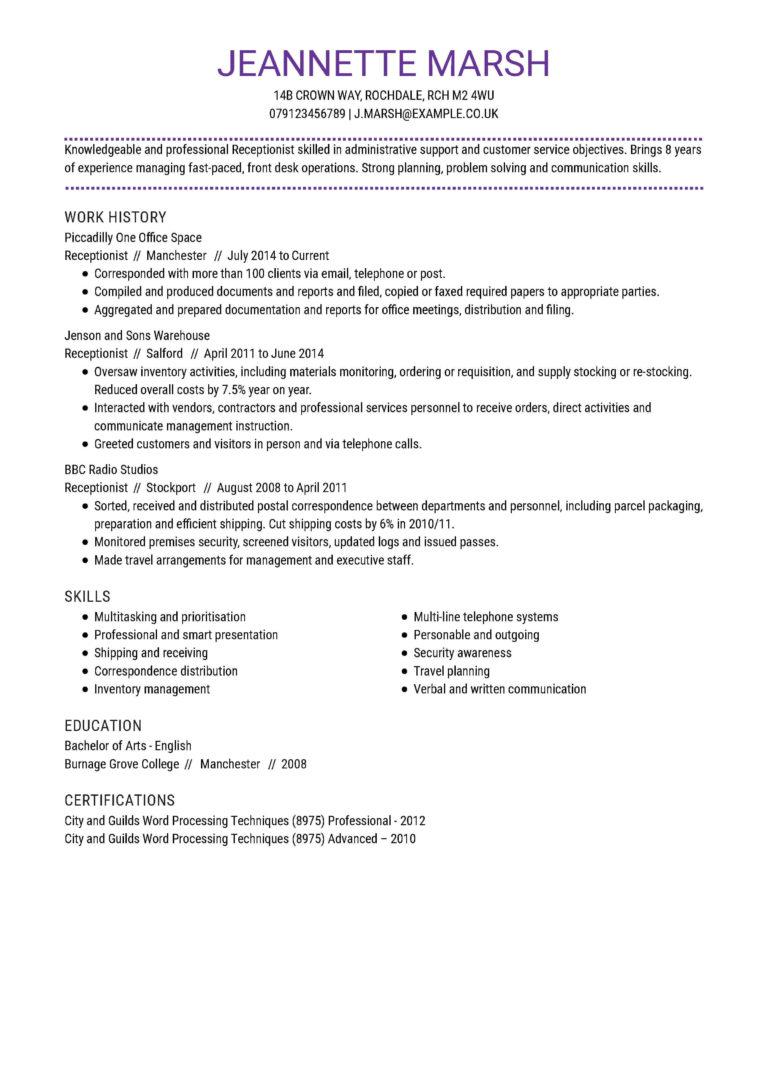 Receptionist CV Templates
Having helped receptionists around the world to build CVs for over a decade, we know what works. The templates we recommend are designed to showcase your strengths.
How to choose a receptionist CV template
To build a perfect receptionist CV, start with a design that appeals to potential employers.
Clear sections: The relevant parts of the CV each have a clear section of their own. The recruiter can instantly go from work history, to qualifications, and on to skills.
White space: The templates have a clean and uncluttered design, with plenty of white space around the text. You don't need to cram all your CV into just one A4 page.
Font: Our templates use just 1 or 2 fonts for the whole CV to create a professional impression.
Colours: A maximum of 2 colours keeps your CV looking smart. If you work in a conservative industry, stick with blue as a secondary colour. Work in a creative space? Branch out into secondary colours like green or red.
Our templates' strong structure reflect your own ability to organise and communicate effectively.
Personal statement: Open with this section to give employers an idea of what you'd be like as the face of the company. Our templates encourage you to show that you're efficient by keeping it short and to the point.
Work history: Start with your most recent job and work backwards. Keep each job description short, using bullet points to avoid lengthy paragraphs that turn employers off.
Skills: Make sure you highlight all the relevant skills in this section. It's a great place to show off any new or unusual skills you bring to the table.
Education & certifications: Very few receptionist jobs require specific academic qualifications, but employers expect this standard CV section.
Our perfect receptionist CV example shows what you can achieve with our CV builder. Here's what's great about this CV example:
A punchy personal statement: In a single paragraph of less than 30 words, this receptionist has let employers know that she has 8 years' experience, managed a busy front desk with lots of visitors, and knows how to solve customers' problems.
Appropriate contact details: The contact details are current. The email address is professional sounding, not a 'funny' novelty choice - and it's not the email from her current job.
Demonstrate versatility: This receptionist's employment history shows how versatile she is. Her career has taught her to tackle almost anything, from customer service challenges to inventory management and preparing documents.
Use of facts and figures: Illustrating her achievements with specific numbers shows the impact that this receptionist has had on the job. For example, reducing costs by 7.5% shows effective supplier management.
A scannable mix of skills: The CV template this candidate chose neatly lays out her great mix of hard skills like inventory management, and soft skills like multi-tasking.
Including certifications: Highlighting the City & Guilds levels she's reached shows this receptionist's commitment to her professional development.
How to Write a Perfect Receptionist CV
With our CV help and tips, you can build a CV that demonstrates your expertise. We'll help you to show that you know how to liaise with customers and staff, while also handling tasks such as fielding phone calls and monitoring security. Here are our 5 top tips:
Provide concrete facts: Using actual facts and figures will make your achievements easier for employers to relate to. Don't just say that you managed to lower shipping costs in one of your jobs, boast about the fact that you cut them by 6% in one year.
Include your education: Even though you don't usually need formal qualifications to be a receptionist, you should still mention your educational achievements. The fact that you have an A Level in English will reassure the recruiter that you can handle written communications.
Check your spelling: Check your CV repeatedly for spelling mistakes, especially since spell-check software might miss them. Even a single mistake could convince a recruiter that you're not a great receptionist.
Include keywords: Many recruiters use Applicant Tracking Software (ATS) programmed to reject any receptionist CV that doesn't include certain keywords. Make sure you include words like administrative, front desk, and documentation.
Don't forget your Skills section: In addition to hard skills like operating multi-line telephone systems, include soft skills like customer service and communication skills.
Frequently Asked Questions About Receptionist CVs
What are the qualities of a good receptionist?
A good receptionist possesses a range of qualities, including:
Being able to deal with visitors in a friendly manner.
Being able to multi-task, such as answering the phone while organising shipping.
Excellent time management.
First rate verbal communication skills.
What qualifications do you need to be a receptionist?
Although there are no formal receptionist qualifications, the following skills will prove useful:
A grasp of inventory and delivery systems.
Experience in customer service.
Professional certifications like City and Guilds in word processing.
GCSEs or A levels in English and mathematics.
An understanding of filing systems.
Use our CV builder to choose a professional template that highlights your qualifications and skills in your own receptionist CV.
What computer skills should a receptionist have?
The following computer skills will help your receptionist CV stand out from the crowd:
Working with spreadsheets to gather and collate information.
Experience and knowledge of office software such as Word.
Understanding of various social media platforms.
The use of business software like accounting platforms.
Check out our full range of skills for receptionists in our CV builder.
Important Skills for Your Receptionist CV
The skills you include in your receptionist CV should highlight your experience and expertise. They'll convince recruiters that you can successfully liaise with customers and suppliers, work with fellow team members, and execute core duties like dealing with incoming and outgoing posts.
Top skills for a receptionist
Professional and smart presentation
Shipping and receiving
Correspondence distribution
Inventory management
Multi-line telephone systems
Travel planning
Verbal and written communication
Use of office software
Additional skills to help your receptionist CV stand out
Personable and outgoing
Security awareness
Multitasking and prioritisation
Excellent memory
Time management
Organisation skills
Word processing
Flexible
Attention to detail
Punctual
Build Your Perfect Receptionist CV
Working with the right CV templates and taking our tips and advice will make it quick and easy to create an effective CV to move your career forward.
Our CV builder will guide you through the process one step at a time. Used by millions of people worldwide, it will help you to build the perfect receptionist CV and land the job you want.